Rathayatra or chariot journey is an important Hindu festival, referring primarily to the journey of the god jagannath or vishnu to the sea. The puranas, however, refer to several chariot journeys by different gods and goddesses. For instance, the Bhavisyapurana describes the journey of the sun god, the Devipurana describes the journey of Mahadevi, and the Padma, Skanda, and Bhavisyottara Puranas describe the journey of Vishnu. While the rathayatra was celebrated at different times in different places, at present, it is observed on the second day of the new moon in Asadha following the tradition set in Puri, Orissa. The return journey takes place on the 11th day of the moon. The chariot is thus brought back to its starting point after eight days.
Hindus worship Jagannath as the lord of the world (jagat, world + natha, lord) and believe that their salvation lies in his blessings. They believe that seeing Jagannath on his chariot will release them from the cycle of rebirth. Hindu devotees accordingly arrange this chariot journey annually in the hope of attaining salvation.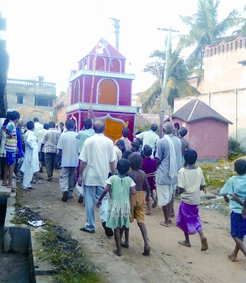 Rathayatra has been celebrated in Bangladesh for several centuries. The festivals held in Dhaka, Dhamrai, Khulna, Barisal, Gopalganj, Comilla, Chittagong, Sylhet, Mymensingh and Rangpur are particularly noteworthy. The festival in old Dhaka is quite colourful, and the fair held on the occasion attracts large crowds. The rathayatra at Dhamrai was very famous because of a towering 60-foot chariot built by the zamindars of Saturia Baliyati towards the middle of the 19th century.
The 3-storied chariot needed 27 maunds of rope to drag it. During the war of liberation, the chariot was burned down by the Pakistan army. A newly built chariot has now replaced the old one. A month-long fair is held at Dhamrai on the occasion of the rathayatra. Devotees come from India and Nepal to pull the chariot.
Other well-known rathayatras are those of Manikya Sadhak in Gazipur, Bhogh Betal in Kishoreganj, Maharaj Bahadur in Comilla. The villages of Baraikhali and Baliadanga in Jessore, Aditmari Kamarpara in Rangpur and Tulshidham in Chittagong are also famous for their rathayatra festivals. In the past, western visitors viewed the huge chariot, which moved slowly through crowds, as an object of terror. This misconception led to the coining of the word 'juggernaut'-a corruption of Jagannath-to refer to something monstrous and ruthless.
Several superstitions are associated with the rathayatra. For example, Hindus believe that banana saplings planted at this time will bear more fruit than those planted at other times. They also believe that if clouds rumble during the forenoon of the day, the monsoon will be early. If, however, clouds rumble during the afternoon, the monsoon will be delayed. [Paresh Chandra Mandal]