Rauf, Birsrestha Munshi Abdur
Rauf, Birsrestha Munshi Abdur (1943-1971) Lance Nayek of East Pakistan Rifles, martyr freedom fighter. He was born on 8 May 1943 at village Salamatpur in Boalmari thana of Faridpur district. His father Munshi Mehdi Hasan was the Imam of the local mosque. His mother was Mokidunnesa. Abdur Rauf had his early education at village primary school. He lost his father at his early age. Under pressure of the acute financial crisis Abdur Rauf joined the East Pakistan Rifles (EPR) on 8 May 1963. After training he was posted to the border area in East Pakistan.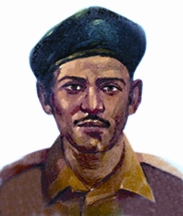 In March 1971 Abdur Rauf had his posting at 11 Wing of the EPR in Chittagong. On the night of 25 March the Pakistan army had let loose a reign of terror killing thousands all across the country. The Bangali members of the then EPR posted in Chittagong having sensed the prevailing uncertainty in the country had taken a bold step to face the enemy with courage. They revolted on that night against the Pakistan army and joined the 8 East Bengal Regiment. Under the leadership of Captain Khalequzzaman 8 East Bengal Regiment with 150 EPR soldiers were given the responsibility of setting up secured barriers in the sea route between Rangamati and Mahalchhari. Munshi Abdur Rauf, the number one LMG operator of this team was in a bunker at Bakchhari under Naniarchar upazila of Chittagong Hill Tracts.
On 8 April, two companies of soldiers of the Pakistan army from the Second Commando Battalion on seven speed boats and two launches launched attack on the freedom fighters stationed in the surrounding areas. They started firing on the freedom fighters in mortars from the launches. This surprise attack made the freedom fighters unfiled and scattered. Taking advantage of the situation a number of Pak soldiers landed on the shore and surrounded the position of the freedom fighters.
At this critical juncture Captain Khalequzzaman decided to retreat. To move to safer areas required covering fire. With the firing from the lone LMG of Munshi Abdur Rauf, Khaliquzzaman began to retreat with his soldiers. By the firing of Munshi Abdur Rauf the speedboats of the Pakistan army were drowned into the river and a good number of Pak soldiers were either killed or wounded. The rest of the Pakistani soldiers escaped with the two launches. The Pakistan troops moved away from the LMG range and began shelling with the mortars. The valiant freedom fighter Munshi Abdur Rauf continued his onslaught from his LMG. Suddenly an enemy mortar shell fell upon him and caused his body scattered to pieces. His fellow warriors later rescued his dead body and buried him on a hillock near the Naniarchar shrimp canal.
In recognition his valour and sacrifice in the War of Liberation, the Government of Bangladesh adorned him with the highest gallantry award 'Birsrestha'. The Bangladesh Rifles promoted him posthumously to the rank of Honorary Lance Nayek in 1973. [Qazi Sajjad Ali Zahir]