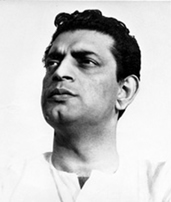 Ray, Satyajit (1921-1992) Oscar winning film director, photographer, painter, writer of juvenile literature and musicologist. Satyajit Ray was born in Kolkata on 2 May 1921. His parents hailed from the village Masua of kishoreganj district of Bangladesh. His father, Sukumar Ray, a noted writer, editor and photographer, graduated from Manchester University School of Technology and was a Fellow of the Royal Photographic Society of Great Britain. His mother, Suprova Ray, was a singer and earned repute for her skills in handicrafts. His grandfather, Upendrakishore Ray Chowdhury, was a well-known litterateur, painter, photographer, block designer and editor of the juvenile journal Sandesh (1913). Satyajit's wife Bijoya Ray was a musicologist and a film actress. His son Swandip Ray is a noted photographer, graphic artist and a film director.
Satyajit Ray lost his father when he was only two and a half years old and his mother brought him up at the house of his maternal uncle. While still at school he developed interest in photography, music and painting. Satyajit passed his matriculation from Calcutta's Baliganj Government High School and graduated from presidency college with honours in economics. In 1940, he got admitted at Viswabharati in santiniketan. Satyajit Ray began his working life in 1943 as a commercial artist of an advertising company. He added a new dimension to the vocabulary and design of advertisements. As an artist, he designed book covers and drew pictures for newspapers. In 1947, he and some of his friends formed 'Calcutta Film Society'. Next year he got an opportunity to be acquainted with the work and personality of the famous French filmmaker, Jean Renoir, who came to Calcutta to make a part of his film, The River. Later, Satyajit established 'Kanak Pictures' for making films. He wrote the scenario of an advertising film A Perfect Day.
In 1950, Satyajit went to London in connection with his job. Instantly, he became a member of London Film Club and during his stay there for five months, he saw about a hundred films. He also got acquainted with persons like the British filmmaker, Lindsay Anderson and film specialists Peneloppi Huston and Gavin Lambert. He was highly impressed by The Bicycle Thief directed by Italian Vittorio D Sica and decided to make a film on bibhutibhushan bandyopadhyay's novel pather panchali.
On his return home in October 1950, he wrote the scenario of the projected film. He began its shooting in 1952 with a cast of non-professionals. But even after incurring debts and selling out personal assets, including ornaments and books, he could not complete the work. He could collect only Rs 17,500 by mortgaging his insurance policy and borrowing from friends and relatives. He kept his expenditures low by hiring an old camera, making economy on food and transport, and carrying out shooting at a place in Calcutta suburbs. Satyajit could finally find a producer, who, however, provided Rs 40,000 only. Only one third of the work for the film could be accomplished with the money thus collected and after that, the work was stopped. He then approached the West Bengal government for support.
Despite bureaucratic reluctance, chief minister Bidhan Chandra Roy intervened to assume the responsibility of producing the film. Still unfinished, Pather Panchali was invited for show in an exhibition in New York in April 1955. The film was completed and released in Calcutta in August the same year. After release, it was acclaimed the world over and earned many prizes and awards. In 1955, it won the award of the President of India and the prize of the West Bengal Association of Journalists. The same year it won the special jury award for 'the best human document' at the French international film festival. It also won prizes in festivals held in many other countries and cities including Spain, Denmark, Japan, Edinburgh, Manila, San Francisco, Berlin, and Vancouver. Aparajita, the second film of Satyajit released in 1956, brought him three prestigious awards at the Venice Film Festival, Golden Lion, Cinema Nuveau and Critics award.
From 1956 up to his death in 1992, Satayjit devoted all his thoughts and time in filmmaking. He is recognised as one of the world's top ten filmmakers. In his filmmaking carrier, he made 28 feature films, 5 documentary films and 3 tele-films. He received 40 awards of the Indian government and at least 60 international awards. Berlin Film Festival Committee declared in 1978 that the three most talented film personalities of the world of all times are Charlie Chaplin, Hjalmar Bergman and Satyajit Ray. His noted films are Pather Panchali (1955), Aparajita (1956), Parashpathar (1958), Jalsaghar (1958), Apur Sangsar (1959), Devi (1960), Tin Kanya (1961); documentary films: Rabindranath (1961), Kanchanjangha (1962), Abhijan (1962), Mahanagar (1963), Charulata (1964), Kapurush O Mahapurush (1965), Nayak (1966), Chidiakhana (1967), Goopi Gain Bagha Bain (1968), Aranyer Dinratri (1969), Pratidwandi (1970), Simabadda (1971), Sikkim (1971), Inner Eye (1972), Ashani Sangket (1973), Shonar Kella (1974), Janaranya (1975), Bala (1976), Satranch ki Khiladi (1977), Joybaba Felunath (1978), Hirak Rajar Deshe (1980), Piku (1982), Satgati (1982), Ghare Baire (1984), Sukumar Roy (1987), Ganoshatru (1989), Shakha Proshakha (1990), and Agantuk (1991).
He earned many national and international recognition. During 1955 and 1966 Pather Panchali won 11 international awards in addition to Indian awards and his Aparajita won five awards in Venice, San Francisco, Berlin and Denmark. Almost all other full-length feature films of Satyajit also won international awards. His documentaries, Rabindranath and Inner Eye, and the TV film Satgati won international awards. Personally he was honoured with special awards at home and abroad including honorary doctorates from many universities, Viswabharati's Desikottam, Dada Saheb Falke prize, Magsaysay award, French Legion of Honour (1987), Bharatratna (1992), and Special Oscar (1992).
Satyajit Ray wrote scenario for many films and performed as music director in many more. He was a reputed writer too. Some of his published books are: Biswa Chalacchitra, Ekei Bole Shooting, Our Films Their Films, Feluda Series, Shanku Series, and Piku's Diary.
Satyajit Ray died in Calcutta on 23 April 1992. [Amanul Haq]