Reproductive Healthcare Services
Reproductive Healthcare Services services that contribute to reproductive health and well-being through preventing and solving reproductive health problems. Reproductive health approach implies to those people who have the ability to reproduce and regulate their fertility; women who are able to go through pregnancy and child birth safely; the outcome of the pregnancy is successful in terms of maternal and infant survival; and couples who are able to have sexual relations free of fear of pregnancy and contracting disease.
An important implication for implementing reproductive health programmes is to ensure that the quality of services is improved, particularly from the user perspectives. The focus of the programme is based on women since they are the primary users of these programmes and also have the greatest problem of access to health services. Equal importance should be given to promote male responsibility and enhance their involvement.
Target groups for the reproductive healthcare services are women and men of different stages of life; adolescent. Reproductive events in women's life can be divided in many parts such as: preconception, conception, childbirth, post-natal, interconnection, perimenopausal and infertility. In the ICPD (International on Population and Development) Conference in 1994 (held in Cairo) it was decided that for ensuring the reproductive health services, the service should include reproductive healthcare through Primary Healthcare System, family planning services, information education and counselling; management of side-effects of family planning methods; information services for pre and post-natal, safe delivery, breast feeding and women's healthcare; treatment of infertility and reproductive tract infections and prevention and management of unsafe abortion; diagnosis and treatment of sexually transmitted diseases and information, education and counselling, as appropriate on human sexuality, reproductive health and responsible parenthood; diagnosis and treatment of breast cancer and cancer of the reproductive tract; prevention and reduction of spread of HIV infection, increasing awareness about consequences of HIV infection and ensuring adequate medical care for HIV infected persons.
The above mentioned services should be provided with adequate care and quality but Bangladesh is largely lacking these services due to the absence of proper infrastructure and therefore the services are provided in a limited scale. Because the reproductive health agenda can only be achieved in a situation where the client's needs are foremost and the desire to meet those needs motivates the programme personnel to provide comprehensive reproductive health services, albeit the current infrastructure which exists in Bangladesh does not fit to provide such services.
In terms of physical facilities to provide reproductive healthcare services, an impressive number of facilities and staff are existing. The reproductive healthcare or the primary healthcare is provided in a three-tired system: at district level, at upazila level and at the Union level. At the district level 93 (Maternal and Child Welfare Centres (MCWCs), at the upazila level at present 349 Maternal and Child Health (MCH) units and at the Union level almost 3000 Union Health and Family Welfare Centres (UHFWC) are providing reproductive healthcare services. Moreover countrywide at the Union level, about 30,000 Satellite Clinics are organised every month to provide doorstep services.
The existing service provides women's health services, family planning, safe delivery care, Essential Obstetric Care (EOC), referral services, and post-natal care. Prevention of unsafe abortion include menstrual regulation (MR), prevention of unwanted pregnancy, treatment of complications of abortion, post-abortion counselling, information and counselling for clients requiring MR.
The services available or activities performed in MCWCs at different level are not same due to existing situation of resources like trained manpower, physical facilities, logistics support, etc. Technical personnel like two medical officers and two family welfare visitors are posted to provide reproductive health services.
The domiciliary services at the household level include health education, family planning, and maternal and child health services, immunization, control of communicable and other endemic diseases, which constitute the kernel of primary healthcare services and are provided by health assistants (HAs) and family welfare assistants (FWA). Each is to serve a population of about 3500. There are 13,500 sanctioned posts of FWAs. This has been increased to 22,500. There are also satellite clinics at the community level operated by the staff of health and family welfare centres. The H&FWC centre is at the union level and should provide services for a population of approximately 20,000. In the country there are about 4500 unions and approximately 3200 operating health and family welfare centres. From these centres antenatal care, safe deliveries, health education, childcare and family planning are provided.
At the upazila level there is a Upazila Health Complex (UHC) which provides indoor and outdoor services. These are antenatal, and post-natal care, family planning, child healthcare and curative care. All the upazila hospitals are 31 bedded of which 6 are earmarked for MCH services. The UHC is staffed by 9-10 physicians and serve a population of about 200,000. There are about 489 upazilas and 358 of those have operational THCs.
Secondary Healthcare System District hospitals in the 64 districts provide curative services. They are being upgraded to 200-250 bedded hospitals.
Tertiary Healthcare System Provide specialized care in 19 GOB (Government of Bangladesh) and private medical college hospitals, post-graduate institutional hospitals (one in a public medical university), and in specialized hospitals both government and private. The NGO and private sectors are also involved in activities like community-based distribution, clinical services, family planning, research and evaluation and social marketing of contraceptives. Most of the grass-root level health and family planning workers are given training, at 20 regional training centres, 12 family welfare visitors training institutes, Institute of Population Research and Training (NIPORT), training on MR is given by Menstrual Regulation Training and Services Programme (MRTSP), Mohammadpur Fertility Services and Training Centre (MFSTC), and Bangladesh Women's Health Coalition (BWHC). The MR training is being coordinated by Bangladesh Association for Prevention of Septic Abortion (BAPSA) since 1985. So far a total of 7,338 doctors and 5,933 FWVs have been provided training on MR.
The government has introduced Health and Population Sector Programmes (HPSP) from July 1998 in order to improve the reproductive health of the population. The main purpose of the programme is the reduction of maternal and child mortality, contaminated diseases, unwanted fertility and total fertility rate, enhancing of life expectancy, age of women at birth of first child and nutritional status and healthy life style and ensuring of health and family planning services to the underserved rural population of Bangladesh. The main strategy of the programmes is to introduce sector-wide management approach, essential service package, building of union health and family welfare centre, establishing of community clinics, and support services. Under HPSP there will be 13,500 set-up and 775 UHFWCs will be constructed inspite of existing 3,175 UHFWCs in the country. There will be one clinic for 6000 population. To foster better understanding and bring attitudinal changes, Behaviour Change Communication activities will also be strengthened.
Thus successful implementation of HPSP will be an important element of Bangladesh's poverty reduction in three ways: firstly improvements in the health/family welfare status of the population are important indicators of poverty alleviation. They will increase the labour productivity and, thus, support the economic growth component of the poverty reduction strategy; secondly positive impact of HPSP will be through targeting the underserved population; and thirdly improvements in health/ family welfare status will be achieved more easily and in a more sustainable way if government promotes complementary actions in other sector such as education, water supply and sanitation, environment, infrastructure, communication and with respect to the legal status of women.
Maternity health services Public service providing maternal care including ante-natal care, intra-natal care, post-natal care and family planning. Safe Motherhood is unsafe in Bangladesh and maternal mortality is a serious public health concern. There are about 3.5 million births in Bangladesh every year, and for every thousand of which almost five women die as a result of complications of pregnancy and childbirth. It is estimated that complications develop in about 600,000 of the 4 million women who become pregnant- annually. In Bangladesh, the utilization of institutional delivery facilities is far below the recommended 'minimum acceptable level'. Only 5 percent of the expected 0.5 million obstetric complications attended medical facilities, 27.5 percent of the pregnant women receive some ante-natal care, institutional delivery is only 3.5 percent, less than 10 percent births are assisted by trained medical personnel.
In Rural Bangladesh 96 percent of deliveries take place at home, and for conducting deliveries only 26 percent of the Trained Traditional Birth Attendants (TBA) are utilized by the community, and only 6 percent of recent births are attended by Trained Birth Attendants. In this backdrop the increase accessibility of healthcare facilities can improve the situation of maternal health in the country.
The recommended reproductive healthcare package especially the women's health and safe motherhood includes: reduction of maternal morbidity and mortality, expansion of maternal health services, increase age at marriage for girls, birth interval; increase nutritional status of pregnant and nursing mothers, reduce number of life time pregnancies, prevention, detection and management of high risk pregnancies, and create men's support for maternal health and safe motherhood.
To prevent maternal mortality and improve the maternal health in the country, it is prerequisite for fundamental improvement of all maternal healthcare services and a change in attitudes of individuals, families and communities about pregnancy and childbirth care. At the Union Health and Family Welfare Centres the Family Welfare Visitors provide safe delivery care.
Antenatal care begins when the mother becomes pregnant and continues till the onset of labour. It comprises medical check-up, advice, and treatment for any complaint and vaccination. Normal puerperium is a period of 6 weeks following delivery when maternal system returns to pre-gravid state. Care of the mother during this period is called post-natal care. Post-natal care is very important because there may arise some complications during this period such as: post-partum haemorrhage, puerperal sepsis, which needs attention to save the mothers' life. In this period mother should be advised to take additional food to balance her physical wear and tear and for her suckling baby. Mother should be advised for regular breast feeding which will help quick involution of uterus, lactation and also protect her baby by providing immunity from the attacks of infection and communicable diseases.
Generally from upazila and district level Maternal and Child Welfare Centres (MCWCs) offer ante-natal care, referral of high-risk antenal cases to district hospital/medical college hospital, post-natal care, referral of complicated post-natal cases to district hospital, medical college hospitals, normal deliveries at MCWC and sometime conducted by Family Welfare Visitors at home.
Another way of providing maternity care is maternity service at the community level. This care is provided by FWAs and trained TBAs through screening and referring high-risk cases. TBAs are delivering around 25 percent of deliveries, the total coverage being less than 5 percent. Significant effort has been made in Bangladesh to train TBAs starting in 1979. A total of 42,285 TBAs have received training upto March, 1994. Now the total number trained personnel is more than 55,000.
Recently for further strengthening of maternity care in the country, the Government with the financial assistance from UNICEF and UNFPA started to provide Emergency Obstetric Care (EOC). The evaluation and reevaluation of solutions to the problem of maternal mortality indicates that there are two important lessons: all pregnant women are at risk of serious obstetric complications, maternal mortality cannot be substantially reduced unless women have access to emergency obstetric care. These services are divided into three sub-groups: Obstetric First Aid, Basic EOC, and Comprehensive EOC. Currently EOC services are rendered by 39 percent of district hospitals - providing comprehensive EOC, 69 percent of MCWCs render basic EOC services and 56 percent of Upazila Health Complexes render basic EOC services. Fifty-five percent district hospitals and only 8 percent Upazila Health Complexes provide general anesthesia.
For greater coverage of area under EOC, another project activities entitled 'Strengthening of Emergency Obstetric Care (EOC) in 11 districts have been started. The project is being financed by the UNICEF and implemented by the government for establishing of comprehensive EOC at 11 district hospitals, Basic EOC at 68 Upazila Health Complexes and First Aid EOC at the Union Health and Family Welfare Centres (UHFWCs) in the project areas. The project has trained necessary manpower - doctors, nurses, Family Welfare Visitors and also supplied equipment in the project areas. Gradually, for 'Improvement of Women and Maternal Health' this project will extend its activities throughout the country. Under Comprehensive Emergency Obstetric Care Project 40 Upazilas will be covered across the country.
Maternal services are also offered by NGOs and Private Sectors. Among the NGOs that provide maternity services are OB/GYN Society of Bangladesh, ICDDR,B, BRAC, and Grameen Bank Health Project. Several others have special programmes and facilities for providing antenatal care and safe delivery care.
Maternal mortality This indicates the number of death of women during childbearing in a given year per 100,000 births. The death of a woman while pregnant, or within 42 days of termination of pregnancy, irrespective of the duration of the pregnancy, from any cause related to or aggravated by the pregnancy or its management, but not from accidental or incidental causes, is a maternal death. The World Health Organisation estimates that half a million women die in pregnancy and childbirth every year, and about 90 percent of these deaths take place in the developing countries. These are due to women's low social status and poverty which in turn lead to their poor health, high fertility and lack of access to essential healthcare. According to recent estimation the total female population of Bangladesh is about 60.4 million, and about 82 percent of them live in the rural areas, and among them the number of married women of reproductive age was about 24.5 million in 1992 and by the year 2001, this number is projected to rise to 31 million.
In Bangladesh about 50 percent of the girls aged 19 and younger are married, and the median age of birth is around 18. It is also estimated that about 50 percent conceptions are unplanned and almost 25 percent of the pregnancies are unwanted. Many mothers in Bangladesh do not receive antenatal care, nearly three quarters of mothers received no antenatal care during pregnancy. Those who received care only 20 percent of them received it from doctors, 7 percent from nurses, midwives and family welfare visitors and one percent women received antenatal care from traditional birth attendants. The urban-rural differential in receiving antenatal care is quite large. Fifty-eight percent of urban births had received antenatal care from medically trained person, compared with only 23 percent in the rural areas. In Bangladesh institutional delivery is only 5 percent and rests are conducted at home in presence of traditional birth attendance or other elderly women of the family. During childbirth about 67 percent mothers were attended by untrained persons, 32 percent by trained personnel and 1.6 percent delivery was unattended.
Maternal mortality is a serious public health concern and a great contemporary challenge. Studies carried out by ICDDR,B and other research organisations in Matlab in Chandpur district, and in Tangail, and Jamalpur districts demonstrate the magnitude of the maternal mortality in Bangladesh.
According to the official estimates the current level is 4.7 maternal deaths per 1000 live births- or about 28,000 maternal deaths nationally each year- which is about 100 times higher than the level in the Northern Europe, and one of the highest in Asia. The main causes of maternal mortality are: postpartum haemorrhage, abortion, obstructed labour, puerperal sepsis, eclampsia and other obstetric causes.
Besides mortality, there are numerous other factors responsible for maternal morbidities. These include malnutrition and anaemia, infections, vesico-vaginal fistula, rectovaginal fistula, uterine prolapse, diabetes, and morbidity resulting from unsafe delivery and abortions done by the traditional practitioners. Mortality records probably exhibit only the half of the picture, because the incidences of short-term and long-term mortality are not known. Attempts are being made to reduce maternal mortality and morbidity by expanding and ensuring of safe motherhood services, combating of unwanted pregnancies through promotion of family planning, and providing safe back-up services who need it due to method failure. The government is committed for improving the accessibility of Emergency Obstetric Care (EOC) services and improving the utilization of healthcare facilities located at the periphery and at the community level.
Perinatal mortality Death immediately before or after birth. About 20 percent of the total population under the age of five, but almost 50 percent of deaths occur in this age group. The neonatal, infant and under-five mortality rates are 80, 66, and 112/1000 live births, respectively. Childhood mortality in Bangladesh is primarily due to malnutrition, diarrhoeal diseases, acute respiratory infections, neonatal tetanus, and measles. About 94% of children aged 6 months to 6 years suffer from various degrees of malnutrition. About 30-50% of the newborn babies have low-birth weight less than 2.5 kg. Acute respiratory infection (ARI), mainly pneumonia, causes 20% of under-five deaths, with another 17% due to vaccine preventable diseases.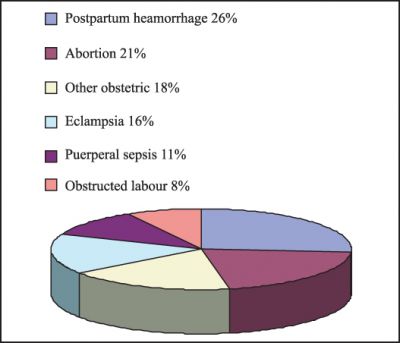 Data on peri-natal mortality in Bangladesh are not readily available and it seems that less research had been done on this issue. Perinatal mortality includes death of foetus after 28 weeks of pregnancy and death of newborn within 7 days after birth. Causes of peri-natal deaths can be divided into three categories: (a) Ante-natal causes, (b) Intra-natal causes, and (c) Post-natal causes. Ante-natal causes include: Maternal diseases hypertension diseases of cardio vascular system, diabetes, tuberculosis, anaemia; Pelvic diseases uterine anomalies, endometriosis, ovarian tumour; a natomical defects- uterine anomalies, incompetent cervix; Endocrine imbalance and inadequate uterine preparation; Blood incompatibilities; Malnutrition; Toxemia of pregnancy; Anti-partum haemorrhage; Congenital defects; and Advanced maternal age. Intra-natal causes are: birth trauma, asphyxia, prolonged effort time, and obstetric complications. Post-natal causes includes: pre-maturity, respiratory distress syndrome, infections respiratory and alimentary, and congenital anomalies. The above listed causes greatly affect the perinatal mortality but in a summarized form main causes of perinatal mortality can be listed as: intrauterine asphyxia, birth asphyxia, low-birth weight, birth trauma, and intrauterine and neonatal infections.
Research findings reveal that of every 1000 babies born alive, 12 die within hours of birth, eight of them due to injury during deliveries. In a recent study it was found that of the 695 admitted neonates 231 or 33 percent were due to birth asphyxia. One hundred and sixty-five (23.75%) neonates died in the hospital, and 93 or 56 percent of them due to birth asphyxia and its complications. More than one-third of the asphyxiated cases reach hospital more than 24 hours after the difficult delivery; about 40% of them usually die. This death including neonatal can be prevented if more centres for safe delivery and proper neo-natal treatment are made available in the country.  [Syeda Firoza Begum]
Abortion Termination of a pregnancy before the foetus reaches the stage of viability. According to medical tradition this covers the first 28 weeks of gestation, counting from the first day of the last normal menstrual period. Symptoms of abortion include abdominal cramp and bleeding from vagina, sometimes with clots and bits of tissues. There may be different causes of abortion, the most common being the faulty development of the embryo, abnormalities of the placenta, endocrine disturbances, acute infectious diseases, severe trauma, and shock. Other causes include genetic and immunological factors, problems related to uterus, and use of certain drugs. There are two types of abortion: spontaneous or natural that occurs without any voluntary interference, even if an external cause such as trauma, accident or disease causes the abortion; and induced abortions that occur as a result of deliberate interference with the pregnancy either by the woman herself or by someone else through any means, in order to terminate the pregnancy. Such abortion is usually done by dilating the cervix and evacuating the uterus.
Induced abortions may be Certain- when the woman makes a statement of this action herself or in the case of a deceased, when the health provider or a near relative gives a statement and there is postmortem evidence of genital trauma or foreign body insertion in the genital tract; Probable- when in induced abortion there is sepsis or peritonitis present and there is reason to believe that the pregnancy was unplanned.
In developing countries, methods used to induce abortion range from advanced medical and surgical techniques provided by skilled technical personnel to the ancient and harmful techniques rendered by the traditional healers, by relatives, neighbours or by the pregnant woman herself.
The types of surgical methods include vacuum aspiration, dilatation and curettage (DC), hysterotomy and in some cases hysterectomy. Vacuum extraction is a procedure in which a small tube (cannula) is inserted into the uterus and the uterine contents are removed by a vacuum syringe pump within 8 weeks of gestation or by a small pump operated by an electric motor up to 10-12 weeks of gestation. Although the cervical canal needs to be dilated slightly, no anesthesia is normally used. Carried out by skilled personnel in the first trimester (first three months) of pregnancy, this method is considered to be the safest method of abortion. Dilatation and Curettage (DC) involves dilatation of the cervical canal and removal of the products of conception under general anesthesia by a sharp metal curette. This method is carried out frequently in the healthcare centres where an operation unit exists. It is however, more painful than vacuum aspiration, and requires larger dilatation.
In Bangladesh often unqualified abortionists and pregnant women themselves trying an abortion use a wide range of inefficient and usually harmful methods ranging from oral preparations of herbs and medicaments believed to be abortificients, such as quinine, potassium permanganate, ergot, mercury, lead oxide, olive oil, etc and introduction of fluids into the vagina such as soap water or household disinfectant with a syringe or douche bag.
Another method most commonly used in rural Bangladesh is the introduction of foreign bodies, such as twigs or stems, hollow rubber or plastic tubes, or even bits of wire into the uterus. Septicemia, abscess, and peritonitis are the common consequences of such extremely hazardous techniques. Another common method used by rural abortionists involves massaging or applying pressure on the pregnant woman's belly using hand or even feet. This induces bleeding and can cause damage to the internal organs resulting in internal haemorrhage. In Bangladesh, a hospital study on 610 women conducted in eight centres, including two teaching hospitals, two district hospitals and four upazila health complexes, recorded a large proportion of women undergoing such unsafe practices. The methods used in abortion were as follows:
| | |
| --- | --- |
| Method | Percent |
| Insertion of solid sticks into uterus | 30.5 |
| Injection/tablet/ capsule/oral pill | 24.6 |
| Indigenous tablet/ mixture | 15.5 |
| Vacuum aspiration/MR | 20.1 |
| Dilation and Curettage (D&C) | 3.6 |
| Intrauterine instillation | 2.2 |
| Pressure on abdomen | 0.6 |
| Other means | 2.9 |
Although accurate figures are lacking, it is estimated that each year worldwide, 40-70 per 1000 women of reproductive age have an abortion, and between one-fifth and one third of all pregnancies are terminated. The main underlying cause is an unwanted pregnancy. Among the estimated 30-35 million abortions taking place annually throughout the world, more than half take place in developing countries. Surveys in some Latin American and Asian counties showed that as many as one out of every three or four women has had an induced abortion. Based on the results of a survey of data from 19 countries, it has been estimated that around 3.4 million abortions are performed each year in Latin America alone.
Abortion is lawful when done in order to save a pregnant woman's life or to protect her physical or mental health against serious danger. In Bangladesh, although induced abortion is illegal, except to save the life of the pregnant woman, hospital admission records and surveys of rural health workers indicate that abortion is common, and is responsible for a large number of maternal deaths. Although induced abortion is considered to be a criminal offence in Bangladesh, punishable by several years of rigorous imprisonment, this law has hardly been enforced during the last half a century. As a general rule, induced abortion is more common among the city dwellers than among the rural people.
The estimated number of annual abortion-related deaths in certain developing countries is between 114,900 and 204,450. In Bangladesh it is estimated at about 8,000 per year. A survey of clinicians and health workers in rural Bangladesh during 1978 and 1979 noted that abortion complications accounted for a high proportion of all maternal deaths. Interviews conducted with at least 1100 health workers indicated that out of 1590 cases of abortion complications, about 498 deaths occurred.
A recent study in Bangladesh, revealed that between 12 and 27 percent of total hospital admissions in obstetrics and gynaecology section were due to abortion complications. The proportion of hospital bed occupancy by them was about 9 percent.
In Bangladesh unsafe abortion continues to take a heavy toll on maternal lives resulting in an annual mortality of about 8000. Most studies indicate that abortion complications are responsible for nearly one-fourth of deaths of the mothers. Poverty, illiteracy, early marriage, health problems and other social conditions are thought to be the contributing factors of high rate of abortion incidence in Bangladesh. [SM Humayun Kabir]
See also family planning.