Rice Hispa (pamripoka) an insect pest, Dicladispa armigera, of the family Hispidae, order Coleoptera. As a pest of rice, rice hispa was first reported from Barisal in 1905, then in June 1912 from Sylhet, and in September 1913 from Noakhali. Since then its occurrence as a major pest and sporadic, wide-spread outbreaks have been reported from many districts of Bangladesh. Attacks since 1978 in different areas of the country, particularly in Barisal, Patuakhali, Pirojpur, Khulna, Jessore, and Faridpur districts have been almost regular, and those in 1981, 1984, 1985, 1992, and 1999 were most severe. The outbreak occurring in 1985 covered an area of about 7,07,600 ha, causing more than 20% yield loss.
The adult is a small, shiny, blue-black beetle about 5.5 mm in length with spines over the body surface. Females lay an average of 55 eggs singly, partly inserted beneath the epidermis of the ventral surface of rice leaves. Moist conditions, along with higher temperatures are conducive to its development. It completes life in 13-20 days averaging 16.5 days. The main attack is on young rice, by both adults and larvae.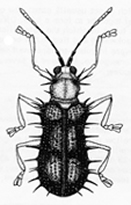 The adult beetle feeds on the green portion of the leaf, leaving only the epidermal membranes. The feeding damage shows as characteristic white streaks along the long axis of the leaf. Soon after hatching, the larvae mine into the leaf between the epidermal membranes, producing irregular longitudinal white patches. The damage starts from the site of oviposition near the leaf tip and extends towards the base of the leaf blade. The affected leaves gradually wither and die.
Rice hispa is generally known to attack young rice plants, but in epidemic situations it invades mature plants as well. Heavy infestations in outbreak-prone areas starts in December on the local Boro and continues upto the following November on transplanted Aman crops. Continual incidence mainly occurs in southern districts, where the pest survives all the year round because of moderate winters (16°-17°C) and favourable agro-ecological conditions.
Rice hispa is an active flier and has migratory habits. Often, it migrates to fields several kilometers away.
At present, rice hispa control methods include mechanical control of adults by sweeping insect nets and destruction of larvae by leaf clipping, and the use of insecticides. Suppression by natural enemies is very low, and resistant rice varieties are not known. Although insecticide control is popular among farmers, high prices of insecticides limit their use. The rice hispa problem is also known in Myanmar, India, Thailand, Cambodia, Nepal, Indonesia, Laos, Malaysia, China, Pakistan, and Sri Lanka. [SM Humayun Kabir]
See also rice; stem borer.