River long water course that flows down a slope along a bed between banks. It originates from a 'source' and culminates to a sea or lake at its 'mouth'. Along its length it may be joined by smaller rivers called 'tributaries'. A river and its tributaries form a 'river system'. Land surfaces are never perfectly flat, and as a result the runoff water after precipitation tends to flow downward by the shortest and steepest course in depressions formed by the intersection of slopes. Runoff water of sufficient volume and velocity join to form a stream that, by the erosion of underlying earth and rock, becomes deep enough to be fed ground water or when it has as its source an ultimate water reservoir, for example, the ganges flowing from the Gangotri Glacier and the brahmaputra from the Manas Sarovar.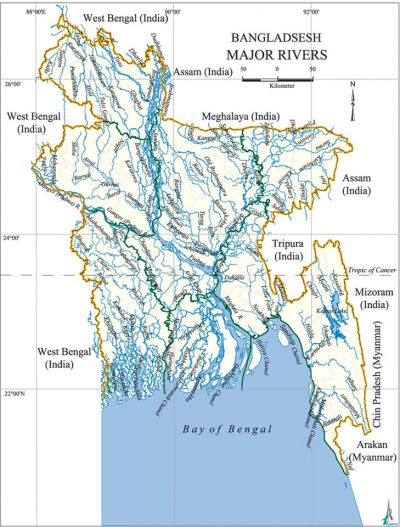 A river tends to eliminate irregularities and forms a smooth gradient from its source to its base level. As it approaches base level, downward cutting is replaced by lateral cutting, and the river widens its bed and valley and develops a sinuous course that forms exaggerated loops and bends called meander. A river can open up a new channel across the arc of a meander, thereby cutting off the arc and creating an oxbow lake. River velocity determines quantity and size of rock fragments and sediment carried by the river. Whenever velocity is checked by changes of flow of gradient, by meeting the water mass of lakes or ocean, or by the spreading of water when a stream overflows its banks, part of the load carried by the stream is deposited in the river bed or beyond the channel. Landforms produced by deposition include the delta, the floodplain, the channel bar, and the alluvial fan and cone.
Traditionally, river systems have been classified according to their stage of development as 'young', 'mature', or 'old'. The young river is marked by steepsided valley, steep gradients, and irregularities in the bed; the mature river by a valley with a wide floor and flaring sides, by advanced headward erosion by tributaries, and by a more smoothly gradient bed; and the old river by a course graded to base level and running through a peneplain, or broad flat area. Most of the rivers of Bangladesh are at their old stage and enter into the bay of bengal.
Table Major rivers of Bangladesh.
| | | |
| --- | --- | --- |
| River | Length (km) | Area covered (old districts) in km |
| Arial Khan | 160 | Faridpur (102) Barisal (58) |
| Bangshi | 238 | Mymensingh (198) Dhaka (40) |
| Betna-Kholpotua | 191 | Jessore (103) Khulna (88) |
| Bhadra | 193 | Jessore (58) Khulna (135) |
| Bhairab | 250 | Jessore, Khulna |
| Bhogai-Kangsa | 225 | Mymensingh (225) |
| Brahmaputra-Jamuna (Jamuna 207) | 276 | Rangpur (140) Pabna (136) |
| Buriganga | 27 | Dhaka (27) |
| Chitra | 170 | Kushtia (19) Jessore (151) |
| Dakatia | 207 | Comilla (180) Noakhali (27) |
| Dhaleshwari | 160 | Mymensingh, Dhaka |
| Dhanu-Baulai-Ghorautra | 235 | Mymensingh (126) Sylhet (109) |
| Donai-Charalkata-Jamuneshwari-Karatoya | 450 | Rangpur (193), Bogra (157), Pabna (100) |
| Ganges-Padma (Ganges 258, Padma 120) | 378 | Rajshahi (145), Pabna (98), Dhaka and Faridpur (135) |
| Gorai-Madhumati-Baleshwar | 371 | Kushtia (37), Faridpur (71), Jessore (92), Khulna (104), Barisal (67) |
| Ghaghat | 236 | Rangpur (236) |
| Karatoya-Atrai-Gur-Gumani-Hurasagar | 597 | Dinajpur (259), Rajshahi (258), Pabna (80) |
| Karnafuli | 180 | Chittagong HT, Chittagong |
| Kobadak | 260 | Jessore (80) Khulna (180) |
| Kumar | 162 | Jessore, Faridpur |
| Kushiyara | 228 | Sylhet (228) |
| Little Feni-Dakatia | 195 | Noakhali (95) Comilla (100) |
| Lower Meghna | 160 | from Chandpur to the Bay of Bengal |
| Matamuhuri | 287 | Chittagong HT and Chittagong |
| Mathabhanga | 156 | Rajshahi (16), Kushtia (140) |
| Nabaganga | 230 | Kushtia (26) Jessore (204) |
| Old Brahmaputra | 276 | Mymensingh (276) |
| Punarbhaba | 160 | Dinajpur (80) Rajshahi (80) |
| Rupsa-Pasur | 141 | Khulna (141) |
| Sangu | 173 | Chittagong (80), Chittagong Hill Tracts (93) |
| Surma-Meghna | 670 | Sylhet (290), Comilla (235), Barisal (145) |
| Tista | 115 | Rangpur (115) |
River valleys have been important centres of civilisation, they afford travel routes, and their alluvial soils form good agricultural lands. Navigable rivers are important in commerce and have influenced the location of cities. In Bangladesh, almost all the major cities/towns and commercial centres are located on the banks of rivers, eg, Dhaka on the bank of buriganga, Narayanganj by the side of shitalakshya, Chittagong by the side of karnafuli, and Mymensingh by the side of Brahmaputra. Rivers with sufficient water volume, velocity and gradient can be used to produce hydroelectric power. At kaptai the river Karnafuli of Chittagong region is being utilised for producing hydroelectricity.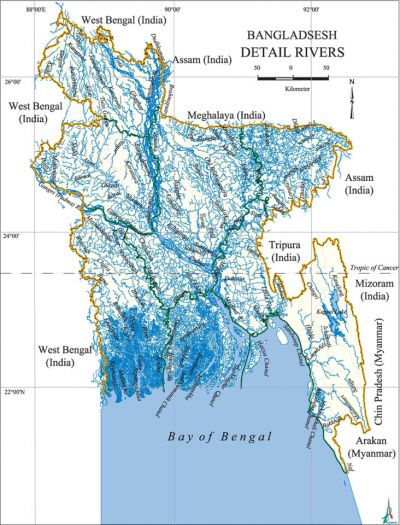 The pride of Bangladesh is its rivers with one of the largest networks in the world with a total number of about 700 rivers including tributaries, which have a total length of about 24,140 km. They consist of tiny hilly streams, winding seasonal creeks, muddy canals (khals), some truly magnificent rivers and their tributaries and distributaries. In some places, such as Patuakhali, Barisal and sundarbans area the watercourses are so plentiful that they form a veritable maze. The watercourses of the country are obviously not evenly distributed. They increase in numbers and size from the northwest of the northern region to the southeast of southern region. Bangladesh has predominantly four major river systems - (1) the Brahmaputra-Jamuna, (2) the Ganges-Padma, (3) the Surma-Meghna, and (4) the Chittagong Region river system. However, Brahmaputra is the 22nd longest (2,850 km) and the Ganges is the 30th longest (2,510 km) river in the world.
Preparing a complete list of the rivers of Bangladesh is more or less tough as often a single river possesses different names at different places. Even a five or six-kilometre segment has a different name upstream or downstream. Also a single name is used for different rivers in different locations. Here, an attempt has been made to present districtwise list of rivers.
Rangpur Dudhkumar, Raidak, Dharala, Tista, Shati, Burikhora-Chiki, Kharvaja, Ghaghat, Jamuneshwari, Aakhir, Kharkharia, Basmai, Dewnai, Chiki, Nilkumar, Bharola, Gadadhar, Sankona, Noadihing, Buridihing, Disang, Dikhu, Kalanga. Kopili, Titash-Giri, Brahmaputra: (26 rivers).
'Dinajpur Pathraj, Talma, Punarbhaba, Tepa, Tangon, Dahuk, Ghoramara, Jamuna, Koram, Atrai, Kulica, Baral, Garveshwari, Jabuneshwari, Jaldhaka, Torsa, Kollani, Raidak: (18 rivers).
Rajshahi Fakirni-Baranai, Shiba-Baranai, Mahananda, Pagla, Musa Khan, Ganges, Baranai, Hoja, Godari, Gumani: (10 rivers)
Pabna Gur, Bogra Ichamati, Baral, Hurasagar, Durgadaha, Sukhdaha, Bagra (Usium), Talan: (8 rivers)
Bogra Karatoya, Kathakoli, Bangali, Tulsiganga, Little Jamuna, Nosar, Badal: (7 rivers).
Dhaka Bangsi, Turag, Tongi Khal, Buriganga, Dhaleshwari, Kaliganga, Gazi Khal, Banar, Balu, Shitalakshya, Lohajang, Fuldi, Bhubaneshwari, Kirtinasha or Sreepur (Shitalakshya), Ichamati, Malik Bader Khal, Gajahatar Khal, Ilshamari: (18 rivers).
Mymensingh Jheenai, Aiman, Sutia, Old Brahmaputra, Gharota Nadi, Simahali, Narasundar, Bothai, Nitari, Shomeshwari, Kangsha, Gunai, Kachamathia, Pankura, Saidul, Mogra, Rangra, Kharmori, Mahadeva, Jadukata, Dhanu, Baulai, Shirkhali, Chellakhali, Motichick, Chalhi, Bangshai, Manas, Putia, Jinjiram, Subonfiri, Baleshwar, Vogai Kangsa, Kaulai, Dhanu, Silai, Kharmeni: (37 rivers).
Sylhet Surma, Piyain, Sharigoyain, Bagra Gang, Noiya Gang, Shawla, Dhamalia, Manai Bardal, Juri, Manu, Dhalai, Langla (Karangi), Khowai, Sutang, Kushiyara, Madhabpur, Mahasing, Khajanchi, Vattakhal, Kalni, Jamalpur, Boraba, Lova, Hari, Bogapani, Dhariana, Dhoai, Jadukata, Dhala-Dhalai Gang, Gopla-Langla, Mogai-Chalti, Rakti, Poiyanda, Vera, Mohana, Dhanu-Baulai: (36 rivers).
Comilla Titas, Gumti, Dhanagoda, Dakatia, Dapla Gang, Haora, Kathalia, Sonai, Satnal, Buri, Khaliajhuri, Batakandi, Moricha, Aarshi, Gopi, Marjora, Ghungat, Kheru Nadi, Baijani, Pagli, Shirai, Chandina Khal, Kakri, Malda, Anderson Khal, Matlab, Udnandi or Udmadhi, Kagni, Harimangal, Kurulia, Jaidind, Sonaimuri, Handachera, Jangalia, Durduria, Buri or Bijoy Ganga, Kaladumuria, Burigang, Bijoypur Khal, Chauddagram Khal, Nolia, Bijoli, Ghungar: (44 rivers).
Noakhali Madhukhali Khal, Rahmatkhali Khal, Muhuri, Little Feni, Silonia, Feni, Vulua, Hatiya, Atiabari Khal, Kalir Khal, Patkata Khal, Kothakoli Khal, Baparashi Khal, Goalkhali Khal, Atra Khal, Hura Khal, Gahojatli Khal, Halda, Ichamati: (19 rivers).
Chittagong Halda, Karnafuli, Sangu, Matamuhuri, Bogakhali, Satal Khal, Ichamati, Muhuri, Nad, Kablong, Rakhiang, Satta, Shilpa, Tuibang, Koka, Sreema, Boalkhali, Mogdai, Dongkhal, Naraiyangiri, Chiringa, Icchakhali, Kursai, Sindur Ganga, Kaptai, Rigari Khingar, Chandakhali, Kumirakhali, Chengi, Maini: (30 rivers).
Kushtia Mathabhanga, Garai, Jalangi, Magarkhali: (4 rivers).
Jessore Upper Bhairab, Lower Bhairab, Chitra, Begavati, Nabaganga, Chandana, Kobadak, Barasia, Kholpotua, Alengkhali, Pangubi, Kaba, Kaliganga, Kathipata, Dartanar Khal, Marichhop, Chandkhoni, Pangani, Naingatra Samudra, Baragang, Kumar, Bara Gangdiadaha, Amla Madarpur, Dakoiya, Mara Gorai, Barasia, Palang, Atrai: (28 rivers).
Faridpur Madhumati, Kumar, Arial Khan, Atai, Madaripur Beel Rout: (5 rivers).
Khulna Bhadra, Atharobanki, Alaipur Khal, Kholpotua, Shibsa, Rupsa, Baleshwar, Gasiakhali, Pasur, Aar, Pangania, Oratama, Ichhamati, Namud Samudra, Sonagang, Bhangra, Kunga, Malancha, Satkhira, Sutakhali, Raimangal, Marjat, Harinbhanga, Mahavanga, Galangi, Haripur, Sonai, Budhatar Gang, Dhaki, Galghemia, Uzirpur, Katakhal, Guchiakhali, Badurgachha, Deluti, Manas, Koiyara, Aar-Shibsa, Kalindi, Majudkhali Khal, Aakrar Khal, Mongla, Sola, Paiyra, Aandranmukho, Muhuri, Modla, Hariabhanga, Gangubi, Katcha, Pakashia, Moiyar Gang, Kabipata, Jhank, Shialir Khal, Naraiyankhali, Kadamtali, Bangra, Shila, Kalagachhia, Banshtali, Salokhi, Shakbaria, Aalki, Manikdia, Chandeshwar, Pankushi, Baleshwar Balmarjar or Manjal, Kagibagh, Rampal: (71 rivers).
Barisal Bishkhali, Shawrupkathi or Sandhiya, Babuganj, Agunmukha, Hemda, Lohalia, Shahbazpur, Naiyabhanga, Rajganj, Ganeshpur, Dubaldia, Torki or Turkey, Kirtankhola, Dharamganj, Jhilinha, Mankutha, Multani, Karkhoma, Aagli, Dhulia, Gangalia, Burishwar, Kaliganga, Haringhata, Patua, Tentulia, Dhalia, Nilashi, Nabaganga, Bhola, Pakashia, Chandana or Pangsa, Jabnashbad, Baleshwar, Shamsan Ghat, Moiyar Gang, Naiya Bhangni, Gournadi, Kalabadar, Mirgamari, Katcha, Lata, Ilish or Ilsha, Kabahkali, Madhumati, Andhar Manik, Rabnabad or Patua, Bura Gauranga, Bakerganj, Aamtola, Dhansiri, Sugandha, Jhalokati, Chalna, Aalengkali, Nalbiti, Kharborabad, Galachipa: (58 rivers).
Sundarban area Baleshwar, Sumati, Chhaprakhali, Bara Sheola, Harin China, Sharankhola, Ambare, Chandeswar, Kapa, Kalida, Sathka, Javo, Mara Pasur, Dangmari, Bile, Chhutorkhali, Chalo Bagi, Harmahal, Beri-aada, Bakir Khal, Aar-Shibsa, Hadda, Mahishe, Chhachhon Hogla, Majjot, Shakbare-Singa, Golkhali, Kukumari, Kalagachhe, Domorkhali, Hansarag, Kaga, Nilkamal, Khejurdana, Sejikhali, Baintala, Bangabali, Dobeki, Firingi, Mando, Keorasuti, Bando, Dhakola, Lataberi, Bhetoipara, Baluijhanki, Kalikabari, Bekardon, Andharmanik, Jhale, Patkosta, Base, Golbhaksa, Dhanibune, Harikhali, Manasar Ber, Puspakati, Gangasagar, Kali Lai, Bogi Chenchane, Kurekhali, Bhuer Dane, Katheswar, Sonarupakhali, Dudhmukh, Lathikara, Terokati, Dhanghara, Arbase, Dakshinchara, Sapkhali, Kadamtali, Burer Dabur, Luxmi Pasur, Manki, Ashashuni, Taltakta, Dhabjikhali, Mandaptala, Netokhali, Bhayela, Baganbari, Jharabagna, Bagaura, Baksakhali, Chailtabari, Singartali, Mathabhanga, Narayantali, Kaikhali, Mathura, Khasitana, Agunjala, Phuljhuri, Malabaga, Khamurdana, Ubde, Gubde, Sonaipanthi, Dhonairgang, Kanaikhathi, Marichjhapi, Netai Talpanthi, Dhanpati, Ragakhali, Mukta Bangal, Arijakhali, Dulor Tek, Zingili, Bibir Made, Tekakhali, Deur Zande, Chamta Kamta, Kunche Mathe, Bayla Koyla, Madar Bare, Bayar Nala, Hunke, Dhancher Nadi, Mulye Meghna, Bailo, Betmuri, Burigolli, Chunkuri, Mayadi, Phulbari, Taltali, Angra Kana, Garar Nadi, Badamtali, Bhuter Gang, Baikuntha Hana, Karpuro, Chhaya Halri, Arbhanga, Talakpanthi, Khejure Kurule, Chhoto Sheola, Kanchikata, Dair Gang, Baikiri, Jalghata, Ilishmari, Jhalki, Satnala, Makurni, Helar Ber, Kalinde, Shakbhate, Gonda, Pala, Terobenki, Talbare, Her Matla, Bhurbhure, Chhadankhali, Phataker Dane, Bharkunde, Kendakhali, Naobenki, Kalaser Bali, Panir Khal, Kultali, Barabare, Mukule, Madhukhali, Pashkati, Gochhba, Ghat Harano, Gabandara, Loker Chhipi, Bahar Nadipar, Bara Matla, Payra Thuni, Kalbeyara, Dhukuni, Parshe Mari: (177 rivers). [Mohd Shamsul Alam and Masud Hasan Chowdhury]
See also brahmaputra-jamuna river system; chittagong region river system; ganges-padma river system; river and drainage system;surma-meghna river system; trans-boundary rivers.
Bibliography Abdul Wazed, Bangladesher Nadimala (Rivers of Bangladesh, in Bangla), Dhaka, 1991; FH Khan, Geology of Bangladesh, University Press Limited, Dhaka, 1991; Haroun or Rashid, Geography of Bangladesh, University Press Limited, Dhaka, 1991; Sirajul Islam Chowdhury, Arthanitik Bhugol: Visva and Bangladesh (Economic Geography: World and Bangladesh, in Bangla), University of Dhaka, 1995; Hugh Brammer, The Geography of the Soils of Bangladesh, University Press Limited, Dhaka, 1996; Bangladesh Bureau of Statistics (BBS), Statistical Year Book of Bangladesh 1998, BBS, Dhaka, 1999.