Roy, Dwijendralal (1863-1913) poet, playwright and lyricist, was born on 19 July 1863 at Krishnanagar in Nadia district, where his father, kartikeya chandra roy, was the dewan. His mother, Prasannamayee Devi, was a descendant of Adwaita Prabhu. Dwijendralal graduated in arts from Hughli College in 1883 and obtained his MA degree in English from Presidency College a year later.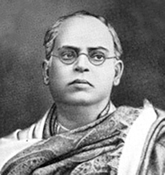 He then travelled to London where he obtained the FRAS in agriculture and the MRAC and MRAS from the Royal Agriculture College and Agricultural Society. Returning to India he received training in survey and settlement department in Madhya Pradesh and was appointed a deputy in the department. He was later appointed a deputy magistrate in Dinajpur. In 1890, while serving as a settlement officer at Sujamuta pargana in Burdwan estate, he came into conflict with the government on the issue of peasants' rights.
In 1905 Dwijendralal established a literary society, Purnima Milon, in Kolkata. He became the editor of the monthly bharatvarsa in 1913. Dwijendralal had a literary bent of mind and started writing poems while still in his teens. While still a student he wrote Aryagatha (part 1, 1882). During his stay in England he wrote The Lyrics of Ind in 1886. Among his other books are collections of poems and songs: Aryagatha (part 2, 1894), Hasir Gan (1900), Mandra (1902), Alekhya (1907), and Triveni (1912). His sketches and satires include Ekghare (1889), Samaj Bibhrat O Kalki Avatar (1895), Tryahasparsha (1900), Prayashchitta (1902), and Punarjanma (1911). He also wrote plays, many of which are included in university syllabi. Among his mythical plays are Pasani (1900), Sita (1908) and Visma (1914). His social plays include Parapare (1912) and Babganari (1916). He also wrote a number of historical plays: Tarabai (1903), Rana Pratapsingh (1905), Mebar Patan (1908), Nurjahan (1908), Sajahan (1909) and Chandragupta (1911). Most of his plays were successfully staged in Kolkata and elsewhere. He is specially remembered for his historical plays. He was also a well-known composer of modern songs; dwijendragiti still form a regular feature of radio and television programmes.'
Dwijendralal composed about five hundred songs on different topics. Initially his songs were known as Dwijubabu's songs, subsequently became known as Dwijendragiti. Dwijendralal's first collection of songs, Aryagatha, was published in 1882 with one hundred and eight songs, all composed before the age of seventeen. The themes of these songs are the beauty of nature, a romantic agony, devotion to God and patriotism.
The songs collected in the second part of Aryagatha, published in 1893, include several love songs, written to his wife, Surabala Devi. A number of these songs are composed in kirtan style. Some of these songs combine western tunes with Bangla lyrics. The song 'kemane tui re Jamuna pulin' borrows the tune of a Scottish song, 'Ye banks and braes'. Similarly, 'jao jetha jash achhe' is based on the Irish tune of 'Go where glory awaits thee'.
During his posting at Bhagalpur and Monghyr, Dwijendralal learned Tapkheyal and subsequently introduced the style of Tapkheyal into his songs. Inspired by the patriotic urge of the times, Dwijendralal also composed many satirical songs. One such song, ridiculing selfish politicians and so-called patriots, is 'Nandalaler Gun' (Virtues of Nandalal). In this song he exposed the real character of the selfish politicians and rebuked them for deceiving the people under the pretext of service to the motherland.
The death of his wife in 1903 affected Dwijendralal who stopped composing songs of mirth and gaiety. At the same time, the anti-British movement and the swadeshi movement inspired him to write patriotic and nationalistic songs for the motherland and against the partition of Bengal.
Among the popular patriotic songs composed by Dwijendralal are 'Banga amar janani amar' (O Bengal of mine, my motherland), 'Dhanadhanya puspabhara' ([My land], abounding with wealth and grain). As in his earlier songs, in these songs as well Dwijendralal combined western music with Indian raga. 'Dhanadhanya puspabhara,' for instance, is based upon the Kedara Raga, but the line 'se amar janmabhumi (It's my motherland), with three types of musical tempo, imitates the English music pattern.
The antipathy of Dwijendralal towards the colonial rulers was mingled with his uncommon musical talent, and this is reflected in many of his patriotic songs. However, he did not reject the west totally as revealed in his melding Bangla lyric and western music. Dwijendralal's songs, characterised by truth and beauty and a sense of joy, have become a part of the Bangla tradition. He died on 17 May 1913 in Kolkata. [Nurul Amin and Khan Md Sayeed]
Bibliography Dilipkumar Roy, Mahanubhab Dwijendralal Roy, Calcutta University, 1966; Karunamaya Goswami, Sabgitkos, Bangla Academy, Dhaka. 1985; Sudhir Chakraborty, Dwijenralal Roy- Smaran Bismaran, Calcutta, 1989, Bangla Ganer Sandhane, Calcutta, 1990.