Roychowdhury, Upendra Kishore
Roychowdhury, Upendra Kishore (1863-1915) writer of juvenile literature, musician, artist, and a pioneer of Bengali printing industry. He was born in the village Masua in mymensingh district on 10 May 1863. His early name was Kamodaranjan Roy. At his age of five, one Hari Kishore Roychowdhury, a relative of Upendra's father Kalinath Roy received him as an adopted son. He was then renamed as Upendra Kishore Roychowdhury. Upendra passed the Entrance examination in 1880 with scholarship from Mymensingh Zila School. He studied for a while at Presidency College in Calcutta but passed BA examination in 1884 from Calcutta Metropolitan Institute.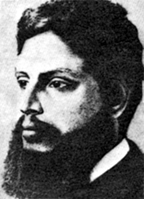 He became an expert in drawing during his school-life. His first literary work was published in the famous juvenile magazine Sakha when he was a BA student in 1883 and from then on continued his literary work. Upendra played a pioneering role in the fields of Bangla juvenile literature by creating rhymes, folktales, fairytales, mythological tales, and science fiction adding fine drawings. He started publishing a monthly juvenile magazine Sandesh under his editorship which is now-a-days the most popular juvenile magazine published from Calcutta.  
Upendra Kishore started experiment on printing of halftone pictures by establishing studio, darkroom, etc in 1896. He prepared various diaphragm, ray-screen adjuster, etc by research and became the inventor of diotype and ray-print process. Upendra wrote a number of books, of which most important are Chhotoder Ramayan (1894-1895), Sekaler Katha (1903), Chhotoder Mahabharat (1909), and Mahabharater Galpa (1909). World famous filmmaker satyajit ray was his grandson. Upendra Kishore Roychowdhury breathed his last on 20 December 1915. [Md Mahbub Murshed]