Saghatta Upazila (gaibandha district) area 255.67 sq km, located in between 25°02' and 25°14' north latitudes and in between 89°29' and 89°40' east longitudes. It is bounded by gaibandha sadar upazila on the north, sonatala upazila on the south, fulchhari, sariakandi 'and' islampur upazilas on the east, gobindaganj and palashbari upazilas on the west.
Population Total 250269; male 126610, female 123659; Muslim 232588, Hindu 17347, Buddhist 12, Christian 35 and others 287287.
Water bodies Main rivers: jamuna, bangali, Kalapani; Telian Beel, Badia Beel are notable.
Administration Saghatta Thana was formed in 1905 and it was turned into an upazila in 1984.
Upazila
Municipality
Union
Mouza
Village
Population
Density (per sq km)
Literacy rate (%)
Urban
Rural
Urban
Rural

-

10

117

135

15549

234720

1109

46.8

33.5
Upazila Town

Area (sq km)

Mouza

Population

Density (per sq km)

Literacy rate (%)

6.38

4

15549

2437

46.84
Union
Name of union and GO code
Area (acre)
Population
Literacy rate (%)
Male
Female

Kachua 57

5219

13102

12799

32.77

Kamaler Para 66

6185

16955

15832

30.83

Ghuridaha 28

5148

12551

12170

31.92

Jummerbari 47

4476

13053

12934

31.05

Padumsahar 76

4318

12498

12525

35.27

Bonar Para 19

5661

16072

15381

41.72

Bharatkhali 09

3521

10760

10731

42.62

Muktanagar 95

3646

10421

10524

36.45

Saghatta 85

6019

10505

10337

34.74

Haldia 38

11566

10693

10426

24.60
Source Bangladesh Population Census 2001, Bangladesh Bureau of Statistics.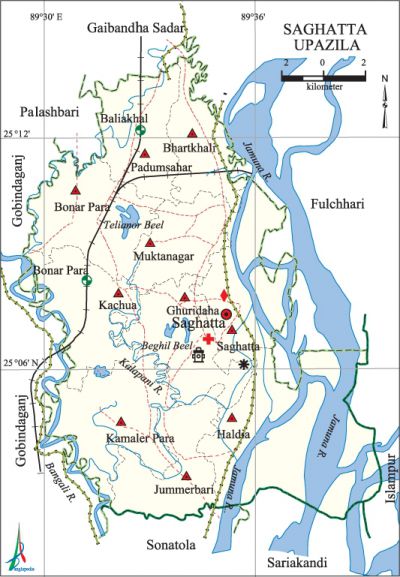 Archaeological heritage and relics Bharatkhali Kalibari Mandir (eighteenth century), Kachari (revenue office) of Bharatkhali Zamindar.
History of the War of Liberation During the war of liberation an encounter was held between the freedom fighters and the Pak army at a place called Bhanga Mor (corner) on the superb of Saghatta upazila in which one Pak Major and a soldier were killed. In another encounter at Trimohoni Ghat, 27 Pak soldiers were killed and so were 12 freedom fighters. During the War of Liberation the freedom fighters killed 17 razakars of the upazila. The Pak army destroyed the bridge on the Badiakhali Road and the Singra Railway Bridge; they also set the Bharatkhali jute godown on fire.
Marks of the War of Liberation Memorial monument 1 (Muktanagar High School ground).
Religious institutions Mosque 345, temple 22.
Literacy rate and educational institutions Average literacy 34.3%; male 40.3%, female 28.2%. Educational institutions: college 6, secondary school 39, primary school 142, community school 14, madrasa 16. Noted educational institutions: Abdullah Memorial Government Primary School, Jummerbari High School (1903), Saghatta Pilot High School (1904), Kazi Azhar Ali High School (1920), Bhartkhali High School (1940).
Newspapers and periodicals Weekly: Panthasala.
Cultural organisations Library 1, club 30, shilpakala academy 1, music academy 1, theatre group 2, cinema hall 4,' playground 21, women's society 15.
Tourists spots Bhartkhali Kalibari Mandir.
Main sources of income Agriculture 67.63%, non-agricultural labourer 1.97%, industry 1.11%, commerce 11.20%, transport and communication 3.57%, service 6.44%, construction 0.90%, religious service 0.90%, rent and remittance 0.30% and others 6.69%.
Ownership of agricultural land Landowner 58.99%, landless 41.01%; agricultural landowner: urban 43.68% and rural 59.98%.
Main crops Paddy, jute, potato, wheat, onion, garlic, vegetables.
Extinct or nearly extinct crops Sugarcane, aus paddy, kaun, china, sweet potato, linseed, sesame.
Main fruits Mango, jackfruit, litchi, banana, papaya, guava.
Fisheries, dairies and poultries Fishery 43, dairy 23, poultry 62.
Communication facilities Pucca road 50 km, semi-pucca road 23 km, mud road 397 km; railway 15 nautical miles.
Extinct or nearly extinct traditional transport Palanquin, horse carriage, bullock cart.
Noted manufactories Cotton mill, ice factory, saw mill, welding factory.
Cottage industries Goldsmith, blacksmith, potteries, handicraft, bamboo work, wood work.
Hats, bazars and fairs Hats and bazars are 19, fairs 5, most noted of which are Saghatta Hat, Bonar Para Hat, Bhartkhali Hat, Kachua Hat, Jummerbari Hat and Bhartkhali Kalibari Mela.
Main exports Jute, onion, garlic, banana, papaya.
Access to electricity All the unions of the upazila are under rural electrification net-work. However 8.27% of the dwelling households have access to electricity.
Sources of drinking water Tube-well 92.41%, tap 0.18%, pond 0.12% and others 7.29%.
Sanitation 10.38% (rural 8.99% and urban 31.76%) of dwelling households of the upazila use sanitary latrines and 41.02% (rural 40.92% and urban 42.60%) of dwelling households use non-sanitary latrines; 48.60% of households do not have latrine facilities.
Health centres Upazila health complex 1, family planning centre 10, satellite clinic 2.
NGO activities Operationally important NGOs are brac, thengamara mahila sabuj sangha. [Md. Hamidul Haque Chandan]
References Bangladesh Population Census 2001, Bangladesh Bureau of Statistics; Cultural survey report of Saghatta Upazila 2007.