Saha, Satya (1934-1999) singer, music director was born on 25 December 1934 at village Fateyabad in Patia of Chittagong district. His father was Prasannakumar Saha. His initiation into music was under his uncle Rabindrapal Saha. While studying at Narayan High School in 1946, he took lessons in classical music from Pandit Suparna Nandi. At that time he also learnt to sing devotional bhajan songs.
In 1956 he joined Radio's Dhaka Station as assistant of composer Panchanon Mitra. Subsequently he then directed music for 12 films as Assistant Music Director (1958-1959). In 1961 he was enlisted as a Radio Artiste. In the film Tomar Amar he was a singer but his debut as music director was in the film Sutarang (1964) directed by Subhash Dutta. His famous song in this film was 'Tumi Asbe Bole, Bhalobasbe Bole'(Since you were to come and love me). Before this film, Satya Saha began working on his life's first film Janajani but it got released after Sutarang.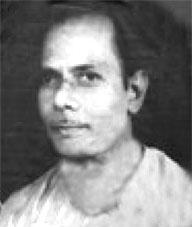 A famous film Rupban (1965) based on Bangali tradition and culture was made in Calcutta film industry and Satya Saha was the music director of that film. Among other films of Satya Saha, as music director were Syed Shamsul Huq's Fir Milebge Ham Duno (1966), Rawnak Choudhury's Bhawal Sanyasi, Subhas Dutta's Kagojer Nauka 'Syed Awwal's Gunai Bibi and Aparichita, Bashir Husain's 13 Number Feku Gostagar Lane (1966), Azizur Rahman's Saiful Mulk Badiuzzaman, Subhash Dutta's Aina O Abashishta, Narayan Ghosh Mita's Etotuku Asha (968) and so on.
In the eighties, Satya Saha's wife Ramala Saha produced two famous films Ashiksito and Chhutir Ghanta. Story, cinematography, dialogue and music of these two films created a stir in the contemporary Bengali society and filled the dearth of quality of Bengali films. The songs of these films directed by Satya Saha with utmost care became very popular.
Satya Saha was one of the most successful music directors of Bangladesh. From 1964 to 1999, Satya Saha directed music in about two hundred different films and produced twenty films. For his contribution to film-music he received Bangladesh Film Journalists Award (1974) and National Film Award (1994). He died in Dhaka on 27 January 1999. [Khalid Hasan Komol]