Salam, Sheikh Abdus (1940-1971) educationist, martyr intellectual. He was born on 12 July 1940 at village Bilbaoch in Kalia thana of Narail district. His father was Sheikh Abdul Gafur and mother Fuljan Nesa. Sheikh Abdus Salam passed Matriculation examination in 1956 from Kalia High School, IA in 1958 from Narail Victoria College and obtained graduation in 1960 from Khulna BL College. He got himself admitted in MA Class in the Department of English in Dhaka University in 1969. He passed MA preliminary examination in 1970 and appeared in final year examination partly in 1971 when the examination was postponed. Abdus Salam got BL degree from Khulna Law College and BEd from Dhaka Teachers' Training College. He completed a number of diploma courses on system of education and on English language and literature.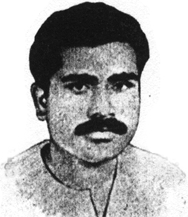 Sheikh Abdus Salam began his professional career in 1960 as Headmaster of Nawagram United Academy. He then served as Headmaster in Benda Union Institution and in Baradia High School. He joined Kalia Multilateral High School as Headmaster in 1967.
Sheikh Abdus Salam was involved in politics in his student life. While a student in the Dhaka University he was active in anti-Ayub mass movement in 1969. For his political activities he was arrested and confined by the military government in 1970. During the non-cooperation movement in 1971, Abdus Salam was one of the leading organisers of the movement in Narail. He was then the general secretary of the Kalia thana unit of Awami League. It was under his leadership that the flag of independent Bangladesh was first hoisted in Kalia. Abdus Salam actively participated in the War of Liberation. The Freedom Fighters Sangram Parishad was formed in Kalia by his initiative of which he was the convenor. In early May 1971, the Pak army arrested him with the help of the razakars. He was severely tortured by the army in the cantonment for days together and was killed on 13 May 1971.
Sheikh Abdus Salam contributed a lot in establishing a number of schools in Kalia. He had pioneering role in the foundation of Kalia College. Besides, he was involved in the venture for improving the road communication in Kalia and was associated with various social welfare activities in the area.
After the liberation, Kalia College was renamed as Kalia Shaheed Abdus Salam Degree College. The Postal Department of the Government of Bangladesh issued commemorative postal stamp in the name of Sheikh Abdus Salam on the Martyred Intellectual Day on 14 December 1998. [ATM Zayed Hossain]