Salimullah, Khwaja (1871-1915) nawab of Dhaka, Muslim nationalist, an architect of the muslim league, patron of education. Son of Nawab khwaja ahsanullah and grandson of Nawab khwaja abdul ghani, he was born at the ahsan manzil on 7 June 1871. Following the family tradition Salimullah learnt at home Urdu, Arabic, Persian and English.
In 1893 he entered government service as a Deputy Magistrate. But in 1895 he left the job and started business at Mymensingh. Following his father's death in 1901 Salimullah, as the eldest surviving son, became the head of the dhaka nawab estate and inherited the hereditary title of 'Nawab'.
Nawab Salimullah got involved in politics in 1903-04 by way of giving opinion on the government's plan for the partition of bengal.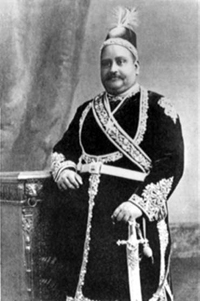 On 11 January 1904 he opposed certain aspects of the partition plan in an assemblage of Hindu and Muslim leaders at Ahsan Manzil. Viceroy lord curzon, while on a tour of East Bengal, accepted Nawab Salimullah's hospitality on 18-19 February 1904. As a result of their discussion some changes took place in the partition plan. The partition came into effect on 16 October 1905 and Dhaka became the capital of the new province of eastern bengal and assam. This increased Nawab Salimullah's prestige. He played a very important role in creating public opinion in favour of the new province in the face of strong opposition of the indian national congress.
On the very day of the creation of the new province Salimullah presided over a meeting in northbrook hall where Muslim leaders from all over East Bengal assembled. From this meeting emerged a political front called 'Mohammedan Provincial Union', which became an important political platform of Bengal Muslims in those days. Salimullah, along with his companions, organised public meetings in the mofussil towns to generate public opinion in favour of the new province. On the other hand, the Congress built up a strong movement against it. In 1906 Salimullah organised the 'East Bengal and Assam Provincial Educational Conference' and, at its first convention at Shahbag, Dhaka, on 14 and 15 April the same year, he was chosen its president.
In 1906 Salimullah planned to create an all-India political party called 'Muslim All India Confederacy'. The plan was despatched to various leaders and bodies throughout the subcontinent for consideration and was published in newspapers and periodicals. On the other hand, he got the consent of leaders connected with the Aligarh Movement to convene the 20th meeting of the All India Mohammedan Educational Conference at Dhaka entirely at his own cost. From 27 to 30 December 1906 over two thousand learned people including all-Indian Muslim leaders gathered at the nawab's family garden-house in Shahbag. This cost him over six lakh rupees. On 30 December, the last day of the convention, the 'All India Muslim League' was formed. Salimullah was made its vice-president and a member of the committee for framing its constitution. The All Bengal Muslim League was founded the same year at a meeting of Muslim leaders from both Bengals in Calcutta, and he was made its president. In 1908 he established the 'East Bengal and Assam Provincial Muslim League' and himself became its secretary.
On 27 December 1908, the 22nd Convention of the All India Mohammedan Educational Conference was held at Amritasr with Nawab Salimullah in the chair. In the conference of the All India Muslim League at the same place on 30-31 December he demanded separate elections for Muslims and called on concerned authorities to allow political discussion in educational institutions. To maintain cordial relations between Hindus and Muslims in the new province he gathered wealthy and respectable persons from both communities to form the 'Imperial League of Eastern Bengal and Assam' on 21 March 1909. Also in this year he restructured the provincial Muslim League and himself took the responsibility of its president.
On 15 and 17 March 1911 Nawab Salimullah presided over a meeting at Ahsan Manzil where it was decided that both provincial Muslim League and Provincial Educational Conference would be maintained and political activities would be conducted through the first organisation, while the second would serve as medium of educational activities and works of public welfare. On 19 August a function was held at the curzon hall to bid farewell to Lieutenant Governor lancelot hare of East Bengal and Assam and welcome his successor, Mr Bailey, where Salimullah demanded that a university and a high court be established at Dhaka. He was severely shocked, as George V annulled the Partition of Bengal at the delhi coronation durbar on 12 December 1911. On 20 December he submitted an 8-point demand to Viceroy lord hardinge for the protection of Muslim interest. When Lord Hardinge came to visit Dhaka in January 1912 Muslim leaders led by Nawab Salimullah put forward their demands to him on the 31st. On that very day establishment of a university at Dhaka and appointment of an education officer for Muslims were pledged. It was due to Salimullah's efforts that Islamic Studies Department was included in the plan of Dhaka University.
On 2 March 1912 a meeting of the Muslim leaders of united Bengal was held at Dalhosie Institute at Calcutta with Salimullah in the chair. At this meeting the two separate Muslim Leagues of two Bengals were amalgamated into the 'Presidency Muslim League' and Salimullah was chosen its president. Similarly in the same meeting the two Muslim Associations of two Bengals were put together to form 'Bengal Presidency Muslim Association'. He was made president of this organisation too. In his presidential speech at the All India Muslim League Conference held in Calcutta on 3-4 March 1912 he strongly countered the arguments of those who opposed the creation of Dhaka University. He explained the necessity of separate elections for Muslims and demanded proportional quota for them in public services. In 1912 when Turkish Muslims were in great danger due to the Balkan wars Nawab Salimullah collected huge amount of donations from East Bengal and sent the money to assist them. But in 1914 when Turkey sided with Germany in the First World War, he went against them and extended his support to the Allied Powers. In 1914 he arranged a convention of Muslim Education Conference of united Bengal on 11-12 April and the Muslim League Convention on 13 April. Right after this, he practically retired from active politics.
In 1908 Nawab Salimullah had been nominated member of Women's Education Committee of East Bengal and Assam. He was also a member in the committee formed by the Government in 1909 to reform education. On the basis of the Committee's recommendations, and also due to Salimullah's sincere efforts, the Government introduced in 1915 the plan for modern Madrasa education.
Nawab Salimullah was a philanthropic person. He used to contribute generously to socio-economic development activities. He donated in 1902 one lakh twelve thousand rupees that had been promised by his father for the establishment of Dhaka Engineering School (now bangladesh university of engineering and technology). He patronised projects in the agricultural and industrial sectors; and also for the construction of mosques, madrasas, hospital, and student dormitories as well as other works of social upliftment. He used to arrange exhibitions to promote development of Dhaka handicrafts. His efforts gave this industry a new life. He was a member of the Committee formed by the East Bengal Government in 1909 in order to promote development of handicrafts.
Nawab Salimullah was a member of East Bengal and Assam Legislative Assembly (1906-12) and of the Imperial Council and also of the United Bengal Legislative Assembly (1913-15). The British government conferred on him the titles of CSI (1902), Nawab Bahadur (1903), KCSI (1909), and GCSI (1911). He established a night school at Dhaka, developed the panchayet system of the city, and popularised the observance of Miladunnabi and Fateha-i-Doaz Daham. He incurred heavy debts due to unlimited expenditure for public welfare works and politics.
Salimullah died on 16 January 1915 in his house at Chaurangi, Calcutta. His body was brought to Dhaka in state honour and was buried in the family graveyard at Begum Bazar. [Mohammad Alamgir]