Salimullah Orphanage established in Dhaka by Nawab Sir Salimullah in 1909 was initially known as Islamia Orphanage. It was founded in a rented house at Kumartuli nearby ahsan manzil. Sir Salimullah granted a monthly endowment of 200 rupees for its management. A committee was formed to run the orphanage in 1912. It was shifted to Azimpur, near Lalbagh fort in 1913, when the number of orphans was increased.
In 1913 Lord carmichael (1912-1917), the Governor of Bengal, paid a visit to this orphanage and granted an endowment of one thousand rupees for its operation. He also allocated a public land near the Gore Shaheed Mosque of Amlapara, to construct a building for the orphanage. Most of its cost was borne by khwaja salimullah. After his demise the management of the orphanage suffered a tremendous economic hardship. Many local people of Dhaka city came forward with money to save the orphanage renaming it as Salimullah Orphanage.
Lord Carmichael re-visited the orphanage in 1916 and laid the foundation stone of Nawab Habibullah Ward of the orphanage. In 1923, the orphanage had to face a financial crisis again and consequently, the management committee of the orphanage was reconstituted with Nawab Habibullah and Chowdhury Farid Uddin Ahmed Siddiqui as the Chairman and the Secretary respectively to overcome the crisis. In 1926, Lord Litton (1922-1927) donated two and half thousand rupees during a courtesy visit to the orphanage. He inaugurated the factory-department for imparting technical education to the orphans. Syed Nawab Ali Chowdhury also visited the orphanage in the same year and laid the foundation of the extension building.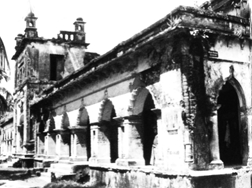 In 1931, Lady Jackson, the wife of Sir Stanley Jackson, the then Governor of Bengal, paid a visit to the orphanage to inaugurate a building named Sir Ahsanullah ward built at a cost of 22,853 rupees. nawab ali chowdhury donated ten thousand rupees for that purpose. khwaja nazimuddin, the then Minister for Education managed the rest of the amount from the Treasury of the Government. Lady Jackson unveiled the plaque of another new building, Jenana Mahal (Female ward) built at a cost of 23,175 rupees. Of this amount, Khawja Salahuddin contributed ten thousand rupees and the rest amount was granted by the Government. Jenana Mahal was named as Nawab Begum Asmat-Un-nesa ward. In the same year, a Weaving Department was inaugurated here in an extended ward.
In1932, an initiative was taken for the development of the orphanage. Adequate fund was raised and a new building was constructed and machineries and equipment were procured for the orphans' trainings. Teachers were employed for conducting vocational training courses on tailoring, blacksmith, weaving, masonry, official job and gardening. Many students after completing these courses were educated in Ahsanullah Engineering School and Sri Rampur Weaving School.
The orphanage, being a registered organization under the Department of Social Welfare, is run up by the donation of both public and private sectors. The orphanage was used to manage by a 15-member committee. On 2 January 2008, the Government took over management of the orphanage and put it under the Department of Social Welfare. At present, there are over three hundred orphan students in the orphanage studying in various disciplines. [ABM Shamsuddin Ahmed]