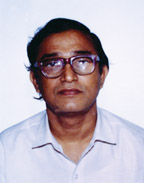 Sandwip, Abul Kashem (1945-1995) educationist, journalist, organizer and first newsreader of 'swadhin bangla betar kendra'. He was born on 1 April 1944 at village Sarikait in Sandwip upazila of Chittagong district. His father was Noor Ahmed. Abul Kashem Sandwip passed Matriculation examination in 1959 from South Sandwip High School, IA from Chittagong Government I.I College in 1964. He obtained his BA (Hons) degree in Bangla Literature in 1968 and MA in 1969 from Chittagong University. In 1974, Abul Kashem Sandwip got a fellowship on Co-operatives from India. In 1975-76 he got a Diploma degree from the Soviet Russia.
Abul Kashem Sandwip was the general secretary of student union of Government I.I College (1962-1964), literary editor at the department of Bangla of Chittagong College (1964-1965), editor of the Annual Magazine of the Student Union of Chittagong College (1965-1966) and vice president of the student union of Chittagong College (1966-1967). Besides, he was the member of Chhatra Sangram Committee for establishing Chittagong University (1962-1967) and the convener of the committee for building Shahid Minar of Chittagong University (1969). Between 1960 and 1970, he worked as a journalist in the weekly Jamana (Chittagong), Daily Jamana (Chittagong), and the Daily Azadi (Chittagong).'
Abul Kashem Sandwip was the Inspector of the night schools for the adults sponsored by the Chittagong City Development Project under the Department of Social Welfare. He served under this Project as a teacher between 1963 and 1965. He was the vice principal of Fatikchhari College from 1970 to 1971.
Abul Kashem Sandwip was the listed lyricist and a regular writer of the Chittagong radio service the 1960s. He was one of the organizers of the Sadhin Bangla Biplobi Betar Kendra establishment on 26 March 1971. The radio centre was inaugurated by his version. On March 26 at 7.40 PM he read the declaration of independence as a news item through this radio centre. During the War of Liberation Abul Kashem Sandwip prepared news earlier for Agartala radio and then for Kalkata radio, and was the reader of Bangla news. He is the composer of the song of liberation war Rakta diey nam likhesi Bangladesher nam.  
After the liberation of Bangladesh Abul Kashem Sandwip served as the Director of Gonoshiksha Project, and later as Coordinator and Deputy Director of VERC (Village Education Resource Center). He also worked at 'Gonoshahajya Sangstha'.
Abul Kashem Sandwip was awarded Bangabandhu gold medal in 1975 for his contribution to the Swadhin Bangla Betar Kendra, Azizur Rahman Literary Award in 1986, and got recognition from UNESCO in 1989. He was awarded (posthumously) Ekushey Padak in 1998, Chand Sultana Literacy Award (posthumously) in 2002 for his contribution to the War of Liberation and in promotion of literacy.
Abul Kashem Sandwip died on 10 December 1995. [Mohammad Mostafa Kamal]