Sarail Upazila (brahmanbaria district) area 227.22 sq km, located in between 24°00' and 24°11' north latitudes and in between 90°59' and 91°15' east longitudes. It is bounded by nasirnagar upazila on the north, brahmanbaria sadar upazila on the south, Brahmanbaria Sadar and Nasirnagar upazilas on the east, bhairab and bajitpur upazilas on the west.
Population Total 271101; male 136240, female 134861; Muslim 247031, Hindu 23988, Buddhist 16 and others 66.
Water bodies Main rivers: meghna, titas, Bagadia.
Administration Sarail upazila was formed in 1990.
Upazila
Municipality
Union
Mouza
Village
Population
Density (per sq km)
Literacy rate (%)
Urban
Rural
Urban
Rural

-

9

76

140

43455

227646

1193

41.70

31.24
Upazila Town

Area (sq km)

Mouza

Population

Density (per sq km)

Literacy rate (%)

14.03

3

43455

3097

41.70
Union
Name of union and GO code
Area (acre)
Population
Literacy rate (%)
Male
Female

Aorail 09

5556

15333

14109

25.75

Uttar Panisar 94

3810

14432

14792

35.24

Kalikachchha 28

6843

11630

11679

39.77

Chunta 19

6221

14330

14332

23.08

Noagaon 38

6767

14935

15277

30.58

Pak Shimul 47

7034

18878

17785

28.40

Shahjadapur 90

7773

11814

11521

31.42

Shahbazpur 85

5724

13706

13093

38.08

Sarail 76

3468

21182

22273

41.70
Source Bangladesh Population Census 2001, Bangladesh Bureau of Statistics.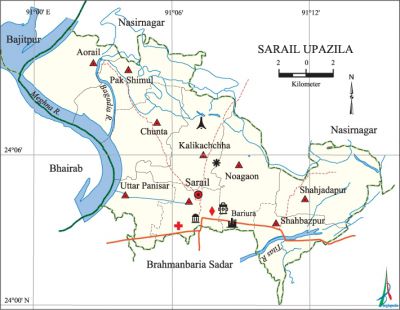 Archaeological heritage and relics Hatkhola Jami Mosque (seventeenth century), Sarail Shahi Jami Mosque (Mughal period), Sagardighi Mosque at Ariphail (sixteenth century), Twin Grave (under the care of the National Museum), Hatir Pool Jami Mosque at Bariura (Mughal period), Well at Hablipara (Mughal period).
History of the War of Liberation During the war of liberation the Pak army brutally killed about 70 innocent persons of Bitghar area. On 5 May, the freedom fighters raided the Shahbazpur Pak army camp and killed 9 Pak soldiers; one freedom fighter was also killed during the raid. Besides, a number of Pak army officers and the Chairman of Sarail Peace Committee were killed. Two military vehicles were destroyed by mine explosion set by the freedom fighters at a place on the north of Kalikachchha Bazar.
Marks of the War of Liberation Mass grave 3; memorial monument 4 (Bitghar, Sarail Annada Government High School compound, Sarail Degree College playground, Martyr Muktijoddha Sheikh Mesbahuddin memorial monument).
Religious institutions Mosque 273, temple 24, tomb 7, sacred place 3. Noted religious institutions: Hatkhola Jami Mosque at Sarail, Sagardighi Mosque at Ariphail, Anandamoyi Kali Mandir, Gopal Jeu Mandir at Malaish, Kalikachchha Bashudev Mandir, Krishna Mandir, tomb of Kutub Shah, tomb of Kala Shah, tomb of Ayet Ali Shah, tomb of Shah Rokon Uddin Ansari (Shahjadapur), Sheikh Nazir Dargah (Suryakandi), Nimboiragi Math, Dayamoyi Ashrama of Swami Ananda Chandra.
Literacy rate and educational institutions Average literacy 32.9%; male 36.2%, female 29.7%. Educational institutions: college 2, secondary school 15, primary school 123, kindergarten 7, madrasa 12. Noted educational institutions: Sarail Degree College (1970), Sarail Annada Government High School (1894), Shahbazpur Multilateral High School (1907), Chunta AC Aademy (1941).
Newspapers and periodicals Fortnightly: Sarail Juge Juge, Pargana, Sarail Barta, Muktaprobaho, Anupama Barta, Shashatta Sarail; defunct: Palli Pradip, Rayat Bandhu, Chunta Prokas (1922);' Belasyse (1993).
Cultural organisations Library 6, club 20, women's organisation 34, cinema hall 1.
Main sources of income Agriculture 60.67%, non-agricultural labourer 3.77%, industry 1.11%, commerce 13.67%, transport and communication 2.05%, service 5.5%, construction 0.83%, religious service 0.36%, rent and remittance 2.34% and others 9.7%.
Ownership of agricultural land Landowner 59.72%, landless 40.28%; agricultural landowner: urban 38.55% and rural 63.98%.'
Main crops Paddy, wheat, jute, mustard, pulse, vegetables.
Extinct or nearly extinct crops Linseed, sesame, kaun, maize, arahar.
Main fruits Mango, jackfruit, black berry, banana, papaya, coconut.
Fisheries, dairies and poultries Fishery 9, dairy 62, poultry 60, hatchery 2, artificial' breeding centre 1.
Communication facilities Pucca road 75 km, semi-pucca road 3 km, mud road 289 km; waterway 14 nautical miles.
Extinct or nearly extinct traditional transport Palanquin, horse carriage, bullock cart.
Noted manufactories Flour mill, ice factory, brick field, welding factory.
Cottage industries Blacksmith, potteries, weaving, embroidery, bamboo work,' wood work.
Hats, bazars and fairs Hats and bazars are 14, fairs 3, most noted of which are Sarail Bikal Bazar, Pak Shimul Bazar, Tadhiura Bazar, Kalikachchha Bazar, Cattle Market (Sarail), Baghachan Mia Mela, Shahbazpur Mela and Baruni Mela of Gazi Kalu at Sarail.
Main exports Paddy, jute, wheat, leather, flour, mustard.
Access to electricity All the unions of the upazila are under rural electrification net-work. However 34.83% of the dwelling households have access to electricity.
Sources of drinking water Tube-well 93.86%, tap 0.79%, pond 0.58% and others 4.77%.
Sanitation 36.62% (rural 29.37% and urban 72.69%) of dwelling households of the upazila use sanitary latrines and 55.26% (rural 62.65% and urban 18.51%) of dwelling households use non-sanitary latrines; 8.12% of households do not have latrine facilities.
Health centres Upazila health complex 1, satellite clinic 4, clinic 5, family planning centre 10, veterinary hospital 1.
Natural disasters The devastating earthquake of 12 June 1897 and the cyclone of 28 April 2004 caused heavy destruction in the region. Many people were victims of the famines of 1943 and 1954. Besides, the floods of 1974, 1988, 1998 and 2004 caused heavy damages to settlement, crops and other properties of the upazila.'
NGO activities Operationally important NGOs are brac, asa. [Md. Azad Uddin Thakur]
References Bangladesh Population Census 2001, Bangladesh Bureau of Statistics; Cultural survey report of Sarail Upazila 2007.