Satoir Mosque A nine-domed mosque, believed to have been built by Sultan Alauddin husain shah, stands at Satoir, a village in the north part of Boalmari upazila in Faridpur district, adjacent to Ghoshpur Railway Station on the Bhatiapara-Madhukhali rail line.
Legend has it that Alauddin Hussain Shah built the mosque in honour of his spiritual guide. Later, it was abandoned and engulfed by a jungle. At the beginning of the 20th century, it was traced, extensively repaired, and renovated. Its walls have now been plastered with sand and cement, and have been coloured red. A corrugated iron sheet extension has been made on the eastern side, consequently, the present look of the mosque belies its antiquity.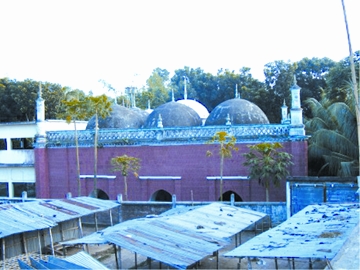 Square in plan, the mosque is 17.8m externally and 13.8m internally. Originally, there were three entrances on each of the three sides except the west. However, the entrances on the north and south walls have been converted into windows. At present, the entrance-archways appear small because the floor of the mosque has sunk considerably. The original floor lies 0.76m lower than the existing floor level, which in turn is 0.6m lower than the adjacent ground. The mosque has nine bulbous domes that rest on the walls and four internal stone pillars and twelve pilasters. The pillars lie concealed under the brickwork on top. Pendentives have been used in the transitional phase. On the western wall are three multicusped arched mihrabs, the central mihrab is larger than the other ones.
A well, believed to be contemporaneous to the mosque, exists (1.2m diameter) about 15m to its northwest, as well as a grave on a stepped platform on the southeast and a tank on the west. [Shahnaj Husne Jahan]