Satyapir Bhita, Paharpur is situated at a distance of about 365m to the east of the monastery at paharpur, under Badalgachi upazila of Naogaon district. The present name of Satyapir Bhita seems to have originated not earlier than the 16th or 17th century AD. The Bhita contains the remains of the temple of Tara and a vast number of votive stupas of different sizes and shapes. Its identity has been established by the discovery of about 50 circular terracotta plaques in different places in the courtyard of the temple with a figure of an eight handed goddess and inscribed with the Buddhist creed in 11th century script. This figure represents one of the forms of Goddess Tara, possibly Shitatapatra Tara.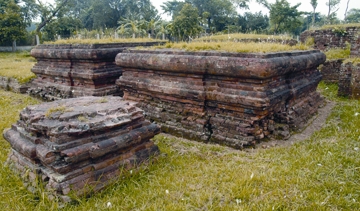 There appears to be an enclosure wall around the whole group of monuments excepting the north, where it could not be traced out. The site looks like trapezoidal in shape, as the length is about 76m to 91m and the width 43m to 57m. The approach to the whole area and also to the main temple was on the south.
The outstanding structure in the compound is the main temple, 15m in width and 24m in length. It is oblong and consisted of two main parts. The sanctum is in the northern portion and a pillared hall on the south around which there is the circumambulatory path. The internal arrangements of the hall are not quite clear.
There are about 132 votive shrines in the temple complex. The existence of such a vast number of votive structures of various sizes, designs and ornamentations around the temple testifies its fame and sanctity. Of all the stupas discovered in the compound, an ornamental square stupa in the southeastern corner, measuring 3m each side, is lying in a conspicuous position near the main temple. In this stupa a relic chamber, measuring I square metre, has been found, in which miniature votive clay stupas numbering several thousands were deposited. It appears that the pilgrims when visiting the Tara temple must have solemnly offered these miniature tokens of their reverence and deposited them in the stupa.
The principal antiquities discovered at the Satyapir Bhita are terracotta plaques, carved bricks and a quantity of semi-precious stone beads. In addition to these, some Tara images, a bronze statuette of Jambhala have also been recovered from the site.
In the beginning of the 12th century the temple, affected earlier by the invasion of the Vanga army, was renovated by Vipulashrimitra of the Nalanda inscription. A Muslim period brick structure in dilapidated condition was noticed on the ruins of the temple. [Md Shafiqul Alam]