Sen, Debendra Nath (1855-1920) Lawyer and a romantic lyric poet. He was born in Ghazipur district of Uttar Pradesh of India in 1855. His parental residence was at Balaghar of Hughli district.
He completed his Entrance (1872) from Patna Collegiate School, FA (1874) from Calcutta Presidency College, BA Honours (1886) and MA (1893, private) in English from Allahabad University. He practiced law at Allahabad High Court.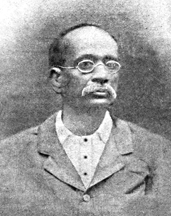 Debendra Nath was one of those nineteenth-century poets who earned fame by composing modern lyric poems. The first poet of this literary tradition was Biharilal Chakravarty, and Debendra Nath Sen was his successor and follower whose main tendency of the literary spirit was modern romanticism. He took lyric poetry and sonnet as a mode of his self-expression. In lyric poetry he followed Biharilal, and in sonnet, Madhusudan. However, in terms of the inner significance and language of poetry, he and Rabindranath went together. He composed a sonnet titled "Rabindrababur Sonnet". Rabindranath dedicated his poetry book Sonar Tari (Golden Boat, 1894) to Debendra Nath Sen.
There are two central themes in Debendra Nath Sen's poetry: love of women and beauty of nature. His romantic ideas have been expressed in the representation of woman as daughter, wife and mother and of her beauty. He desired love of woman, but that was ideal and tested on the touchstone of the domestic values. Like contemporary poet Gobinda Chandra, he was not immersed in worldly pleasures. As a romantic poet, he was bewitched by nature that is adorned with flowers, fruits and leaves. His nature-type poetry reflected the shadow of his bewitchment. Many of his poetry books have been named after flowers'such as, Phulbala (Flower Woman, 1880), Ashokguchchha (Bunch of Ashok Flowers, 1900), Golapguchchha (Bunch of Roses, 1912) and Parijatguchchha (Bunch of Parijat Folwers). Some other poetry books by Debendra Nath Sen are Urmimala (1881), Nirjharini (1881), Apurba Birabgana, Apurba Naibedya, etc. Later in his life, he became attracted by Vaishnava devotionalism and composed few poetry books-such as, Harimabgol (1905), Krishva-mabgol, Gaurabga-mangol, etc. In his late life, he went to Deradon for convalescence and died there on 21 November 1920. [Wakil Ahmed]