Sen, Kshitimohan (1880-1960) educationist and writer, was born on 2 December 1880 in Benares, son of Bhubanmohan Sen, a physician whose ancestral home was in Vikrampur, Dhaka.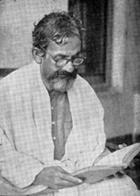 Kshitimohan completed his MA in Sanskrit from Calcutta University in 1902 and got the title of 'Shastri'. In 1907 he started working as Education Secretary on the Chambaraj estate. On rabindranath tagore's invitation, he joined the Santiniketan Brahmacharya Ashram in 1908 as principal. He also accompanied Rabindranath during his travels in India and China. From 1953-1954 he was a temporary vice-chancellor of Visva-Bharati.
Kshitimohan was fluent in Sanskrit, Bangla, Hindi, English, Gujrati, Rajasthani, Arabic and Persian. He did extensive research on medieval ascetics, mendicants, and bauls. He was extremely conversant with the vedas, the upanisads, tantra and smriti . He was also adept in music and Ayurveda. In 1946, he delivered the 'Lila Speech' at Calcutta University. Amartya Sen, winner of the Nobel Prize in Economics, is his grandson.
Kshitimohan wrote several books, among them Kabir (1910-11), Bharatiya Madhyayuger Sadhanar Dhara (1930), Bharater Sangskrti (1943), Banglar Sadhana (1945), Yuga Guru Rammohan (1945), Jatibhed (1946), Banglar Baul (1947), Hindu Sangskrtir Svarup (1947), Bharater Hindu-Mussalman Yukta Sadhana (1949), Prachin Bharate Nari (1950), Chinmay Banga (1957), Rabindra-Prasabga (1961), Hinduism (1963), Medieval Mysticism of India (1936) etc. He also wrote books in Hindi and Gujrati.
Kshitimohan received the Rabindra Memorial Gold Medal (1942) and the first Deshikottam from Visva-Bharati, the Mahatma Gandhi Prize (1953) from Wardhar Hindi Language Publicity Society, the Murarka Prize (1953) from Hindi Literary Conference of Proyag and Sarojini Basu Gold Medal (1954) from Calcutta University. He died on 12 March 1960. [Manas Majumdar]