Sengupta, Achintya Kumar (1903-1976) poet, novelist and editor, was born on 19 September 1903 at Noakhali town, the work place of his father. His original home was at madaripur district. His father, Rajkumar Sengupta, was a lawyer.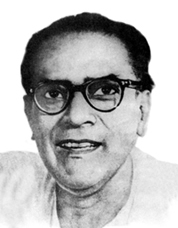 Achintya Kumar spent his early life at Noakhali and had his schooling there. After the death of his father in 1916, he went to Kolkata to live with his elder brother Jitendrakumar Sengupta.
He passed matriculation from South Suburban School in 1920, Intermediate in Arts from South Suburban College (now Asutosh College) in 1922, Bachelor of Arts with Honours in English literature in 1924, and Master of Arts from the university of calcutta in 1926. He also passed the law examination in the first division in 1929. He began his career as a temporary munsif in 1931 and retired in 1960, after having being promoted to sub-judge, district judge and special officer with the Law Commission.       
Achintya Kumar's first poem was published in prabasi in 1921 under the penname of Niharika Devi. He was considered to be one of the key numbers of the Kallol group who, after rabindranath tagore and sharat chandra chattopadhyay, were able to instate in literature. He is particularly remembered for his excellent fictionalisation of the life of religious leaders. His first novel, Bede (1928), is widely appreciated in modern bangla literature for its form, style, and subject matter. His writing is deeply influenced by modernism. The subject matter of his poetry includes romantic themes and he is also able to represent the mass consciousness. He was also noted for his skill in writing short stories, and ability to depict the lives of the working class.
Achintya Kumar wrote around 70 books; noteworthy among the novels are Kakjyotsna (1931), Bibaher Cheye Bada (1931), Prachir O Prantar (1932), Pratham Kadamphul (1961); prominent among the poetical works are Amabasya (1930), Amra (1932), Priya O Prthibi (1933), Nil Akash (1949), Purba Pashchim (1969), Uttarayan (1974). Among the biographies mention can be made of Parampurus Shrishriramakrisva (four volumes, 1951-56), Bireshvar Vivekananda (three volumes, 1958-69); among the plays, Ekabka Natya-Sankalan (1945); and among the story works, Tuta-phuta (1928), Kath Khar Kerosin (1945), Chasabhusa (1947), Ekratri (1961) etc.
Achintya Kumar took over the charge of publishing Kallol in 1925. He worked with the Bichitra for a short period too. His reminiscence called Kallolyug, or the Kallol era, (1950) created a stir in its time. He received the Jagattarini Award, the Rabindrasmriti Award (1975) and the Sharatchandra Smriti Prize (1975) for his achievement in literature and journalism. He died in Kolkata on 29 January 1976. [Anirudha Kahaly]