Serajdikhan Upazila (munshiganj district) area 180.19 sq km, located in between 23°30' and 23°40' north latitudes and in between 90°15' and 90°27' east longitudes. It is bounded by keraniganj upazila on the north, lohajang and sreenagar upazilas on the south, tongibari and narayanganj sadar upazilas on the east, Sreenagar and nawabganj upazilas on the west.
Population Total 241804; male 121462, female 120342; Muslim 206086, Hindu 33930, Buddhist 1758, Christian 21 and others 9.
Water bodies Main rivers: ichamati, dhaleshwari.
Administration Serajdikhan Thana was formed in 1914 and it was turned into an upazila in 1983.
Upazila
Municipality
Union
Mouza
Village
Population
Density (per sq km)
Literacy rate (%)
Urban
Rural
Urban
Rural

-

14

124

177

3118

238686

1341

44.3

47.7
Upazila Town

Area (sq km)

Mouza

Population

Density (per sq km)

Literacy rate (%)

0.95

2

3118

3282

44.3
Union
Name of union and GO code
Area (acre)
Population
Literacy rate (%)
Male
Female

Ichhapur 33

2411

10393

10106

51.37

Kayain 47

4303

9909

10096

52.78

Kola 54

1757

4122

4090

48.92

Chitrakot 27

3845

6874

7245

51.25

Jainsar 40

3205

8629

8031

55.00

Bayaragadi 20

2401

5626

5596

46.89

Balur Char 06

5363

15486

14914

37.41

Basail 13

4160

9878

10155

47.70

Madhyapara 67

2055

6825

6862

47.79

Malkhanagar 74

1319

7822

7305

50.21

Rasunia 88

3143

8792

8686

46.94

Rajanagar 81

3311

9394

9463

50.12

Latabdi 61

3810

9337

9226

40.59

Sekharnagar 94

2729

8375

8567

46.97
Source Bangladesh Population Census 2001, Bangladesh Bureau of Statistics.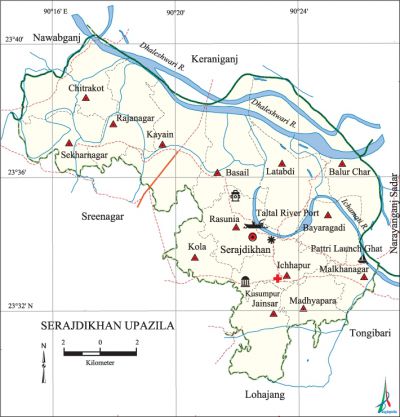 Archaeological heritage and relics A single domed mosque of Mughal period at Kusumpur (Talukdar Bari Mosque), Tajpur Mosque, Patharghata Mosque, Kazishal Mosque, Pulghata Bridge, Math at village Fegnasar, Math at the house of Kankata De at village Tajpur, Panchasikhar Mahadeva Mandir at Taltala. A large shiva-linga (phallus of the God Shiva) is placed inside this temple.
Historical events The anti-British movement was very strong in this upazila. The Congress activists used to make bombs at village Ichhapur and Madhyapara villages and distributed these to the activists of the adjacent areas. While making bombs at village Madhyapara there occurred the incidental explosion of a bomb. At the intelligence of the explosion a military camp of the British Gorkha soldiers was set up at the junction of three roads on the western side of Ichhapura Bazar in order to suppress terrorist activities. In 1971 Abdul Aziz of village Shialdi was shot dead for uttering the slogan 'Jai Bangla' at the sight of the Pak army. Abdul Aziz was the first martyr of the upazila in the war of liberation. On 27 March 1971, the freedom fighters took control over the police station and captured all arms and ammunitions. On 19 May, the Pak army again took control of the thana. On 20 May, the Pak army killed a number of teachers of the upazila. On November 19, an encounter was held between the freedom fighters and the Pak army at the thana compound in which one Pak soldier and one razakar were killed.'
Marks of the War of Liberation Memorial monument 1: Martyr Abdul Aziz memorial monument (Shialdi).
Religious institutions Kusumpur Mosque, Tajpur Mosque, Patharghata Mosque, Vishwa Jami Mosque (Rajanagar union), Panch Pir Dargah (Serajdikhan), Shekharnagar Kali Mandir, Shulpur Church, holy bathing place at Malighata are notable.
Literacy rate and educational institutions Average literacy 47.7%; male 50.3%, female 45.1%. Educational institutions: college 4, secondary school 17, primary school 106, madrasa 10. Noted educational institutions: Rai Bahadur Sreenath Institution (1918), Malkhanagar High School (1889), Ichhapur' High School (1892), Rajdia Abhoy Pilot High School (1918), Rasunia High School (1942), Khasmahal Baluchar High School (1957), Chhatiantali High School (1965), Basail High School (1966), Adarsha High School (1970), Sheikh Mohammad Miah Hossain High School (1972), Sekharnagar Girls' High School (1972), Shulpur High School (1973), Malpadia High School (1973), Islampur Senior Madrasa.
Newspapers and periodicals Monthly: Vikrampur (Kathaltali); defunct monthly: Palli-bijnan (Jainsar), Hindu Intelligencer (Malkhanagar), Mukti (Malkhanagar).
Cultural organisations Library 1, club 140, museum 1, theatre group 1, cinema hall 1, women's organisation 1. Noted institutions: Munsur Khan Library (Ichhapur), museum (Kusumpur).
Tourists spots Garden of Malkhanagar Union, Shulpur Church, Sekharnagar Kali Bari.
Main sources of income Agriculture 40.91%, non-agricultural labourer 2.37%, industry 2.26%, commerce 18.08%, transport and communication 3.11%, service 9.08%, construction 3.09%, religious service 0.19%, rent and remittance 10.69% and others 10.22%.
Ownership of agricultural land Landowner 44.62%, landless 55.38%; agricultural landowner: urban 21.79% and rural 44.95%.
Main crops Potato, paddy, jute, sesame.
Extinct or nearly extinct crops Sugarcane, kalai, lentil, khesari, pea, linseed.
Main fruits Mango, banana, jackfruit.
Fisheries, dairies and poultries Fishery 67, dairy 52, poultry 64, hatchery 3.
Communication facilities Pucca road 48.5 km, mud road 265 km; waterway 19 nautical miles.
Extinct or nearly extinct traditional transport Palanquin, bullock cart.
Noted manufactories Rice mill, welding factory, cold storage.
Cottage industries Goldsmith, potteries, weaving, jute work, wood work, mat work, brass and metal work, bidi factory, bamboo and cane work.
Hats, bazars and fairs Hats and bazars are 20, fairs 11, most noted of which are Taltala Hat, Serajdikhan Hat, Rajanagar Hat, Ichhapur Hat, Sekharnagar Kalipuja mela, Shekharnagar Majhipara Chaitra Sankranti Mela, Sujanagar Dutta Bari Mela, Taltala Dashami Mela, Kauamara Rathjatra Mela, Kusumpur Baishakhi Mela, Ichhapur and Kathantali Book Fair.
Main exports Potato, Jute.
Access to electricity All the unions of the upazila are under rural electrification net-work. However 33.47% of the dwelling households have access to electricity.
Sources of drinking water Tube-well 95.80%, tap 0.31%, pond 0.93% and others 2.96%.
Sanitation 38.62% (rural 38.65% and urban 36.61%) of dwelling households of the upazila use sanitary latrines and 54.30% (rural 54.25% and urban 57.64%) of dwelling households use non-sanitary latrines; 7.09% of households do not have latrine facilities.
Natural disasters The tornado of March 1968 hit a number of villages from Kanthaltali to Malapdia and caused heavy damages to properties of the affected villages.
Health centres Upazila health complex 1, satellite clinic 6, family planning centre 11, veterinary hospital 1, clinic 3, diagnostic centre 1.
NGO activities Operationally important NGOs are caritas, asa, World Vision, proshika, brac. [Shamsul Haque Howlader]
References Bangladesh Population Census 2001, Bangladesh Bureau of Statistics; Cultural survey report of Serajdikhan Upazila 2007.