Shafi, Muhammad (1915-1971) dental surgeon, martyr intellectual. Muhammad Shafi was born on 5 April 1915 at village Digharey in Hughli district of West Bengal. His father Sufi Abdul Latif was a government official and his mother was Ayesha Khatoon. He passed matriculation examination in 1930 from Hughli Zila High School, I. Sc in 1932 from Hawrah Government College, and obtained Diploma in Dentistry in 1936 from Calcutta Dental College. Muhammad Shafi got his MBBS degree in 1942 from Calcutta Medical College.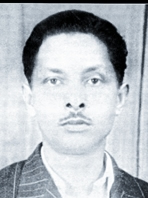 Muhammad Shafi started his career as a surgeon in the R. Ahmad Dental Laboratory in Kolkata, and later joined Calcutta Medical College as dental surgeon. He had his own clinic at Baubazar Street in Kolkata.
After the partition of India, Muhammad Shafi migrated to East Bengal in 1950 and settled at Chittagong. He established his clinic at Batali Road in Enayet Bazar in the ground floor of his residence.
Muhammad Shafi though not directly involved in politics took active part in the non-cooperation movement of 1971. With the beginning of the war of liberation he emerged to have been an ardent organizer of the war. He had substantial contribution towards the installation of swadhin bangla betar kendra along with the personnels of Chittagong Radio Station. The Betar Kendra was inaugurated at his residence in Enayet Bazar.
Dr. Shafi's activities as an organizer of the war of liberation, and the cultural activities centred round his family brought him into the limelight and a target of the non-Bangalis.  In the morning of 7 April 1971, a group of Pak army encroached upon his residence and carried him on a jeep to the army camp at Circuit House. He was incidentally released by the intercession of Mirza Aslam Beg, a brigadier of the Pak army, who happened to be a patient of Muhammad Shafi. But within a few hours of his release, another group of Pak army cordoned his residence, and a group of armed soldiers headed by Major Bokhari entered his house. The Major took a sheet of paper and read out an eleven-point serious allegations against Muhammad Shafi, presumably brought by some non-Bangali citizens of the locality. Instantly, Major Bokhari along with some soldiers hurried upstairs, broke the lock of a room to discover some boxes full of arms and ammunitions.
These arms were kept concealed in the room for distribution to the freedom fighters. Muhammad Shafi along with Khondakar Ehsanul Haque, a brother of his wife, were carried to the army camp. The residence of Muhammad Shafi was left under strict surveillance of some soldiers. Muhammad Shafi and Ehsanul Haque are reported to have been killed, but their dead bodies could not be traced.
Dr. Shafi's wife, Mushtari Shafi, along with their three sons and four daughters managed to escape secretly on that very night to Mirer Sarai on way to Agartala.
Muhammad Shafi was alligned to progressive and left politics. With his assignment for the treatment of political prisoners in Chittagong jail he came in close contact with the prominent left political leaders in the prison and often at his clinic. Himself a writer, a painter, musician, and earlier been an enlisted artist of Akashbani Kolkata, Muhammad Shafi gave unstinted patronage to the literary and cultural activities in Chittagong and made his residence a rendezvous of noted litterateurs and artists. He was the chief patron of Bandhabi Sangha, a socio-cultural organisation of women and of the Bangla monthly paper for women titled Bandhabi edited by his wife, Mushtari Shafi. He was also the chief patron of Prantik and Jagriti, the two progressive cultural organisations of Chittagong.
Muhammad Shafi was a prolific writer. His noted books include Jana-samkha O Sampad, Prem O Bibaher Samparka, Charitra-hanir Tatparya, Naya Ganatantra, and translation works like Chikitsa Bijnan, Chikitsa Bijnaner Itihasa, Aitihasik Bastubad, Shanti na Shakti, Hunaner Krishak Andolan, Jana-yuddher Vijoy Dirghajibi Hoke.
Muhammad Shafi was awarded National Bank Literary Award in 1964 for the excellence of his book Jana-samkha O Sampad.
The Postal Department of the Government of Bangaladesh issued commemorative postal stamp in the name of Muhammad Shafi on the Martyred Intellectual Day on 14 December 1999 in recognition of his sacrifice for the cause of the nation. [Muazzam Hussain Khan]