Shamsuzzoha, Shaheed Mohammad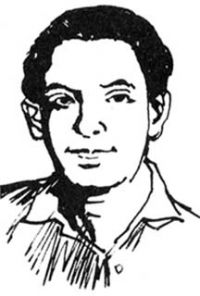 Shamsuzzoha, Shaheed Mohammad (1934-1969) educationist. Born in the district of Bankura in West Bengal, Shamsuzzoha passed matriculation examination in 1948 from Bankura Zilla School and ISc from Bankura Christian College in 1950. After the partition of India his family migrated to East Bengal. Shamsuzzoha got himself admitted in BSc (Hons) in Chemistry in Dhaka University in 1950. He got BSc (Hons) degree in Chemistry in 1953 and MSc in 1954 from Dhaka University. While a student in Dhaka University Shamsuzzoha took active part in the language movement in 1952. He obtained BSc (Hons) degree in 1957 from the Imperial College of London and had his PhD degree in 1964.
Mohammad Shamsuzzoha began his career as a Development Officer in Rajshahi University in 1961, and soon after was appointed as Lecturer in the Department of Chemistry. He was promoted to the post of' Reader of Chemistry in 1966. Earlier in 1965 he was the house tutor of Shah Makhdum Hall and later was made its proctor in 1966 which office he held till his death in 1969.
Mohammad Shamsuzzoha was a martyr in the Anti-Ayub mass movement in 1969. From the closing of 1968 Anti-Ayub movement began to get momentum. At one stage of the movement student leader asaduzzaman was killed by the army on 20 January 1969, and Sergeant Jahurul Haq, an accused in the agartala conspiracy case, was killed in Dhaka Cantonment on 15 February 1969.
In this backdrop, the students of Rajshahi University started agitation and on 17 February a number of students were injured in police action. On 18 February the students of the University organised a demonstration at the main gate of the University. On the same day the local administration imposed Section 144 on the Natore-Rajshahi Highway adjacent to the University. The agitated students decided to violate the Section 144 in the area where army personnel were deployed. Dr. Zoha rushed to the spot and tried to get his students back to dormitories. He talked to the army officers and urged upon them to abstain from firing upon the students. But the army defied his request and started firing upon the demonstrating students. Dr. Zoha was wounded by a bullet shot. He was carried to the hospital where he breathed his last.
Dr. Shamsuzzoha was buried in front of the administrative building of the University. His death added a new dimension in the anti-Ayub mass movement, and the fall of Ayub government was quickened. A student hall of the Rajshahi University was named as Shaheed Shamsuzzoha Hall in commemoration of his highest sacrifice for the cause of the nation. [Md Mahbub Murshed]