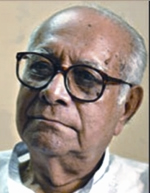 Sharafi, Kalim (1924-2010) noted songster of Rabindra sangeet and promoter of cultural movement. Kalim Sharafi was born on 8 May 1924 in a pir family of village Khairadihi in Siuri subdivision of Birbhum district in West Bengal. His father was Syed Sami Ahmed and mother Begum Aliya. He lost his mother at the age of four and was brought up by his maternal grandmother.
While a student in Calcutta Aliya Madrasa in 1942 Kalim Sharafi got involved in anti-British movement. He passed Matriculation examination in 1942. As an activist of the Quit India Movement he was arrested in 1942 and kept confined in Siuri jail of Birbhum for 15 months till 1943. At that time he came in contact with rani chanda, a student of arts faculty of Shantiniketan, who induced Kalim Sharafi to the practice of mass-songs.
With the launching of Bharatiya Gana-natya Sangha in 1943, Kalim Sharafi attended in different musical squads under Shambhu Mitra, one of the founding members of Bahurupi Natya-dal, and simultaneously participated in dramatic performances as an actor. He got himself admitted in Krishna Nath College in 1944 and the year following took admission in Capital Medical College for study of medicine. But for his preoccupation with the activities of Gana Natya Sangha Kalim Sharafi could not give attention to his study in Medical College thereby putting an end of his study of medicine consequent upon his failure in the first year examination. He then got himself admitted in Calcutta City College in 1946 to continue his studies in gengul curricula.
It was in 1946 that Kalim Sharafi came in close contact with Sudhi Pradhan, the leader of the progressive cultural trend of North Kolkata. Kalim Sharafi had active role in creating non-communal public opinion against communal riot in the Muslim majority area of Kolkata in 1946. It was at this time that his first disc of mass-songs was published from the His Masters Voice (HMV) recording company. He then devoted himself to the culture of Rabindra Sangeet under the care of Subinoy Roy and Shailajaranjan. In 1947 he joined the music school 'Dakshini' established by Shuva Guha Thakurata. He was again arrested in 1948 and was soon released. In the backdrop of chaos in Gana Natya Sangha in 1948, Kalim Sharafi along with Monoranjan Bhattacharya, Sambhu Mitra, Tripti Mitra and Mohammed Ismail floated the dramatic association styled as Bahuroopi. This association successfully staged the dramas like Navanna, Pathik, Chhera Tar, Rakta-Karabi etc.
Kalim Sharafi while in relief work at the langarkhanas in Kolkala for the service of the 1950 famine stricken people came in contact with the Communist leader Comrade Muzaffar Ahmed and joined the Communist Party. He was then in acute financial hardship. At the instance of musician Abdul Ahad and poet Sikandar Abu Jafar he came to Dhaka in 1951 and joined the Dhaka radio. The display of his mass songs in different cultural functions in Dhaka including the song 'Abak Prithibi' of Sukanta Bhattacharya earned for him great reputation, and at the same time invited strict surveillance of the intelligence. At one stage he left Dhaka for Chittagong and floated there a theatrical group named Prantik in cooperation with Mahbub-ul-Alam Chowdhury, Chiranjib Das Sharma, Achintya Chakrabarty, MA Samad, Ramen Majumder, Fowjia Samad and Nityagopal Datta. In 1951 he took a job in an American Company in Chittagong named GET Z Brothers. The same year he worked for sometime in a British Company.
In 1954, the artists of Prantik Dramatic Group created thrill by their staging of drama and performance of songs and dances at the literary conference in Curzon Hall. With the promulgation of Section 92A and dissolution of Fazlul Huq ministry in 1956, Kalim Sharafi again turned into a victim of displeasure of the Pakistan government, and went underground. The same year he along with Anisur Rahman and Rafiqul Islam floated an organisation named Ha-za-ba-ra-la and staged the drama Taser Desh of Rabindranath Thakur. His first play-back was displayed by a Rabindra song in 1957 in the cinema Akash Mati produced in East Bengal. Between 1958 and 1971 his songs were censored in radio. He directed the cinema Sonar Kajal produced by S. S Masud in 1962. At that time he produced the documentary film Venice which achieved international award. With the introduction of NEC Television Channel in Pakistan in 1964 he joined there as Programme Director. In 1965 he was again a victim of conspiracy of Pakistan government. He was debarred from attending a training programme in Japan by devalidating his passport. Disappointed and aggrieved for long, Kalim Sharafi resigned from the post of Programme Director of NEC Television in 1967. The same year he was elected as chairman of Udichi and continued in this position till 1986.
After his resignation from NEC Television, Kalim Sharafi joined as Manager East Pakistan in the recording studio of a British Company. He was later elevated to the position of Director and General Manager East Pakistan of the Company. Between 1974 and February 1976, he had been the Public Relations Officer and General Manager in Bangladesh Textile Industries Corporation. In February 1976, the committee formed for observance of 'Ekushey February' included the name of Kalim Sharafi. With the publication of the list of the members of the committee in newspaper, he was instantly dismissed from service of the Textile Industry. Kalim Sharafi was the founder convener of Zahidur Rahim Smriti Parishad (1979, later Jatiya Rabindra Sangeet Sammilan Parishad). He established a music school in 1983 styled as Sangeet Bhaban of which he was the chairman. He was also the chairman of Rabindra Sangeet Shilpi Sangstha. Kalim Sharafi organised the artists and cultural activists to augment the movement against the autocratic rule of General Ershad. For his involvement in gana-adalat with demand for trial of the war-criminals, sedition case was instituted against him in 1991. He was included as an accused in the case instituted against 24 dignitaries of the country for their participation in the anti-collaborators mass assemblage on 25 March 1995.
In spite of his long career as a songster Kalim Sharafi left only 18 albums of his songs, 15 cassettes and 3 CDs. In recognition of his contribution to Music, Kalim Sharafi was honoured with the Ekushey Padak (1985), Independence Award (1999), Nasiruddin Gold Medal, Begum Jebunnessa and Kazi Mahbub Ullah Gold Medal, Kriti Bangali Sammanana Padak of Centre of Education and Culture, Rabindra Award of Bangla Academy (2010), and Meril Protham Alo Taraka Jarip Award 2006. He died on 2 November 2010. [Shamima Akhter]