Singh, Moni (1901-1990) radical politician, founder of communist party of bangladesh. Moni Singh was born at Susang-Durgapur in the district of Mymensingh on 28 June 1901. After completing his primary education he went to Kolkata for pursuing secondary education. There he joined Anushilan Dal, an armed revolutionary group (1914). But after a decade he withdrew himself from terrorist movement and joined the Communist Party of India in 1925.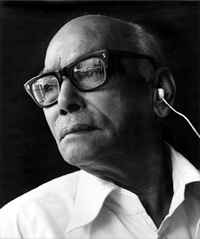 Moni Singh achieved his initial success in 1928 when he led a 13-day long strike by the workers of Kesharam Cotton Mills at Metiaburuj in Kolkata and had their demands fulfilled. He was arrested in 1930, and on his release from jail in November 1937 he came back to Susang-Durgapur. There he organised the farmers and led a peasants' movement to protest against Tanka system. He was one of the chief organisers and president of reception committee of the convention of Nikhil Bharat Kishan Sabha held at Netrakona in 1945.
After the partition of India in 1947 Moni Singh assumed the leadership of communist movement in East Bengal. At this stage he once again joined the Hajang peasants of Mymensingh and started a movement for the abolition of Tanka system. As this turned into an armed uprising, the government of Pakistan abolished the Tanka system in 1951. At the same time an warrant of arrest was issued against Moni Singh and all his movable and immovable properties were confiscated.
While in hiding, Moni Singh was elected secretary of Communist Party of East Bengal in 1951. In 1954, the Communist Party was banned by the government of Pakistan. In the third conference of the Party which took place secretly in 1956 Moni Singh was again elected secretary. He was interned in 1967. He was elected general secretary for the third time in the congress of the party held secretly in 1968.
Moni Singh sided with the Soviet Union when a rift took between USSR and China. mass upsurge of 1969 compelled the government to release him, but he was soon arrested again before long. During the war of liberation Moni Singh managed to escape from the Rajshahi prison on 7 April 1971 with the help of common prisoners and joined the War. He was made a member of the advisory council of the mujibnagar government during the War of Liberation.
After the emergence of Bangladesh, Moni Singh was elected the president of Communist Party in the second congress of the party held in 1973. In 1975 he joined the bangladesh krishak sramik awami league (BAKSAL). Moni Singh revived Communist Party in 1976. In the presidential election in 1978, he took part in election campaign in support of Democratic Alliance. In the third Congress of Communist Party held in 1980 he was once again elected president of the party and continued to hold this position till his death on 31 December 1990. His autobiographical work titled Jiban Sangram (2 vols) is an important book on the contemporary politics. [Saleh Athar Khan]