Singha, Nutan Chandra (1900-1971) entrepreneur of pharmaceutical industry, martyr in the war of liberation. He was born on 1 December 1900 at village Gahira in Rawjan thana of Chittagong district. His father was Akhil Chandra Singha and mother Gayeshwari Singha. Nutan Chandra Singha had his primary education in Jagatpur Purnananda Asram.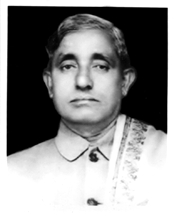 Nutan Chandra Singha accompanied his father to Akiab in Arakan in search of fortune. He set up a grocery shop there. Later they changed their enterprise from grocery business to manufacturing enterprise. The father and son together started manufacturing soap and then along with soap they started manufacturing medicine. They made immense fortune in Akyab. Being satisfied with his success Natun Chandra made a pilgrimage to the temple of Kundadham in Bihar. He came back to Chittagong and founded the Kundeswari Temple. Later in 1946 he established an Ayurvedic medicine factory named Sree Kundeswari Aushadhalaya in his own village, Gahira.
Nutan Chandra played a vital role in fostering education and in social service. He established Kundeswari Primary School and Kundeswari Balika Bidya Mandir in 1960. In 1969 he established Kundeswari Mahila College. Besides, he established Kundeswari Bhaban and a post office, all on his own.
On 25th March 1971, the Pakistan army started genocide under the programme 'Operation Searchlight'. Nutan Chandra Singha gave shelter to a number of teachers of Chittagong University including their families in the Kundeswari establishments. Later he managed for their safe journey to India. After Chittagong was recaptured by the Pakistan army, they in collaboration with local Razakars attacked Kundeswari on 23 April 1971 and killed Nutan Chandra Singha.
In recognition of his service for the cause of education and social welfare and War of Liberation, Nutan Chandra Singha was honoured with a number of awards (posthumously). These were: Person interested in education Award by Bangladesh College-Visvabidyalaya Shikshak Samiti (1992), Award given by Uttar Kattali Al-Haj Mostafa Hakim Welfare Foundation for his contribution in fostering education (2004), Award from Chattagram Samiti (Dhaka) for social service (2005), Gold medal awarded by Lions District 315 B-4 Bangladesh for his services to the society (2006), Award of Shefaul-Mulk Hakim Habibur Rahman Foundation for his contribution to the development of Ayurvedic treatment (2006), Award given by the' Dhaka Probashi Freedom Fighters (Chattagram Anchal) as an organizer of liberation war and for his role in the War of Liberation. [Mohammad Mostafa Kamal]