Sitakot Vihara a Buddhist monastery. It is located in Nawabganj upazila under Dinajpur district. The Vihara was built roughly on a square plan (65.23m east - west and 64.11m north - south) with large outside projection on the northern and southern wings. The gateway complex, which had a wide frontage, was set in the middle of the northern wing as a part of the outer projection. The complex included two guardrooms. The approach to the monastery was through an open space. The main gateway led to an entrance hall, which was aligned with the monastic cells. The northern end of the eastern wing had a subsidiary entrance piercing the back wall. The outer projection on the south was built as a kind of hall and there was an entrance into the hall from the inside. There were in all 41 cells in this monastery: 8 in the northern wing and 11 cells each in the three other wings.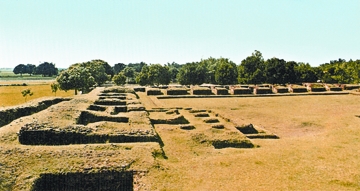 The cells, almost equal in size (3.66m by 3.35m), were provided with niches in the back walls and the partition walls. The partition walls were 0.91m-1.22m thick, the thickness of the back wall was 2.59m and the front wall of the cells was 1.07m thick. A well planned and uniformly 2.59m wide inner verandah which runs round the entire monastery on the inner side and the cells were connected with it by a doorway passage that was 1.68m long and 1.07m wide. A 1.22m thick and 0.76m high retaining wall fences it off from the courtyard.
The central cells in the east, west and south wings were larger than the rest and each of them possessed a substantial brick platform that was possibly used to install a votive image. The central cell of the southern wing might have served as the main shrine. A pillared pavilion built in front of this was intended to serve as the mandapa.
Five small rooms fronted by a verandah and linked to the main building by a covered passage apparently constituted a toilet complex in the southeastern wing of the monastic complex, projecting well out of the main structure. The roofing material was rammed lime surki supported by wooden beams and rafters. The Sitakot vihara bears a strong resemblance to the vhasu vihara both in size and general appearance.
The major findings are two bronze images, one of Bodhisattva Padmapani and the other of Bodhisattva Manjushri. On the stylistic ground the images have been dated in the seventh-eight century AD. The monastery has not been dated by stratigraphy, but two building periods have been postulated. [SS Mostafizur Rahman]