Sobhan, Salma (1937-2001) the first women barrister in Bangladesh, human rights defender and feminist. She demonstrated a firm commitment to the values of democracy, human rights, gender and social justice. Her father Mohammad Ikramullah was Pakistan's first foreign secretary, and her mother Begum Shayesta Suhrawardy Ikramullah was a member of Pakistan's first Parliament.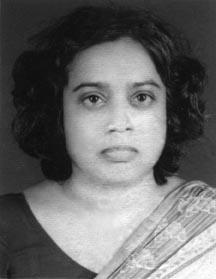 After reading law at Girton College, Cambridge Salma Sobhan did her bar from Lincoln's Inn in 1959, and returned to Karachi to practice in the High Court. She moved to Dhaka in 1962 after her marriage with Rehman Sobhan. She taught Jurisprudence at the University of Dhaka, but her teaching career was interrupted twice when she and her family took refuge in Oxford, first during the War of Liberation, and again between 1975 and 1981. In 1974 she was appointed research fellow at the Bangladesh Institute of Law and International Affairs, her principal responsibility being editing of the Supreme Court Law Reports.
Salma Sobhan designed a legal literacy programme that aimed at creating awareness of rights amongst BRAC's rural women members, and to train para-legals in dispute resolution. For 15 years (1986-2001) she served as the Executive Director of ain o shalish kendra which she had founded along with eight other colleagues in 1986. Under her leadership it evolved into a leading human rights organisation. For her dedication to the defense of women's rights she received Ananya Magazine Award in 2000, and Award from the New York based Lawyers' Committee for Human Rights in 2001.
Salma Sobhan was elected to the Board of the Bangladesh Legal Aid and Service Trust, and that of BRAC and Nijera Kori. In 2001, She was elected to the Board of the UN Institute of Research and Development (UNRID). She was an active member of three international feminist networks, the Asia Pacific Women Law and Development, Women Living under the Muslim World and Match Canada.
Salma Sobhan's publications include Legal Status of Women in Bangladesh (1975), Peasants' Perception of Law (1981), No Better OptionsFoodgrain Women Industrial Workers (co-authored in 1988).
Salma Sobhan died in 2001. [Hameeda Hossain]