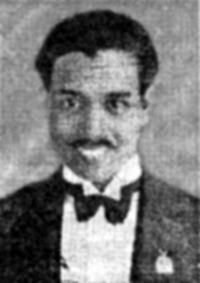 Sorcar, PC (1913-1971) magician, was born on 23 February 1913 in a middle-class family in the village of Ashekpur in tangail district. His full name is Pratul Chandra Sorcar. His education began at the local Shibnath High School. He was attracted to magic early and learned magic from Ganapati Chakravarti. While still at school, he started performing in magic shows. However, this did not interfere with his education and, in 1929, he passed the Entrance examination in the first division. In 1933 he graduated with honours in Mathematics. He then took up magic as a profession. He changed his family surname 'Sorcar' into the English word 'Sorcerer', returning to his family name when he became popular.
PC Sorcar was also a writer and wrote 20 books on magic in English, Bangla and Hindi. Some of his well-known books are Deshe Deshe Hypnotism, Magic-er Kaushal, Indrajal, Sorcar on Magic, 100 Magic You Can Do, Hindoo Magic, Magic for You and More Magic for You. His other books, Chheleder Magic, Sahaj Magic, Mesmerism and Sammohanvidya, also played a significant role in promoting magic.
PC Sorcar wore royal robes and a turban for his performances. Among his popular acts were 'X-ray eye', 'sawing a human body' and 'water of India'.
He impressed Chief Minister ak fazlul huq by performing a magic trick at the Imperial Restaurant in calcutta. First he asked the Chief Minister to write something on a plain sheet of paper and then asked the other ministers to put their signatures under it. A short while later Fazlul Huq was amazed to see that the paper contained his cabinet's resignation and the appointment of PC Sorcar as the new chief minister of Bengal.
PC Sorcar first went abroad in 1934. He subsequently toured about 70 countries, including the United States and the USSR, earning a great deal of money out of his magic shows. His magic performances were repeatedly shown on international television networks. He won many prizes for his magic at home and abroad. For best stage magic he twice earned the Phoenix Award in the United States. He also won the German Goldbar and the Golden Laurel Garland awards and the Dutch Tricks Prize. In 1964 the Indian government honoured him with the Padmashri. In 1937 he donated all the money he had earned in Japan to the cause of the Indian freedom movement.
PC Sorcar was a member of the societies of magicians in France, United Kingdom, Germany, Belgium and Japan. He was a member of the International Rotary Club and life member of the Royal Asiatic Society in London. The Calcutta branch of the International Society of Magicians of USA was named after him. A number of well-known writers of Europe have written books on him, the most famous being Sorcar: Maharaja of Magic.
A technicolour motion picture has been produced on his magic. On his 50th birthday in 1963 the All India Magic Conference published a photographic album on him. His Master's Voice released a long-playing record on him. For his achievements in the art of magic he was known worldwide as Jadusamrat or emperor of magic. His son PC Sorcar Junior also became a well-known magician. PC Sorcar died suddenly on 6 January 1971 in Japan. [Md Masud Parvez]