Sreebardi Upazila (sherpur district) area 270.34 sq km, located in between 25°03' and 25°18' north latitudes and in between 89°53' and 90°03' east longitudes. It is bounded by Meghalaya state of India on the north, sherpur sadar upazila on the south, jhenaigati upazila on the east, bakshiganj and islampur upazila on the west.
Population Total 242320; male 125039, female 117281; Muslim 237863, Hindu 3283, Buddhist 1141 and others 33.
Water bodies Main rivers: Shomeshwari, Mrigi; Katakhali Canal and Chhapa Beel, Basa Beel, Chhotabasa Beel and Mrigi Beel are notable.
Administration Sreebardi Thana, now an upazila, was formed on 31 March 1918. Sreebardi Municipality was formed in 24 September 2004.
Upazila
Municipality
Union
Mouza
Village
Population
Density (per sq km)
Literacy rate (%)
Urban
Rural
Urban
Rural

1

10

81

156

9806

232514

896

36.82

25.92
Upazila Town

Area (sq km)

Mouza

Population

Density (per sq km)

Literacy rate (%)

4.16

1

9806

2357

36.82
Union
Name of union and GO code
Area (acre)
Population
Literacy rate (%)
Male
Female

Kakilakura 47

6514

13137

12738

23.27

Kurikahania 63

4283

11895

11060

27.28

Kharia Kazir Char 55

4414

11776

11026

23.59

Garjaripa 31

3838

9038

8252

29.06

Gosaipur 39

4813

11721

11018

28.41

Tantihati 94

6902

14128

13129

26.48

Bhelua 15

6484

15039

13547

25.14

Rani Shimul 71

10148

13764

13336

28.80

Sreebardi 86

5655

15851

14923

24.32

Singa Baruna 79

9084

8690

8252

29.65
Source Bangladesh Population Census 2001, Bangladesh Bureau of Statistics.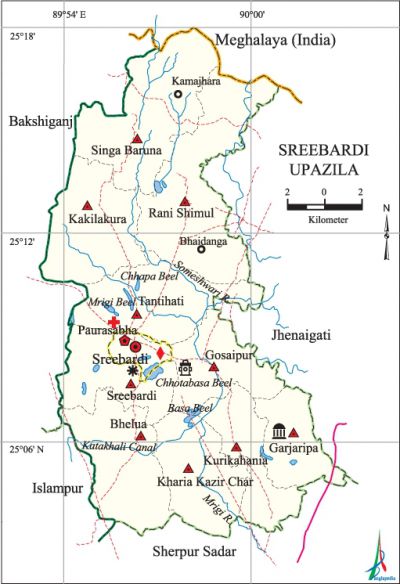 Archaeological heritage and relics Baraduari Mosque at Garhjaripa.
History of the War of Liberation Sreebardi upazila was under Sector 11 of the war of liberation in 1971. Eleven freedom fighters including Shah Motasim Billah Khurram, Commander Zahurul Hoque Munshi, Dr. Abdullah Al Mahmud, Abdus Salam were killed in different encounters in the upazila during this time. The Pak army conducted mass killing and heavy plundering; they also set many houses of the upazila on fire. Sreebardi upazila was liberated on 6 December.
Marks of the War of Liberation Mass grave 1 (CSD Godown).
Religiousinstitutions' Mosque 320,temple 11, church 5. Noted religious institution: Baraduari Mosque.
Literacy rate and educational institutions Average literacy 26.37%; male 28.67%, female 23.94%. Educational institutions: college 3, technical college 1, secondary school 22, primary school 151, madrasa 22. Noted educational institutions: Sreebardi Government College (1969), Gopalkhila High School (1919), Sreebardi Akbaria Public Pilot High School (1945), Sreebardi Mathuranath Binodini Governemnt Pilot Girls' High School (1964), Kakilakura Fazil Madrasa (1950), Sreebardi Islamia Kamil Madrasa (1962).
Newspapers and periodicals Fortnightly: Banasree (defunct), Palli Darpan (defunct).
Cultural organisations Library 3, club 11, press club 1, stadium 1, cinema hall 2, playground 12.
Main sources of income Agriculture 69.39%, non-agricultural labourer 3.54%, industry 0.60%, commerce 10.48%, transport and communication 1.82%, service 4.05%, construction 0.69%, religious service 0.22%, rent and remittance 0.11% and others 9.10%.
Ownership of agricultural land Landowner 57.28%, landless 42.72%; agricultural landowner: urban 47.45% and rural 57.86%.
Main crops Paddy, wheat, mustard, jute, potato, vegetables.
Extinct or nearly extinct crops Pulse, arahar, kalai, sugarcane.
Main fruits Mango, blackberry, jackfruit, banana.
Fisheries, dairies and poultries Fishery 122, dairy 22, poultry 5, hatchery 1.
Communication facilities Pucca road 115 km, mud road 230 km.
Extinct or nearly extinct traditional transport Palanquin, bullock cart.
Noted manufactories Saw mill, ice factory, oil mill, flour mill, welding' factory,.
Cottage industries Goldsmith, blacksmith, potteries, wood work, tailoring, bamboo work, cane work.
Hats, bazars and fairs Hats and bazars are 11, fairs 4, most noted of which are Sreebardi Bazar, Bhayadanga Bazar, Karnazhara Bazar, Jagrar Char Bazar, Kokrar Mela at Old Sreebardi, Baishakhi Mela at Tengar Para, Baruni Snan Mela at Garjaripa and Tenachira Mela at Matiakura.
Main exports Rice, paddy, banana, vegetables.
Access to electricity All the wards and unions of the upazila are under rural electrification net-work. However 5.66% of the dwelling households have access to electricity.
Natural resources White Clay.
Sources of drinking water Tube-well 90.96%, tap 0.37%, pond 0.23% and others 8.44%. The presence of arsenic has been detected in 17.26% shallow tube-well water of the upazila.
Sanitation 18.75% (rural 16.93% and urban 65.10%) of dwelling households of the upazila use sanitary latrines and 58.52% (rural 59.89% and urban 23.59%) of dwelling households use non-sanitary latrines; 22.73% of households do not have latrine facilities.
Health centres Upazila health complex 1, family planning centre 10, satellite clinic 1, union health and family welfare centre 8, clinic 1.
Natural disasters A large number of people were victims of the famine, cholera and small pox of 1943. Besides, the floods of 1942 and 1988 caused heavy damages to settlements, livestock, crops and other properties of the upazila.
NGO activities Operationally important NGOs are brac, proshika, asa, caritas, World Vision. [Syed Marufuzzaman]
References Bangladesh Population Census 2001, Bangladesh Bureau of Statistics; Cultural survey report of Sreebardi Upazila 2007.