Subarnachar Upazila (noakhali district) area 382.12 sq km, located in between 22°28' and 22°44' north latitudes and in between 90°59' and 91°20' east longitudes. It is bounded by noakhali sadar and companiganj upazilas on the north, hatiya upazila on the south, Companigang and sandwip upazilas on the east and ramgati upazila on the west.
Population Total 200397; male 102512, female 97885.
Water bodies Bhulua River and Sandwip Channel.
Administration Subarnachar upazila was formed on 2 April 2005 comprising parts of Noakhali Sadar upazila.
Upazila
Municipality
Union
Mouza
Village
Population
Density (per sq km)
Literacy rate (%)
Urban
Rural
Urban
Rural
-
8
57
54
-
200397
524
-
32.94
Union
Name of union and GO code
Area (acre)
Population
Literacy rate (%)
Male
Female
Char Amanullah 29
8162
8707
8392
38.02
Char WAPDA 37
10905
9785
9117
32.38
Char Clerk 33
19438
18970
18026
31.02
Char Jabbar 35
17485
19408
18701
20.36
Char Jubille 36
14271
17814
17086
35.24
Char Bata 31
10641
20821
19868
38.03
Purba Char Bata
1413
2703
2605
35.16
Mohammadpur
13062
4304
4090
33.34
Source Bangladesh Population Census 2001, Bangladesh Bureau of Statistics.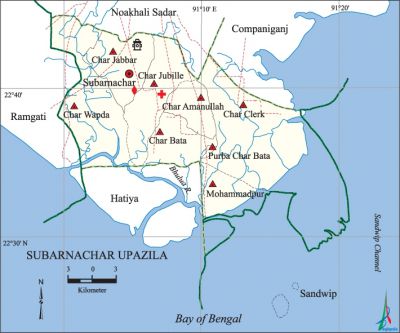 Religious institutions Mosque 241, temple 7.
Literacy rate and educational institutions Average literacy 32.83%; male 37.50%, female 28.15%. Educational institutions: college 2, secondary school 17, primary school 60, community primary school 13, madrasa 12. Noted educational institutions: Saikot Degree College (1996), Char Jabbar Degree College (1996), Shahid Joynal Abedin High School, Khaser Hat High School, Arji High School, Char Jubilee Rabbania Fazil Madrasa, Char Bata Islamia Alim Madrasa.
Cultural organisations Library 1.
Main sources of income Agriculture 70.72%, Non-agricultural labourer 6.01%, industry 0.41%, commerce 9.59%, transport and communication 1.75%, service 3.91%, construction 0.66%, religious service 0.29%, rent and remittance 0.75% and others 5.91%.
Ownership of agricultural land Landowner 54.01%, landless 45.99%.
Main crops Paddy, wheat, soyabin, ground nut, vegetables.
Main fruits Mango, jackfruit, banana, papaya, coconut, dates, betel nut.
Fisheries, dairies and poultries Fishery 7, dairy 22, poultry 18. '
Communication facilities Pucca road 75.37, mud road 47.68 km.
Extinct or nearly extinct traditional transport Palanquin, horse carriage and bullock cart.
Noted manufactories Rice mill, oil mill, flour mill, ice factory, welding factory.
Cottage industries Blacksmith, potteries, weaving, embroidery, shital pati and hand operated fan works.
Hats, bazars and fairs Hats and bazars are 49, fair 1, most noted of which are Khaser Hat, Bhuiyar Hat, Thanar Hat, Chhamir Hat, Haris Chowdhury Bazar, Wapda Bazar, Ram Govinda' Bazar and Baishakhi Mela.
Main exports Coconut, betel nut, mat, dry fish, yogurt and varieties of fish.
Access to electricity All the unions of the upazila are under rural electrification network. However 5.71% of the dwelling households have access to electricity.
Sources of drinking water Tube-well 73.75%, tap 1.04%, pond 20.05% and others 5.15%. The presence of arsenic has been detected in the shallow tube-well water of the upazila.
Sanitation 26.32% of dwelling households of the upazila use sanitary latrines and 60.80%' of dwelling households use non-sanitary latrines; 12.89% of households do not have latrine facilities.
Health centres Hospital 1, satellite clinic 7.
Natural disaster' The tidal bore of 12 November 1970 and floods of 1985, 1991 and 1998 caused heavy damages to settlements, crops and livestock of the upazila.
NGO activities Operationally important NGOs are brac, proshika, asa. [Tahera Begum Rita]
References Bangladesh Population Census 2001, Bangladesh Bureau of Statistics; Cultural survey report of Subarnachar Upazila 2007.