Sujanagar Upazila (pabna district) area 334.40 sq km, located in between 23°48' and 24°00' north latitudes and in between 89°23' and 89°38' east longitudes. It is bounded by santhia upazila on the north, rajbari sadar and pangsha upazilas on the south, bera upazila on the east, Pangsha and pabna sadar upazilas on the west.
Population Total 251192; male 130757, female 120435; Muslim 240574, Hindu 10570, Buddhist 44 and others 4.
Water bodies Main rivers: padma, atrai; Gajnar Beel, Mahishkholer Beel and Zider Beel are notable.
Administration Sujanagar Thana was formed in 1872 and it was turned into an upazila in 1983.
Upazila
Municipality
Union
Mouza
Village
Population
Density (per sq km)
Literacy rate (%)
Urban
Rural
Urban
Rural
1
10
191
180
27894
223298
751
42.6
35.9
Municipality
Area (sq km)
Ward
Mahalla
Population
Density (per sq km)
Literacy rate  (%)
11.08
9
12
19056
17.20
42.4
Upazila Town
Area (sq km)
Mouza
Population
Density (per sq km)
Literacy rate  (%)
10.08
2
8838
877
43.0
Union
Name of union and GO code
Area (acre)
Population
Literacy rate (%)
Male
Female
Ahammedpur 17
9065
17522
16465
40.69
Tantibanda 95
6112
10507
9857
35.14
Dulai 19
7863
12799
11377
39.40
Nazirganj 47
11595
11644
10611
37.35
Manikhat 38
7566
15139
13792
42.54
Raninagar 57
9345
9001
8202
35.31
Sagarkandi 66
11172
15405
14768
26.97
Satbaria 76
6400
12001
11114
39.79
Sujanagar 85
6991
9429
8419
31.95
Hatkhali 28
6522
7464
6620
26.21
Source Bangladesh Population Census 2001, Bangladesh Bureau of Statistics.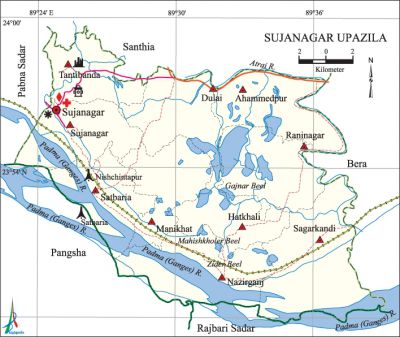 Archaeological heritage and relics Zamindar Bari of Tantibanda, Dulai Chowdhury (Zamindar) Bari, Hemrajpur Shiva Mandir and Durga Mandir.
Historical events During the sepoy revolt in 1857 Zamindar Govinda Chowdhury of village Tatibanda helped the British in resisting the revolt by employing guards on the banks of the Padma and jamuna against the onrusg of the rebels in crossing the rivers. In recognition of the services of the zamindar the Governor Lord Mayo had a visit in Tatibanda. Peasant rebellion and communal riot were held in Sujanagar in 1872 and 1926 respectively. On 21 February 1969, Jamadar Abul Hossain was shot dead by the police at the playground of Sujanagar High School. During the war of liberation direct encounters were held between the freedom fighters and the Pak army in different places of the upazila including at Sagarkandi, Satbaria, Bhabanipur and Nischintapur. On 14 December, three freedom fighters were killed in an encounter with the Pak army. Besides, during the War of Liberation freedom fighters Abdul Awal, Abdul Barek and Sadek were killed. Sujanagar was liberated on 15 December.
Marks of the War of Liberation Mass killing site 3 (Bhabanipur, Nischintapur and Satbaria).
Religious institutions Mosque 304, temple 58, tomb 1. Noted religious institutions: Sujanagar Jami Mosque, Satbaria Jami Mosque, Dulai Chowdhury Bari Jami Mosque, tomb of Hazrat Shah Mahtab Uddin (R) at Sagarkandi, Sideshwari Kali Mandir.
Literacy rate and educational institutions Average literacy 36.7%; male 40.1%, female 33%. Educational institutions: college 7, secondary school 33, primary school 136, kindergarten 7, madrasa 6. Noted educational institutions: Satbaria College (1966), Khalilpur High School (1901), Dulai High School (1967), Durgapur Government High School, Raninagar Government High School, Ulat Siddiqia Fazil Madrasa (1915).
Newspapers and periodicals Weekly: Palli Barta.
Cultural organisations Library 25, women's organisation 7, playground 16, stadium 1, cinema hall 1.
Main sources of income Agriculture 61.17%, non-agricultural labourer 2.89%, industry 5.95%, commerce 12.73%, transport and communication 2.71%, service 5.72%, construction 0.95%, religious service 0.17%, rent and remittance 0.41% and others 7.30%.
Ownership of agricultural land Landowner 53.50%, landless 46.50%; agricultural landowner: urban 44.85% and rural 54.59%.
Main crops Paddy, wheat, jute, sugarcane, ground nut, onion, garlic, vegetables.
Extinct or nearly extinct crops Kaun, tobacco, maize.
Main fruits Mango, jackfruit, litchi, papaya.
Fisheries, dairies and poultries Fishery 29, dairy 128, poultry 18, hatchery 22.
Communication facilities Pucca road 98.75 km, semi-pucca road 8 km, mud road 288.25 km; waterway 38 nautical miles.
Extinct or nearly extinct traditional transport Palanquin, horse carriage, bullock cart.
Noted manufactories Rice mill, flour mill, ice factory, textile mill, welding factory.
Cottage industries Goldsmith, blacksmith, weaving, bamboo work, cane work, wood work.
Hats, bazars and fairs Hats and bazars are 32, fairs 4, most noted of which are 'Sujanagar Bazar, Nischintapur Bazar, Raipur Bazar, Shayampur Hat, Satbaria Hat, Raninagar Hat, Durgapuja Mela at Sujanagar and Joykali Bari Mela.
Main exports Onion, garlic, ground nut, sari, lungi, gamchha.
Access to electricity All the wards and unions of the upazila are under rural electrification net-work. However 32.06% of the dwelling households have access to electricity.
Natural resources' Mineral oil has been detected at village Mobarakpur of Ahammedpur union.
Sources of drinking water Tube-well 94.41%, tap 00.29%, pond 0.10% and others 5.20%.
Sanitation 14.71% (rural 13.25% and urban 26.32%) of dwelling households of the upazila use sanitary latrines and 74.90% (rural 76.16% and urban 64.85%) of dwelling households use non-sanitary latrines; 10.39% of households do not have latrine facilities.
Health centres Upazila health complex 1, family planning centre 10, satellite clinic 3, union health and family welfare centre 5, clinic 1, community clinic 26.
NGO activities Operationally important NGOs are brac, asa. [Md. Habibullah]
References Bangladesh Population Census 2001, Bangladesh Bureau of Statistics; Cultural survey report of Sujanagar Upazila 2007.