Sura Mosque is located at Sura under Ghoraghat upazila in the district of Dinajpur, about eleven kilometres on the west of the ruins of Ghoraghat and about six kilometres from the Ghoraghat upazila headquarter in the same direction.
Bricks and stones were used for its construction. A good number of stone slabs lie all around the mosque. Some stone slabs contain panels and other designs similar to those at the chhota sona mosque. AH Dani thought that 'the mosque was built of brick with walls faced with stones to a considerable height'. But no sign of stone facing can be seen in any part of the walls now. Moreover, the decorations in the outer surface of the walls have been wrought with terracotta ornamentation depicting the conventionalised chain and bell motif. Had the wall been faced with stone, terracotta ornamentation in brick could not have been inserted in the walls.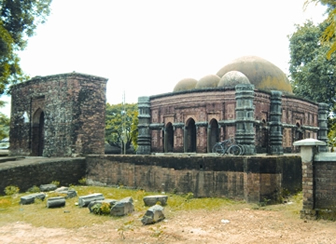 Sura Mosque is a single domed square mosque with a verandah in front. It was built on a high terrace which is to be approached by a flight of steps from the east side. The open terrace on all four sides of the mosque was secluded by massive surrounding walls, which are now at the level of the plinth.
But from the height of the eastern gateway it may be hypothesised that the surrounding walls were also raised to a considerable height in order to protect the mosque from outside noise and tumult. Such a device is not to be seen in any other mosque of Bengal.
The mosque at Sura follows the plan of the lattan mosque and consists of a square prayer hall, 4.90m on each side. All the angles have octagonal towers - there are six of these. The cornice is curved as usual. There are three arched entrances on the east and one each on the north and south. There are three decorated mihrabs on the western wall. The hall is covered by a hemispherical dome, carried on squinches and supported by pillars.
Three domes cover the verandah of the mosque and the phase of transition is in the pendentive system. These domes have close affinity with the domes of Chhota Sona Mosque.
The surface of the building is decorated with terracotta, depicting rosettes and floral patterns. Geometric designs can also be seen. The mihrabs in the interior were made entirely of stone. The central mihrab has been decorated tastefully. Chain and bell motif, floral designs, scroll motif, and geometric designs have been excellently executed. The base of the domes have been decorated with ornamented terracotta bricks.
No inscription tablet has been found. On stylistic grounds ah dani dated the mosque to the Husain Shahi period. Recently an inscription of the time of Alauddin husain shah, dated AH 910/1504 AD, has been discovered in Champatali, a few miles away from the place. It records the construction of a mosque. If this inscription is taken to have any connection with the mosque at Sura, the year 1504 AD may be assumed as the date of its construction. [Sultan Ahmad]