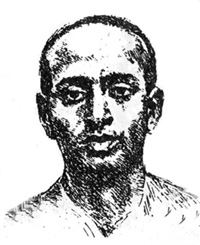 Surya Sen, Mastarda (1894-1934) a revolutionary, was the leader of the Chittagong branch of the jugantar party and the principal organiser of the famous Chittagong Armoury Raid of 1930. He was born in Noapara village, thana Raojan, Chittagong in 1894. His full name was Shurja Kumar Sen, nick name was Kalu, father's name Rajmoni Sen and mother was Shila Bala Devi. After finishing primary education from Dayamoy primary school, he studied up to class eight in Noapara Higher English School. Surya sen passed Entrance Examination from Chittagong National High School in 1912 and got admission in chittagong college.
The Swadeshi Movement was launched in Bengal in 1905 protesting against the declaration of Vanga Bhanga (division of Bengal), when Surya Sen was a student of Noapara Higher English School. This turned in a revolutionary movement in course of time. A resident of Noapara under Chittagong, he was initiated into revolutionary ideas in 1916 by his teacher Shatishchandra Chakrabarti, while he was a student of BA Class in the Behrampore College. Shatishchandra Chakrabarti was involved with a revolutionary party named 'Jugantar'. On his return to Chittagong in 1918, Surya Sen became the President of the Chittagong branch of the indian national congress, revived the revolutionary organisation and became a teacher of the local National School. Hence, he was known as Mastarda (teacher).
At that time, Ambika Chakrabarti, Anurup Sen, Nogen Sen (Julu Sen), Charubikas Dutt and many other were involved in the revolutionary group in Chittagong. But their activities were restricted. The revolutionaries were divided in two groups in Bangladesh, Anushilan and Jugantar. After returning from Behrampore, Surya Sen joined in Jugantar party and tried to activate the organisation. He also tried to re-unite the two active revolutionary parties in one-group.
Gradually his party became more active in Chittagong. The students of Chittagong boycotted their classes and organised public meeting to protest the killing of Jalianwallabag in 1919. Mohan Das Karam Chand Gandhi came back from Africa and joined Indian National Congress. He believed in non-violent movement and Indian people received inspiration from him to fight against the British government. The revolutionaries in Chittagong also continued their systematic movement by boycotting classes, courts and arranging protest demonstration, possession etc.
Two important incidents occurred at that time; (1) strike by the labors of a British owned ship company and (2) British owned tea garden labor Strike, in Sylhet and Kachar and the casualties by the bullets of British police and Gorkha soldiers during a labour strike in Chandpur. Protesting this occurrence, Asam-Bengal Rail strike took place. For this, the name of Jatin Mohan Sengupta, a leader of the Congress and Kajem Ali Sher-e-Chatgram, along with Surya Sen came out in the scene. He gave up his teaching profession for involving himself in non-cooperation movement and started directing the revolutionaries and other activities of Chittagong Congress from 'Shamyasram', which he established in Dewanbazar area. The revolutionary group in Chittagong was organised under the leadership of Surya Sen, though Swaraj was not achived by the movement of Gandhiji. They looted the treasury of Asam-Bengal Railway for cash money to continue the movement. After this, police arrested Surya Sen and Ambika Chattapadyay. They were both released from the jail towards the end of 1928 and again started their revolutionary activities in Chittagong. Surya Sen established a gymnasium in Chittagong for the revolutionaries and ordered them to improve their physical and psychological condition by doing regular physical exercise along with swimming, rowing boats, climbing trees, playing sticks, throwing knives, boxing etc. Masterda gave them training for making arms and ammunition. He established 'Indian Republican Army' as a branch in Chittagong.
Shubhas Chandra Bose presided over the conference of Chittagong Jilla Congress in 1929. At this, Surya Sen was elected as General Secretary. In the same year revolutionary Jatindranath died of hunger after 63 days long strike in Lahore jail. In reaction of this incidence, agitation broke out in entire Bengal. In the agitation procession and meeting Surya Sen described the further action plan of the revolution in front of the party members. They all took oath to sacrifice their lives for the independence. For this, they declared 'Death Programs'.
December 1929 was the Initial attacking date. But this date was changed due to police activities. At this time Surya Sen established his detective group. Members of this group took training for making explosive in Chittagong. They continued their training period from January to March 1930. Surya Sen distributed their party proclamations in concealment. In those proclamations Surya Sen trickily declared a fake date that, the revolutionaries will break laws by reading banned booklets at the Gandhi Moidan (field) in Chittagong. The actual date was 18th April.
The armed revolution of 18th April in 1930 was an outcome of long time preparations and proper plans of the revolutionaries under the leadership of Surya Sen. The revolution was nonviolent and regular at its starting stage, but in course of time, it turned as a violent revolt. The programs of the revolutionaries in the Good Friday were fixed as:
1. Robbery at the police Armoury. Leader of this group were Ananta Singh and Gonesh Ghosh.
2.Raid on the armoury of the auxiliary forces. Nirmal Sen and Loknath were the leader of this group.
3.Occupy the Telephone and Telegraph building. Ambika Chakrabarti led the group.
4.Attacks on the European Club, Chittagong, under the leadership of Noresh Roy.
5.Upendrakumar Vottacharya and Lalmohan Sen took charge to disconnect the railway communications from Chittagong to other districts.
6.Shukendu Dostidar, Shaileswar Chakrabarti Ardhendu Guha, Dinesh Chakrabarti and Haralal Chowdhury were in charge to circular the news of the revolution in the city.
The first declaration of the revolutionaries was the aim of the armoury revolution and the second was to convene to the young people of the country for joining in the Republican Army and fight against colonial government. 18th April was Good Friday and the European higher officials were not present in the club. They found some heavy arms in the auxiliary force's armoury, but there were no bullets. So, they didn't get expected result from these ventures. But Surya Sen could collect arms and explosives by raiding armour of Chittagong jail. Himangshu Bimal Sen, a revolutionary were seriously burnt while he was trying to set fire in the jail. After this Surya Sen took shelter in the hill and discussing with the elderly members of the party he took decision that the revolutionaries will make an attack upon the British officers. Masterda appointed Loknath Bal as the general of Indian Republican Army and gave charge to directed the revolution. 14 revolutionaries received martyr during 22nd April 1930's war. The main group took shelter in the hill under the leadership of Surya Sen. The British Government declared award for capturing the main group. In the mean time government started a trial on 24th July 1930 at Chittagong court in a special tribunal. Masterda kept continuing his activities. June 1932 he ordered Pritilala and kalpana datta to destroy Chittagong Jail by using dynamite. But their plan was in vain. Eleven revolutionaries were arrested for this. On 24th Pritilata made a successful attack on the Chittagong European Club. But she was injured by a bullet and committed suicide by taking Cyanide. After her death, Surya Sen was hiding at the house of Sabitri Devi, in Gairala villege near Patiya. Ultimately a villager revealed the hiding place of Surya Sen to police. In the early hours of 16 February 1933, a Gurkha contingent surrounded the hideout and a soldier seized Surya Sen along with Kalpana Dutt, Shanti Chakrabarti,Sushil Das and Monilal Dutt while they were trying to break the cordon. Tarakeswar Dastidar, the new President of the Chittagong Branch Jugantar Party, made a preparation to rescue Surya Sen from the Chittagong Jail. But the plot was unearthed and consequently frustrated. Tarakeswar and along with others were arrested. Special tribunals tried Surya Sen, Tarakeswar Dostidar, and Kalpana Dutt in 1933. On 14 August 1933, Surya Sen and Tarekeswar Dostidar were executed and Sentenced to death. Kalpana Dutt was sentenced a life-term imprisonment. Surya Sen and Tarekeshwar Dostidar were hanged in the Chittagong Jail on 12 January 1934. [Mohammad Shah]