Swarnakar a traditional artisan group working as goldsmith or silversmith but now disappearing as caste group. The Bengali name of the occupation is derived as a compound of two words swarna (gold) and kar (worker). Swarnakars produce innumerable silver or gold ornaments such as churi (bangle), bajuband (armlet), har (necklace), hansuli (ornament for the neck), sinthipati (ornament put on the head in the parting of hair), dul (earring), kanpasha (ear ornament), nolak (nose-ring), nath (big nose ring put on the nostril), nakchhabi (small star-shaped ornament put on the nostril), mal (anklet) etc. Some of these, however, have gone out of fashion now. Over time, the ornaments made by swarnakars have changed in design, in the amount of metal and in the combination of metal with various non-metal items in them.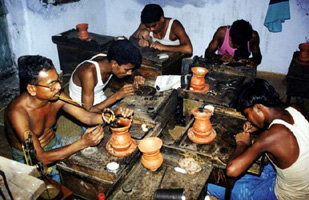 Traditionally, the goldsmith uses a fireplace and bellows, smaller than those used by blacksmith. He melts gold or silver by putting its pieces in a crucible and blowing it with flame by means of a phukni (blowpipe) made generally of brass. Swarnakars in India historically formed a Hindu caste called Shankra (or Suvarnakar, in book language goldsmith) and in Bengal, they were divided into four sub-castes Brahman-Desi, Dakksin radi, Khalangi, and Uttar radi.
In a swarnakar community, girls were married at early age. The marriage ceremony is still observed in an orthodox fashion, its essential and binding portion being the gift of the bride to bridegroom and his formal acceptance of the gift.
Widows may not marry again and divorce is permitted only on the ground of the wife's adultery. The religion of the caste is that of the average middle class Hindu Sakta or Vaishnava. The divine artisan, Viswakarma, is reverenced as the special patron of the caste. The women of the swarnakar community have a special ceremony called Kulais, which is performed during the rains without the assistance of any priest. Brahmans are employed for religious and ceremonial purposes, but Brahmans serving the higher castes do not accept invitations only on a discretionary basis.
In the past, the swarnakars might have been engaged exclusively in their profession only. Now many of them have secondary occupations like farming or petty trading. Historically, the social status of swarnakars had been low and this continues to be so more because of their relatively poor incomes than their caste position. Some swarnakars, however, become traders in gold and ornaments, earn money and with that, the reputation and social status. The development of modern jewellery, imitation ornaments and the introduction of machinery in ornament making industry have squeezed the working scope of swarnakars. Most of them are now forced out of business because of the shortage of capital and difficulties in imports or in competition with others in sales in the local market. Gold traders and gold traffickers now dominate in the jewellery business and swarnakars work under them on salary basis. Modern jewellery business is no more a trade of Hindus alone. Muslims have now adopted the profession in such a scale that it has lost its the original caste character. [Gofran Faroqi]