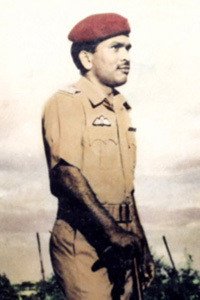 Taher, Colonel Abu (1938-1976) army officer, a sector commander in the War of Liberation. Colonel Abu Taher was born in Badarpur in Assam on 14 November 1938. His paternal home is at village Kazla in Purbadhala thana of Netrokona district. Abu Taher obtained his graduation from Sylhet MC College in 1959 and read up to MA preliminary level in Social Welfare and Research Institute under the University of Dhaka in 1960. He served as an assistant teacher for sometime at Durgapur High School in Mirsharai upazila of Chittagong district (1959).
Abu Taher joined the Pakistan Army in 1960. He was transferred to special service group (Commando force) in 1965. He fought in the Indo-Pak War of 1965 first in Kashmir and then in Sialkot sector, and received gallantry award for his chivalry. Abu Taher participated in a training course at Ford Brag and Ford Benning in USA on guerrilla warfare in 1969, and obtained graduation with honours in higher war techniques. He participated in the Senior Tactical Course at Quetta Staff College in 1970, and left the college in protest against Genocide in Bangladesh by Pakistan army from 25 March 1971. In July 1971, he along with Major Muhammad Abul Manzoor, Major Ziauddin, and Captain Patwary crossed the border from Abotabad, and joined the War of Liberation. He was appointed the sector commander of Sector 11 comprising Mymensingh and part of Rangpur districts. He was seriously wounded on 14 November 1971 while launching an attack on enemy camp at Kamalpur, known as the gateway to Dhaka. His left leg was blown off from above the knee.
After medical treatment in India Abu Taher came back to Bangladesh in April 1972, and was appointed the Adjutant General of Bangladesh Army. In June 1972, Taher was made commander of 44th battalion and commanding officer of Comilla cantonment. He resigned from the army in September 1972 on the issue of his difference with the government on some principle relating to the National army.
Colonel Taher joined in politics in October 1972 and was elected the vice president of central organising committee of Jatiya Samajtantric Dal. After the tragic killing of Bangabandhu sheikh mujibur rahman on 15 August 1975 by a group of army officers, there were a string of coups and counter coups in the army, and this created a commotion among the general soldiers. In this backdrop, Abu Taher organised the uprising of the soldiers and public on 7 November 1975. Abu Taher was arrested on 24 November (1975). He along with other 34 was tried by a military tribunal inside the Dhaka Central Jail and was sentenced to death. His death penalty was executed by hanging on 21 July 1976.
Colonel Taher was honoured with the gallantry award 'Bir Uttam' for his valour in the War of Liberation. [Md Anwar Hossain]