Tanchangya, The a small ethnic community of Mongoloid origin in the chittagong hill tracts. According to the census report of 2001, Tanchangya is the fifth largest tribal group in terms of population (31,164) among the ethnic groups living in Chittagong Hill Tracts. They live mainly in Rangamati, Khagrachhari and Bandarban districts of the Chittagong Hill Tracts, Baishyabili area of Rangunia upazila in Chittagong district and in Teknaf and Ukhia upazilas of cox's bazar district. Like other tribes living in the hills, Tanchangya's habitats are developed in the hilly forest. Their language belongs to the Indo-Aryan family and transformed from pali, prakrit and Bangla. Tanchangyas are divided into 12 gachha or clans, such as Mo-gachha, Karwa gachha, Dhanya gachha, Melong gachha, Lang-gachha, Lapuisa-gachha, Mulima-gachha, Aungo-gachha, Rangi-gachha, Wa-gachha and Tashi-gachha. In Bangladesh there are seven clans of the Tanchangya.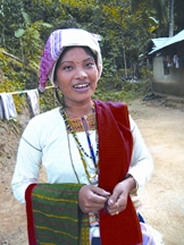 The main occupation of the Tanchangyas is jhum cultivation. Some of them earn their livelihood through tree plantation specially development of orchards in hills, hillocks and highland. In the past, massive jhum cultivation was the lone way of their living. But many of them are now literate and are employed in government and private services. Thus the profession of jhum cultivation gradually declined.
Tanchangyas have their own traditional costumes and ornaments. Tanchangya women can be detected easily among the tribal womenfolk of Chittagong hill tracts because of their unique dress and hairstyle. The ladies of this tribe wear long sleeved shirts called Keboi having colourful stitched motifs of foliage on shoulder plates and edges of sleeves. They make up their hair with fancy and decorated hair pins and chains as a very special way so that the bun looks like a turban.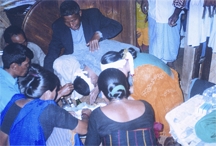 The Chignons is covered with a piece of cloth called khabong. They cover their lower part of the body with pinon or pinuen, a seven coloured handloom fabrics woven by themselves. The design of this pinon is different from that of other tribes. Tanchangya women wear this pinon or pinuin along with a white belt called faduri or fadui having decoration of flowers at the two ends. They use the minimum amount of white yarn in weaving to make the indigenous dress. However white shirts or kaboi and khabong (head gears) are now-a-days attired exclusively by Karwa-gachha women. Earlier, Tanchangya women belonging to Mo-gachha clan also used to attire these dresses. But now the use of traditional costumes is declining. Women of other Tanchangya clans specially Melon-gachha still wear head gear, khabong and waist belt fadui. Traditional ornaments of the Tanchangya women include earrings known as raijju and janga, various types of bracelet named boghore, kochikharu and kiaingshik, armlet tajjur, and necklaces known as chandrahar, halchuli and shikichhara. Tanchangya males wear traditional dhuti and long sleeved shirts.
Wedding ceremony in Tanchangya society is known as sanga. Marriages are solemonised in their society in three different ways. Traditional marriages arranged in the bride's father's house in presence of the groom is considered as general wedding. If the couple is involved in love marriage secretly it is termed as dhe jana sanga and the marriage of a widow is called rani melar sanga. Rituals of traditional wedding ceremony of the Tanchangyas belonging to Mo-gachha are very colourful and attractive.
Tanchangyas are Buddhist in faith. However, they believe in the existence of gods and goddesses and organise various worship dedicated to river, evil spirits (bhoot puja, chumulang puja, mittini puja) and gods and goddesses like Laxmi, K-puja and Buarpara. Both male and female can perform the responsibility of a healer (baidya) in Tanchangya society. Their leading religious festivals and ceremonies include Buddha puja, Sanghadan, listening from the holy book, probarana, ashta pariskar dan, kathin chibar dan, maghi purnima and mass rally on the occasion of falguni purnima.
Tanchangyas welcome the new year and bid farewell to the passing year in a festival called bishu. It has three parts, phool bishu and mul bishu celebrated on the last two days of the old year and gujja puja day is observed on the new years day.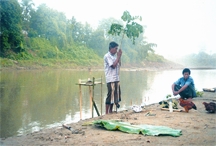 Tanchangya society is patriarchal, and in absence of father all male children of the family inherit equal shares of family properties including land, furniture and cattle of the house. Daughters cannot claim any share of her paternal property. However, if a family does not have any male child, in that case girls inherit family property. If a family head dies leaving more than one wife, male children of all wives get equal share of his wealth. If a family head does not have any male child and if he has any adapted son, he will inherit his property. Even a son of a divorced Tanchangya women who was divorced before the birth of the son, becomes eligible to get share of the wealth owned by his deceased father.
If a Tanchangya male dies leaving no son or in unmarried condition, his wealth will be equally distributed among his living brothers. Traditionally, Tanchangya culture is very rich and their folk songs like ubageet and barogeet and modern songs are equally popular. Musical instruments which they play are flute, violin, and indigenous dhuruk and khengkhong. They also make various musical instruments including violin. [Dinonath Tanchanga]