Tangail District (dhaka division) area 3375 sq km, located in between 24°01' and 24°47' north latitudes and in between 89°44' and 90°18' east longitudes. It is bounded by jamalpur district on the north, dhaka and manikganj districts on the south, mymensingh and gazipur districts on the east, sirajganj district on the west.
Population Total 3290696; male 1669794, female 1620902; Muslim 3042937, Hindu 234088, Buddhist 12820, Christian 110 and others 741. Indigenous communities such as garo, Bangshi and Kol belong to this upazila.
Water bodies Main rivers: jamuna, dhaleshwari, Lohajang, bangshi, turag, Jhinai.
Administration Tangail Sub-division was established in 1870 and was turned into a district in 1969. Of the twelve upazilas of the district ghatail is the largest upazila (450.71 sq km, it occupies 13.35% of the total area of the district) and dhanbari is the smallest upazila (127.95 sq km).
District
Area (sq km)
Upazila
Municipality
Union
Mouza
Village
Population
Density (per sq km)
Literacy rate (%)
Urban
Rural

3375

12

8

103

2029

2425

438011

2852685

975

40.5
Others Information of District

Name of Upazila

Area
(sq km)

Municipality

Union

Mouza

Village

Population

Density
(per sq km)

Literacy rate
(%)

Kalihati

301.22

1

11

264

301

376407

1250

37.6

Gopalpur

191.48

1

7

129

155

274273

1432

41.4

Ghatail

450.71

1

11

306

411

371952

825

39.4

Tangail Sadar

301.84

1

11

291

273

438765

1454

44.4

Delduar

184.54

-

8

129

166

188449

1021

43.0

Dhanbari

127.95

1

7

112

168

138604

1084

42.26

Nagarpur

266.77

-

12

212

243

258431

969

34.7

Basail

157.78

-

6

73

107

160346

1016

43.5

Bhuapur

216.38

1

6

111

129

190910

882

40.0

Madhupur

370.47

1

6

-

171

234299

633

37.7

Mirzapur

373.89

1

13

207

219

366609

981

48.3

Sakhipur

429.63

-

6

65

123

241665

562

562
Source  Bangladesh Population Census 2001, Bangladesh Bureau of Statistics.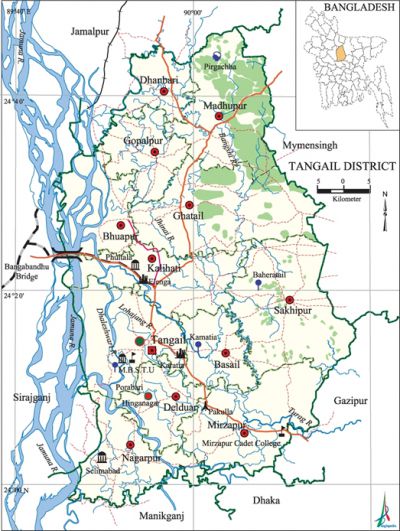 History of the War of Liberation In 1971, Bangabir Kader Siddiqui formed the 'Kaderia Bahini' with about 17000 freedom fighters and launched many successful operations against the Pak army in Tangail district. On 28 March 1971, the Sarva Dalio Sangram Parishad (the all party resistance council) hoisted the flag of the Bangladesh on the foot of the Bhuapur College Shahid Minar. On 3 April 1971, a battle was fought between the freedom fighters and the Pak army at Goran Satiachara of Mirzapur upazila in which 33 freedom fighters were killed and so were a number of Pak soldiers. In the month of April the freedom fighters under Banga Bir Kader Siddiqui raided the Gopalpur Police Station (Thana) and captured all its arms and ammunitions; they also set the Thana building on fire. A battle was fought between the freedom fighters and the Pak army' in Kalihati upazila on 19 April 1971 in which about 350 Pak soldiers including a Major were killed and so were 11 freedom fighters. In this month another encounter was held between the freedom fighters and the Pak army in Madhupur upazila in which 5 Pak soldiers including a Major were killed. On 11 August the freedom fighters challenged a Pakistani ship carrying huge amount of arms and ammunitions at Sirajkandi' of Bhuapur upazila and captured all' arms and ammunitions; the freedom fighters also burnt the ship. Four freedom fighters were killed in an encounter with the Pak army on 6 October at Ballah of Sakhipur upazila. On 17 November the Pak army brutally killed 32 innocent persons at village Chhabisha of Bhuapur upazila; they also set 350 houses on fire. On 10 December the Indian allied forces launched attack on the Pak army in which 370 Pak soldiers were killed and more than one hundred were wounded; the allied forces also captured about 600 Pak soldiers. The Pak army killed 7 persons of the same family at Sarengpur under Nagarpur upazila on 13 December. During the war of liberation, a Pakistan military cargo carrying arms and ammunitions was captured by the freedom fighters under Habibur Rahman (Bir Bikram). In the battle that followed about 30 members of the Pakistan army were killed.
Marks of the War of Liberation Mass grave 4 (Nagarpur, Mirzapur, Bhuapur); mass killing site 2 (Mirzapur, Gopalpur); martyrs' memorial 3 (Tangail Sadar, Bhuapur, Basail); memorial monument (Sakhipur, Gopalpur); memorial plate 1 (Makrai Kumar Para at Ghatail).
Literacy rate and educational institutions Average literacy 40.5%; male 44.9%, female 35.9%. Noted educational institutions: Maulana Bhasani Science and Technology University (1997), Karatia Sadot University College (1926), Madhupur University College (1972), Kumudini Medical College (2001), GBG University College (1969), Kumudini Government Mohila College (1943), Mirzapur Cadet College (1965), Nagarpur Government College (1966), Mahera Police Training School (1970), Bharateswari Homes, Ghatail Cantonment Public School and College (1991), Santosh Janhobi Debi High School (1970), Government Bindubashini Boys' High School (1880), Government Bindubashini Girls' High School (1882), Sibanath High School (1907), BS Bisweswari High School (1926), Rokeya Senior Fazil Madrasa (1925).
Main sources of income Agriculture 57.28%, non-agricultural labourer 2.87%, industry 3.42%, commerce 13.07%, transport and communication 3.63%, service 7.94%, construction 1.23%, religious service 0.19%, rent and remittance 2.12% and others 8.25%.
Newspapers and periodicals Daily: Mufassal (1987), Majlumer Kantha (1995), Ajker Telegram, Lokkatha, Nagarik Kantha, Pragatir Alo, Bangshai; weekly: Purbakash (1994), Janatar Kantha (1992), Dhanbari Barta, Madhupur Barta, Samal, Ganabiplab, Madhubani; quarterly: Adalat (1981); defunct periodical: Hitakari (1892), Samachar (1936), Hakkatha (1936), Bulletin Bangla, Khudba, Satyakatha, Janata (1954), Tangail Hitoishi (1890), Naba Mihir (1891), Probaho (1914), Durbin (1947), Joy Bangla (1971), Lohajang, Khamos, Mou Bazar, Bidrahi Kantha, Parjukti, Mul Srata, Tangail Barta, literary periodical: Balark' (1970); fortnightly: Sanket (1973), Ahmadi,' Rayat (1936);' Monthly: Akbar-e-Islamia (1883), Naba Yug (1890), Naba Bidhan (1890), Prajasakti (1931).
Folk culture The folk festivals of the district include Nabanna, Pous Sankranti, Baruni, Aushtami etc. Notable folk songs include Dhua, Jari, Sari, Rakhali, Baromashi, Palagan, Palli Geeti, Bhawaiya, Bhatiali, Murshidi, Marfati, Bichar, Bara Banar Gan (songs sung by women during husking of paddy by Dekhi), songs for driving of ghosts, Marriage song, Ghetugan, Kavigan, Baul songs etc. Folk games and sports of the district include Lathi khela (stick game), boat race, Kabadi, Bhara Bhuda, Changa race, bull fight, horse race, Dhopbari, Gamchhabari, Tunkibari etc.'
Tourists spots National Park at Madhupur, bangabandhu jamuna multipurpose bridge (Bhuapur and Kalihati), Jamuna Resort (Kalihati), Zamindar Bari and Hinganagar Rajbari' (Delduar). [Arifa Islam]
See also The upazilas under this district
References Bangladesh Population Census 2001, Bangladesh Bureau of Statistics; Cultural survey report of Tangail District 2007; Cultural survey report of Upazilas of Tangail District 2007.