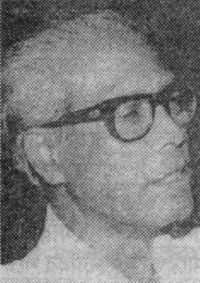 Toaha, Mohammad (1922-1987) left politician. He was born on 2 January 1922 at village Hajirhat in Ramgati thana of Luxmipur district. His father was Haji Mohammad Yasin and mother Hasna Banu. He passed Matriculation examimation in 1939 from Farashganj High School and IA in 1941 from Dhaka College. Mohammad Toaha obtained BA (Hons) in Political Science in 1944 and MA in 1950 from Dhaka University. He was elected as vice president of Fazlul Huq Hall Students Union of Dhaka University in 1947 and was then got himself associated with left politics.
Mohammmad Toaha participated as an activist in sylhet referendum under Maulana abdul hamid khan bhasani in 1946. He floated in 1947 the earliest left student organisation in East Bengal styled as East Pakistan Students Federation. In that very year he was elevated to the status of 'comrade'. He was associated with the floating of Awami Muslim League in 1949. Mohammad Toaha was instrumental in establishing the organisations like Ganatantrik Juba League and Gana Natya Sangstha in 1950. He was a member of the Sarbadaliya Rashtrabhasa Sangram Committe formed on 30 January 1952. He was elected a member of the East Bengal Provincial Assembly in 1954 as a candidate of the united front.    
The same year he was elected a member of the Awami League parliamentary party. In 1956 he floated a labour organisation styled as Purba Pakistan Majdur Federation and was elected its president. In 1957, Toaha was associated with the national awami party of Maulana Bhasani and was later elected its general secretary. With the promulgation of martial law by Ayub Khan in 1958 Mohammad Toaha receded to underground politics. Comrade Toaha suffered imprisonment in 1948, 1952 and in 1954 on political ground. He was one of the organisers of the anti-Ayub mass movement.
Comrade Toaha formed the Nakshal Bahini in 1970 as a venture of class struggle for establishing 'Communism'. During the War of Liberation he formed his own group of freedom fighters consisting of the members of the Purba Bangla Communist Party and developed a free zone in the western area of Noakhali district proper. After the liberation of Bangladesh, an warrant was issued against him and he went into hiding. After the withdrawal of warrant in 1976 he came back to open politics. He was elected a member of the Jatiya Sangsad in 1979. In 1986, Toaha contested in the Jatiya Sangsad election as a nominee of 8-Party alliance. He was the president of Bangladesh-China and Bangladesh-Korea Friendship Association. A number of his articles on politics and society were published in newspapers and journals. He left behind a large autobiography in manuscript form. He died on 29 November 1987 at his native village Hajirhat. [Abu Md. Delwar Hossain]