Tungipara Upazila (gopalganj district) area 127.87 sq km, located in between 22°50' and 23°01' north latitudes and in between 89°48' and 89°57' east longitudes. It is bounded by gopalganj sadar and kotalipara upazilas on the north, chitalmari and nazirpur upazilas on the south, Kotalipara' upazila on the east, Gopalganj Sadar and mollahat upazilas on the west.
Population Total 99462; male 52015, female 47447; Muslim 67250, Hindu 32128, Buddhist 74 and others 10.
Water bodies Main river: madhumati, Ghagat, Dariar Gang and Shailadaha. Tungri Canal is notable.'
Administration Tungipara Thana was formed in 1974 and it was turned into an upazila in 1995. Tungipara Municipality was formed in 1997.
Upazila
Municipality
Union
Mouza
Village
Population
Density (per sq km)
Literacy rate (%)
Urban
Rural
Urban
Rural

1

5

47

87

5906

93556

782

55.1

50.69
Municipality

Area (sq km)

Ward

Mahalla

Population

Density
(per sq km)

Literacy rate (%)

2.10

09

13

5906

2812

58.1
Upazila Town

Area (sq km)

Mouza

Population

Density
(per sq km)

Literacy rate (%)

30.39

10

30658

1009

54.5
Union
Name of union and GO code
Area (acre)
Population
Literacy rate (%)
Male
Female

Kushli 66

4146

7234

7036

44.72

Gopalpur 38

9189

8368

7602

57.42

Dumuria 28

7878

10781

9939

52.29

Patgati 76

7115

15777

13816

54.79

Barni 19

3114

6724

6279

44.23
Source Bangladesh Population Census 2001, Bangladesh Bureau of Statistics.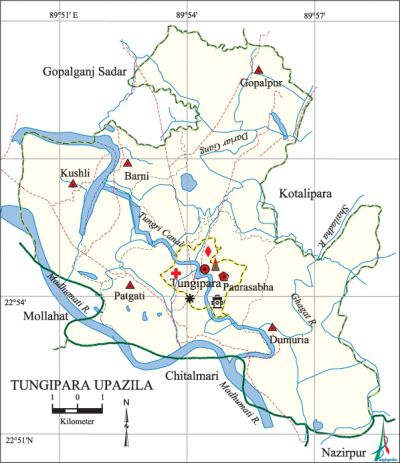 History of the War of Liberation On 19 May 1971, the Pak army raided the residence of Bangabandhu sheikh mujibur rahman at Tungipara. On the same day the Pak army killed Sheikh Mithu, Arshad Ali, Torab Ali, Dhala Miah Sardar and Liku; they also set some houses of Tungipara on fire. During the war of liberation the local razakars established a camp in the residence of Bangabandhu. On 11 July the freedom fighters (Hemayet Bahini) launched an attack on the camp; the razakars were defeated and were driven away.
Religious institutions Mosque 136,' temple 243, tomb 1.
Literacy rate and educational institutions Average literacy 52.2%; male 54.2%, female 49.9%. Educational institutions: college 2, secondary school 18,' primary school 65, kindergarten 4, madrasa 5, maktab 124. Noted educational institutions: Sheikh Mujibur Rahman Degree College (1986), Dr. Emdadul Haq Memorial College, Nilfa Baira High School (1917), Gimadanga Tungipara Govt. High School (1966), Gopalpur Pancha Palli High School, Bangabandhu Memorial Girls High School, Banchbaria Jhanjhania High school, Ghaohar Danga Khademul islam Madrasa.
Cultural organisations Library 3, club 21, cinema hall 1, cultural organisation 2, playground 13, women organisation 29, krira Organisation 5, youth organization 12.
Main sources of income Agriculture 70.08%, non-agricultural labourer 2.19%, commerce 11.36%, transport and communication 0.99%, service 8.82%, construction 0.58%, religious service 0.41%, rent and remittance 0.35% and others 5.22%.
Ownership of agricultural land Landowner 69.99%, landless 30.01%; agricultural landowner: urban 58.26% and rural 76.73%.'
Main crops Paddy, jute, wheat, mustard, sweet potato, pulse, ground nut, sunflower, betel leaf, sugarcane, rubber, vegetables.
Extinct or nearly extinct crops Sesame, linseed.
Main fruits Mango, jackfruit, banana, papaya, coconut, palm, guava, lemon, litchi.
Fisheries, dairies and poultries Chingri ghers 1596, dairy 17, poultry 68, hatchery 2.
Communication facilities Pucca road 99 km, semi-pucca road 16 km, mud road 91 km.
Extinct or nearly extinct traditional transport Palanquin.
Noted manufactories Bakery factory, ice factory, brick field.
Cottage industries Goldsmith, blacksmith, potteries, weaving, nakshi kantha, nakshi pankha, bamboo work, cane work, different kind of net, mat work (with date leaf).
Hats, bazars and fairs Patgati Hat, Tungipara Hat, Nilfa Hat, Banchbaria Hat, Kushli Hat, Tharial Hat, Basuria Hat, Gimadanga Hat, Singipara Hat, Dumuria Hat, Labutala Hat, Barni Hat and Ghohardanga Mela, Joaria Mela, Dumuria Mela and Gopalpur Mela ara notable.
Main exports Jute, palm molasses, wheat, sweet potato, vegetables.
Access to electricity All the wards and unions of the upazila are under rural electrification net-work. However 29.29% of the dwelling households have access to electricity.
Natural resources Pit coal has been detected in the Barnir Baor area of the upazila.'
Sources of drinking water Tube-well 81.39%, tap 1.55%, pond 8.46% and others 8.60%. The presence of arsenic has been detected in 81% of the shallow tube-well water of the upazila.
Sanitation 47.91% (rural 45.66% and urban 51.81%) of dwelling households of the upazila use sanitary latrines and 40.23% (rural 43.03% and urban 35.34%) of dwelling households use non-sanitary latrines; 11.86% of households do not have latrine facilities.
Main tourists spot Bangabandhu Mausoleum Complex at Tungipara.
Health centres Hospital 1, Upazila health complex 1, family planning centre 5, satellite clinic 2.
Natural disasters Many people were victims of the cyclone of 1991. Besides, it also caused heavy damages to settlements, livestock and crops of the upazila.
NGO activities Operationally important NGOs are brac, proshika, asa, CARE, caritas, World Vision, CCDB. [Poritosh Haldar]
'References Bangladesh Population Census 2001, Bangladesh Bureau of Statistics; Cultural survey report of Tungipara Upazila 2007.