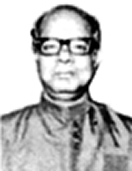 Ukil, Abdul Malek (1925-1987) lawyer, politician. Abdul Malek Ukil was born on 1 October 1925 at village Rajapur under sadar upazila of Noakhali district. He obtained his MA degree in 1951 and LL.B in 1952 from the Dhaka University and joined the Noakhali district bar.
Malek Ukil was one of the founder members of East Bengal Muslim Student League, president of Noakhali district Awami League, member of the central executive committee of Awami League (1964-72), vice president of Commonwealth Parliamentary Association (1965-69) and member of Dhaka High Court Bar Council (1966-69). He presided over the conference of the opposition parties held in Lahore in 1966. He was elected president of a faction of Bangladesh Awami League in 1978 AD.
Malek Ukil was elected a member of the East Pakistan Provincial Assembly in 1956, 1962 and 1965. In 1965, he was the leader of the Awami League parliamentary party and the leader of the combined opposition party in the Provincial Assembly. During the Six-Point Movement Malek Ukil was arrested and kept confined. He was elected a member of the Pakistan National Assembly from Noakhali in 1970. He was a member of the Relief and Rehabilitation Committee in the mujibnagar government, and a member of the parliamentary delegation sent to Nepal for mobilising support in favour of the war of liberation.
Malek Ukil was a member of the committee for drafting the Constitution of Bangladesh. He was a member of the cabinet of bangabandhu sheikh mujibur rahman in 1972 in charge of the Ministry of Health and Family Planning. Malek Ukil was elected a member of the Jatiya Sangsad in 1973, and was the Minister in charge of Home Affairs. He was elected Speaker of the Jatiya Sangsad in 1975. In 1986, he was elected a member of the Jatiya Sangsad and was the deputy leader of the opposition parliamentary party. He died in Dhaka on 17 October 1987. [Siddiqur Rahman]