University of Khulna the 9th public University of the country, founded in 1987 on 106 acres of land, is located on Khulna-Satkhira highway, 4 km away from the heart of the city under the Khulna University Act 1990 passed in Parliament. A strong public demand arose for setting up a University in Khulna long ago. In 1974 the importance of establishing a university in Khulna Division was first mentioned in the report of Kudrat-e-Khuda Commission. In November 1979, the Cabinet took the decision for establishing a Technical University, but the local people demanded a general university. In 1985 the government formed two committees: (i) 'Zillur Rahman Siddiqui Committee' for preparing academic and administrative programmes and (ii) 'Mahbubuzzaman Committee' for the selection of site. On 4 January 1987, the government finalised the programme of establishing a university at Khulna on the basis of the reports of the above committees.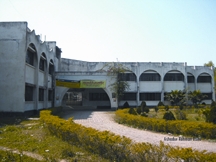 The Project Directors were appointed who procured land, prepared master plan and started constructing buildings. In August 1991, Project Director Prof Dr Golam Rahman was appointed the first Vice-chancellor. On August 31, 1991 the university launched its academic programmes at Bachelor level with four disciplines viz, Computer Science and Engineering, Architecture, Urban and Rural Planning under Science, Engineering and Technology (SET) School and Management (at present Business Administration) under Management and Business Administration (MBA) School with 80 students in a two storeyed building. Under Life Science School the University housed the Disciplines of Forestry and Wood Technology, Marine Biology (As present Fisheries and Marine Resource Technology) in 1992, Biotechnology and Genetic Engineering and Agrotechnology in 1995; Environmental Science in 1996; Pharmacy and Soil Science in 1998. Under SET School the University opened Electronics and Communication Engineering in 1997; Mathematics in 1998 and Physics and Chemistry in 2009. Under Arts and Humanities School the University opened English Discipline and Under Social Science School Economics Discipline in 1999 and Sociology Discipline in 2003, Institute of Fine Arts in 2009. MBA School started Post-graduate Programmes like MBA, EMBA, Open University BBA Tutorial Center and the regular arrangement of Management Training Programme for the Bangladesh Naval Officers since 1995. Computer Science and Engineering Discipline offers Post-graduate Diploma Programme and Economics Discipline Master of Development Studies Programme. English and Computer courses are compulsory for all the Disciplines. The University has offered Post-graduate Programme. Modern Language Center and Center for Integrated studies on the Sundarbans (CISS) started in 2001. Khulna City Corporation Women's College is affiliated to this University. The first, second and third convocation was held in 1997, 2001 and 2005 respectively. The first and second senate meeting was held in 2003 and 2007 respectively.
Aims and Objectives of this University are to impart technology based and need-oriented higher education befitting the age; to generate skilled manpower in order to exploit, utilise and conserve available resources for sustainable development of the country; to maintain the highest academic standard in line with the international standard of education; to undertake fundamental and applied research and to produce capable manpower to fulfilling the global demands.
There are 30 modern laboratories, Computer Laboratories, Building Science, Acoustic and Lighting laboratories for modern architectural design, Biotechnology laboratories, Tissues Culture Laboratory, Centre for Geographic Information System (CGIS), Photogrammetry and Remote Sensing Laboratory for using landsat imageries and inventory purpose. There are farms and nurseries. The University has also set up Field and Laboratories, Seismograph Machine and Coastal Fisheries Research Station.
The University has an excellent and peaceful academic environment, free from session delay and student politics. An academic calendar based on the following guidelines is prepared every year and approved by the Academic Council. Classes 13 weeks; preparatory leave 2 weeks; conduct of examinations 3 weeks and results preparation 3 weeks. The University of Khulna has now (2011) 4700 students including 12 foreign students, 322 teachers, 148 officers and 164 supporting staffs.
On the campus there are two administrative buildings, 2 four-storeyed and 1 two-storeyed academic buildings, a Memorial to the martyrs, an open stage, a Mosque, a Cafeteria, a Bank, a Post Office with e-mail and Internet facilities, Vice-chancellor's Bungalow, some resident quarters for the Professors, Associate Professors, Assistant Professors/Lecturers, officers and employees. There are three student halls of residence. Four-storeyed Khan Jahan Ali Hall, three-storeyed Khan Bahadur Ahsanullah Hall and a two-storeyed Hall for the girls called Aparajita Hall accommodated about 900 male and female students.
There is a central library and also a library called Shirley Islam Library (Shirley Islam is the deceased wife of Professor Mozaharul Islam who, living in England, made a fat donation for the establishment of this library). The libraries have about 45,500 books and 5000 journals and under computer network.
The University provides an ample scope for research. Teachers are also involved in different contract research activities and conducting projects. For conducting research Khulna University Research Cell has also been set up in 2000. The Cell has also established the Internet backbone. The research journal of the University titled Khulna University Studies is being published regularly. Besides, some Disciplines publish their own research journals. Khulna University Barta containing current activities is published quarterly.
The University medical centre has seven full time physicians, an emergency ward and two ambulances, X-ray machine and Dental Unit. Pathological test facilities are also available here.
The University has facilities for both indoor and outdoor games like football, cricket, volleyball, badminton, basketball and tennis. The students participate in national and international debate competitions. The halls hold their annual cultural functions. Also, a number of students' cultural groups hold programmes.
The University has established academic links with different universities and organizations at home and abroad. The present Vice-chancellor Professor Dr Md Saifuddin Shah who has for the first time been appointed from this University has taken initiatives and drives to utilize various possibilities and the University is experiencing acceleration in its total performances at all levels, with ripeness and dignity. [Gazi Abdulla-hel Baqui]