Viquarunnesa Noon School and College
Viquarunnesa Noon School and College started with only a few children as a preparatory school in 1947. Initially the school was located at Jimkhana of Ramna in Dhaka. Viquarunnesa, wife of East Pakistan governor Firoz Khan Noon, visited the school in 1950 and was pleased to see its activities. Under her patronage the school was established at Baily Road and was renamed as Vinquarunnesa Noon School on 14 January in 1952. It was elevated to a high school and in 1956 Senior Cambridge course was introduced in the school.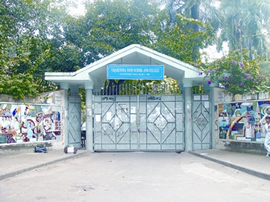 The school earned reputation for quality education and excellent results in public examinations. In 1978, it started a college section with higher secondary courses. A day shift was opened in the main branch in 1986. Subsequently, it inaugurated three more branches at Dhanmondi, Basundhara and Azimpur. Under excessive pressure of new admission, the school had to gradually introduce multiple sections, afternoon shifts. In 1995, English medium course was introduced side by side with Bengali medium. It conducts education in humanities and science.
Its main campus is spread over about 6 acres of land. The college earned unprecedented success in secondary and higher secondary school certificate examination. In 2009, the passing rate of students of the institution was 100% in the closing examination of class V.
Besides education, the students of the school take active part in Cultural programmes, debates and sports. The students of Viquarunnesa Noon School and College regularyly participate in various programmes at national and international level. It has different clubs for extra curricular activities which include Science Club, Environment Club, Debating Club and English Language Club. At present, the total number of students in Viquarunnesa Noon School and College is 17,985, having 15,450 students in school section and 2,535 in college section. The number of teachers in school section is 335, and in college section is 70. Moreover about 150 office staffs are working in the institution.
A Board of Directors runs the overall management of Viquarunnesa Noon School and College. Principal is the academic and administrative head of the institution. [Rokeya Akhter Begum]