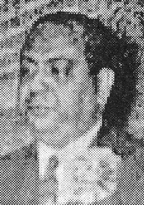 Wahiduzzaman (1912-1976) politician. He was born in 1912 at village Sitarampur in Gopalganj district. His nickname was Thanda Mia. Wahiduzzaman was graduated in 1932 from Calcutta Islamia College, and obtained BL degree in 1935 from Calcutta University. He was the vice president of students' union in Islamia College and under-secretary of students' union in Calcutta University.
Wahiduzzaman was involved in Muslim League politics at the initial stage of his career. He was a councillor of All India Muslim League and a member of the working committee of bengal provincial muslim league. He was elected a member of the Bengal Constituent Assembly in 1942 to continue till 1946. As a leader of the Muslim League he was active in Pakistan Movement.
After the emergence of Pakistan, Wahiduzzaman was all the more serious and active in politics. Between 1947 and 1958 he had been a member of the working committee of East Pakistan Muslim League, and a member of the central committee of All Pakistan Muslim League (convention) from 1962 to 1969.
After the rift in convention Muslim League in 1969, Wahiduzzaman affiliated himself with the Qayyum group, and was made the vice president of the party.
Wahiduzzaman was elected a member of the first Constituent Assembly of Pakistan in 1951. He was elected a member of the Pakistan National Assembly in 1962 from Faridpur-3 constituency under the basic democracies system. He was included in the cabinet of ayub khan in June 1962 and was in charge of the Ministry of Commerce, which office he held till 1965. He was again elected a member of the National Assembly in 1965 from Faridpur under the Basic Democracies system. Wahiduzzaman contested in the National Assembly election in 1970 from the Faridpur-6 constituency only to sustain a reverse.
Wahiduzzaman was associated with a number of institutions and financial concerns. He was the secretary of Bengal Cooperative Organisation (1938-1945), councillor of Calcutta Corporation (1940-1943), chairman of East Pakistan Cooperative Bank, member of the Board of Directors of State Bank of Pakistan (1948-1950). He was the founder of Zaman Industrial Corporation, a private industrial concern in Dhaka.
Wahiduzzaman opposed the war of liberation of Bangladesh. He was a supporter of integrity of Pakistan. He died in Dhaka on 21 October 1976. [Muazzam Hussain Khan]