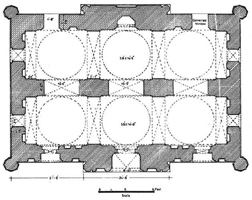 Wali Khan Mosque is situated at Chawk Bazar, city centre of Mughal Chittagong. Wali Beg Khan, a Mughal Faujdar at Chittagong, built the six-domed masonry mosque in between AD 1713-1716. He also made a gift of 120 dronas of land in Kadalpur, Nizampur and Sandwip for the upkeepment of the mosque. Wali Khan founded Chawk Bazar and built his residence with a kutchery near by. He also dug a big tank near his residence known as 'Kamaldaha'.
The rectangular double-aisled mosque has four engaged octagonal towers at the outer angles. It has three entrances on the east; the central one, contained within a rectangular fronton, is bigger than the flanking ones. The fronton facing the Chawk added grandeur to the Mughal city.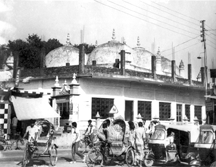 The interior of the mosque measures 17.68 metres in length and 10.21 metres in breadth. Two robust brick piers along with other supporting pilasters and arches have divided the prayer chamber into three bays - each roofed over with two domes. Thus there are six identical hollow domes, three in a row; each is set on an octagonal drum and crowned with multi-tired finial. There are three mihrabs in the qibla wall. The central mihrab has lost all its past embellishment due to drastic repair and redecoration, but its projection on the back of the qibla wall is still noticeable.
This massive mosque has lost much of its glory due to extensive later renovations. The north, south and east walls are now hidden behind the veranda extensions and the grand look of the mosque is no longer visible from outside. [Shamsul Hossain]