Wasiuddin, Lt General Khwaja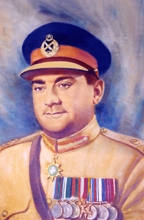 Wasiuddin, Lt General Khwaja (1920-1992) army officer, diplomat. He was born on 20 March 1920 at Ahsan Manzil in Dhaka. His father Khwaja Shahabuddin was the governor of North-west Frontier Province of Pakistan and a minister in the central cabinet. His mother Farhat Banu was a niece of nawab sir salimullah and a member of the Bengal Legislative Assembly (1937). Khwaja Wasiuddin had his early education at Dhaka Muslim High School and St Gregory's High School. He obtained his graduation in 1938 from Prince of Walse Royal Military College. He same year he joined the Indian Military Academy and was commissioned as officer in the Artillery Corps of Royal Indian Army in April 1940. He began his military career as mountain artillery officer and took part in Burma campaign during the Second World War. He got the command of a mountain battery as Major in 1943. He was promoted to the rank of Lieutenant Colonel in 1945 and was appointed as additional deputy president of Inter-services Selection Board (ISSB) of Indian Armed Forces.
After the partition of India in 1947 Khwaja Wasiuddin joined the Pakistan army. He was appointed as deputy president of ISSB in 1948 and later as president. He received training at Camberley Staff College in United Kingdom in 1951 and was promoted to the rank of brigadier. Later he was appointed as Director of Artillery in Pakistan army. He was the General Officer Commanding (GOC) of the Fourteenth Division (East Pakistan) in 1960 and Commander of Tenth Division (Lahore) in 1963. He was then promoted to the rank of Major General. Khwaja Wasiuddin got higher training from Imperial Defense College in United Kingdom in 1964. After his return from UK he joined as Master General of Ordnance of Pakistan Army.
In 1968 he was promoted as Lieutenant General and was posted as commander of the Second Corps, the largest army corps of Pakistan.
During the War of Liberation in 1971 Khwaja Wasiuddin was interned in West Pakistan. He was repatriated from Pakistan in 1974. He had vital role in executing the repatriation of the Bangali officers and soldiers of the Pakistan armed forces. He was initially appointed as ambassador of Bangladesh to Kuwait and in 1976 as ambassador of Bangladesh in France. Khwaja Wasiuddin retired from the army in 1977. He was appointed as permanent representative of Bangladesh to the UNO and continued in this position till 1986. Khwaja Wasiuddin was the chairman of General Osmany Trust and chief patron of Dhaka Mahanagar Samiti. He died in Dhaka on 22 September 1992. [Md. Alamgir]'