Water Transport refers to the network for inland waterways. In Bangladesh about two-thirds of the land is vulnerable to flooding. Most areas remain under water for two to five months a year. As a result, costs of development and maintenance of roads and railways are high. On the other hand, inland water transport has always been a natural and relatively cheaper means of transport. In certain areas, it is the only mode of transport. Including the country's unclassified routes, the total length of its waterway (700 rivers) is about 13,000 km. Of this, 8,433 km is navigable by larger vessels in the rainy season (5,968 km of which is classified for navigation) while in the dry season about 4,800 km is navigable (classified 3,865 km). The inland navigable waterway routes as classified by bangladesh inland water transport authority (BIWTA) fall into four groups:' Class-I: Four trunk routes (depth 3.66 m - 3.96m, length about 683 km)- Chittagong-Chowkighata-Chandpur-Shambhupura-Narayanganj/ Dhaka; Shambhupura-Demra; Shambhupura-Bhairab Bazar/Ashuganj; and Chowkighata-Barisal-Mongla-Khulna-Maheswarpasha; Class-II: Eight link routes (depth 1.83m - 3.65m, length about 1,000 km)- Mohanpur-Daikhawa; Bhairab Bazar-Chhatak; Chalna-Raimongal; Hijla-Saistabad; Satnal-Daudkandi; Chittagong-Cox's Bazar; Diara-Barisal via Nandir Bazar; and Chandpur-Ichuli; Class-III: Twelve secondary routes (depth 0.91m-1.82m, length about 1,905 km)- Dilalpur-Fenchuganj-Zakiganj; Chittagong-Kaptai; Rangamati-Kaptai; Kaptai-Belaichari; Rangamati-Chotohorina; Rangamati-Mahalchari; Rangamati-Marisha; Sripur (Bhola)-Nazirpur-Char Montaz; Jhalakati-Barguna- Patharghata; Charpower-Patuakhali-Galachipa-Bara Baishdia; Bara Baishdia-Khepupara-Mohipur; and Khulna-Bardia-Manikdah, and Class-IV: Seasonal routes (depth less than 0.91m, length about 2,380 km). In addition to the above, there are many unclassified routes. Most of these routes are used by the country-boat sector.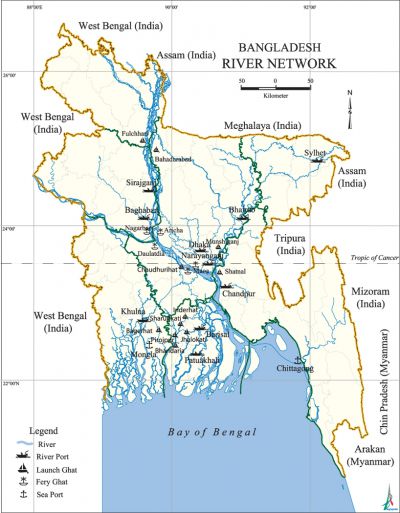 Inland water transport The river network of Bangladesh as the most important transport artery in the country's communication sector plays a vital role in national life. Almost all big cities, towns and commercial centres of the country grew up on the banks of its rivers. In this part of the sub-continent, mechanised steam-powered vessels for inland water transport was introduced in the private sector by Indian General Navigation (IGN) and River Steam Navigation (RSN) during British rule. They dominated the scene throughout British rule and during the Pakistan regime. In the 1960's, a few local operators such as Pak Bay, Sinclair Murray, and Chalna Lighterage started operating in the cargo sector and Pak Waterways in the passenger sector. The entire passenger and cargo traffic was carried by the private sector, 70% of this being managed by the British owned companies.
With the creation of the East Pakistan Inland Water Transport Authority (EPIWTA) in 1958, situation charged rapidly. Navigation by waterways improved, Chalna anchorage was established, waterways mileage increased, and numerous points of embarkation/ disembarkation were established throughout the country. IWTA took steps to meet an ever-increasing demand through import and distribution of 400 gray marine diesel engines to local entrepreneurs in the early 1960s. As a result, the monopoly of the British owned companies in the passenger sector was broken. A number of wooden passenger vessels owned by local operators soon started to ply on the waterways of the country. During British rule, IGN and RSN Co. not only played a predominant role in the water transport sector, but also carried out river conservancy work in important waterways and provided landing facilities at some river side stations to cater to their own commercial interests. Later, IWTA converted the RSN and IGN into Pakistan River Steamers (PRS). After the emergence of Bangladesh, the abandoned companies including the PRS and Pak Bay Flotilla were taken over by the government-owned Bangladesh Inland Water Transport Corporation (BIWTC). Nevertheless, 85% of the passenger traffic is still carried by vessels owned by the private sector.
In the early 1960s, IWTA piloted a scheme for acquisition of 24 coasters in the private sector. These coasters, with carrying capacity ranging from 600 to 1,000 tons, were capable of crossing the bay and plied to and from the port of chittagong. The private sector thus entered a new field of specialised service and helped in easing the congestion at the seaport and bulk transportation of cargo to various points within the country at cheaper costs. There are as many as 100 coasters now plying on these routes. As an aftermath of the Indo-Pak War of 1965, as many as 193 Indian owned cargo vessels consisting of dumb flats, barges, tugs etc were seized and adjudicated as prize of war in the High Court (Prize Jurisdiction). Later, most of these vessels were sold to the private sector.
Over the years the pattern in the movement of inland cargo traffic changed and this created a demand for self-propelled cargo vessels with capacity ranging from 80 tons to 350 tons. The private sector again rose to the occasion to meet the demand. With the expert services rendered by IWTA, a large number of self-propelled cargo vessels were constructed in the private sector. Thus, 1,155 self-propelled cargo vessels with a total capacity of 268,603 tons are now owned in the private sector. Similar growth in the field of oil tankers took place. As a result, the number of oil tankers rose to 72 with a total capacity of 67,936 tons.
Inland ports and landing stations While looking after the development of the IWT sector as a part of its chartered responsibilities, BIWTA undertook schemes for development of inland river ports. These ultimately resulted in the creation of five major inland river ports one each in Dhaka, Narayanganj, Chandpur, Barisal and Khulna at the initial stage. By a Gazettee Notification on 9 September 1960, the government extended the provisions of the Ports Act 1908 to the above named five inland river ports. Subsequently, six new inland river ports were created one each at Patuakhali (in 1975), Nagarbari (1983), Aricha (1983), Daulatdia (1983), Baghabari (1983) and Narsingdi (1989) to cater to the growing requirements in the IWTA sector. BIWTA also developed 5 ferry terminals one each at Aricha, Daulatdia, Nagarbari, Mawa, and Char Janajat to connect the capital city with the districts situated on the other side of the rivers padma and the jamuna by ferry services. BIWTA provided facilities in these river ports for public use.
In addition to the development of inland river ports at the main commercial and urban centres, BIWTA took up schemes to provide landing facilities to the people of far-flung areas alongside the waterways by developing launch stations at important wayside ghats (wharf). The first scheme was drawn in 1969 when 50 launch ghats were taken up for development. Subsequently, further schemes for development of wayside launch ghats were taken up in 1970, 1975, 1980 and 1986. The number of launch ghats so far developed by BIWTA is 292. The facilities provided in the launch ghats include floating steel pontoons of different sizes. The pontoons are connected with the shore by wooden jetties and gangways. The pontoons are used for berthing of vessels, embarkation and disembarkation of passengers, and loading and unloading of cargo. On board the pontoons, there are waiting facilities with toilets for both ladies and gents.
Three departments of BIWTA, namely Engineering, Conservancy and Pilotage, and Port and Traffic Department, are involved in the operation of inland river ports. The Engineering Department is responsible for construction, repair and maintenance of shore facilities such as terminal buildings, terminal sheds, jetties, gangways, quays, godowns, roads and parking yards. The Conservancy and Pilotage Department provides floating facilities such as pontoons, buoys and moorings. The Ports and Traffic Department is responsible for operation and utilisation of the above facilities and realisation of port revenue from their users. BIWTA's Hydrography Department maintains the waterways for safe and effective navigation and for other uses. Ports are operated and managed under certain specific legal provisions namely Ports Act 1908 and Port Rules 1966.
The main areas of port management cover (a) operation of different port facilities, (b) regulating the movement of traffic, and (c) co-ordination of IWT with other modes of transports, seaports and trade and agricultural interests. The operational functions of the inland ports include, besides administration and management of personnel employed in the ports, allocation of berths to vessels, arranging embarkation and disembarkation of passengers, arranging loading/unloading and transhipment of cargo, stopping unauthorised activities within ports, eviction of unauthorised structures/constructions from the port area, hoisting and announcing of weather signals, and controlling movement of vessels during inclement weather, stopping unauthorised operation/plying of vessels, coordinating with other concerned local agencies, displaying the rates of different port charges at conspicuous places of the ports, and realising different port charges within the frame-work of Ports Act 1908, Port Rules 1966 and BIWTA Ordinance 1958. The port officials work in close cooperation with the River Traffic Police, Inspector of Shipping, and the associations of launch owners.
BIWTA, however, cannot operate directly all the port facilities under its management due to manpower shortage and other physical constraints. Some facilities are, therefore, operated by ijaradars (leasehold operators) engaged on annual basis through public auction, re-auction, tender and negotiation. Since 1991-92 ijaradars are have been engaged through sealed tenders only. All the 292 wayside launch stations developed by BIWTA are also operated and managed by ijaradars engaged on an annual basis through sealed tenders. The activities of the ijaradars are guided by the terms and conditions of the bilateral agreement executed with the BIWTA and are supervised by the port officials.
IWTA fleet and the informal sector The IWTA network consists mostly of passenger vessels, cargo vessels, tankers, tugboats and dumb crafts. In 2000, the number of registered passenger vessels (including sea trucks and ferries) was 1,868, cargo vessels (including tanker and coaster) 2,160, dumb craft 760 and towing vessel 194. The present (2011) fleet strength of BIWTC is 97, of which 41 are registered passenger vessels and 56 ferries. The static carrying capacity of the IWTA fleet is about 0.20 million passengers and 0.55 million tons cargo. In terms of carrying capacity, the private sector outweighs the contribution of the public sector both for the passenger and cargo movement (private sector 93% for passenger and 95% for cargo). In the informal sector, the country boats plying mainly in the perennial waterways play the key part. According to 1991/92 Bangladesh Bureau of Statistics, the number of country boats operating within the country was 745,000, a substantial part of which has already been mechanised mostly with low-cost shallow pump engines. Approximately 65% of the country boats are passenger boats and the rest are cargo boats. The static cargo capacity of the country boats is about one million tons, nearly double that of the formal IWTA sector. According to a recent report of ESCAP, Inland Waterways of Bangladesh are estimated to carry about 14% annual passengers (87.80 million per year) and 35% annual freight volume (.58 million tons per year).
Intransit and inter-Country traffic During the British period, IGN and RSN Co used to operate their cargo services from Calcutta to Assam via East Bengal. In late 1950s, the governments of Pakistan and India entered into an agreement to make use of the waterways of both countries for trade between them and for passage of goods between two places of one country through the territory of the other. The agreement was titled 'Protocol on Inland Water Transit and Trade'. The trade continued well up to September 1965, when it was suspended due to the Indo-Pak war. On 28 March 1972, the governments of Bangladesh and India revived the agreement and introduced eight trade routes. These were: Calcutta - Raimongal - Chalna - Khulna - Mongla - Kaukhali -Barisal - Nandir Bazar - Chandpur - Aricha - Sirajganj - Bahadurabad - Chilmari - Dhubri; Dhubri - Chilmari - Bahadurabad - Sirajganj - Aricha - Chandpur - Nandir Bazar - Barisal - Kaukhali - Mongla - Khulna - Chalna - Raimongal - Calcutta; Calcutta - Raimongal - Mongla - Kaukhali - Barisal - Nandir Bazar - Chandpur - Narayanganj - Bhairab Bazar - Ajmiriganj - Markuli - Sherpur - Fenchuganj - Zakiganj - Karimganj; Karimganj - Zakiganj - Fenchuganj - Sherpur - Markuli - Ajmiriganj - Bhairab Bazar - Narayanganj - Chandpur Nandir Bazar - Barisal - Kaukhali - Mongla - Raimongal - Calcutta; Rajshahi - Godagari - Dhulian; Dhulian - Godagari - Rajshahi; Bhairab Bazar - Mitamain - Itna - Lalpur - Sunamganj - Chhatak; and Chhatak - Sunamganj - Lalpur - Itna - Mitamain - Bhairab Bazar.
Regulation of traffic Although regulation of traffic is mainly exercised by the Department of Shipping, the government, under BIWTA (Time and Fare Table Approval) Rules 1970 has delegated some regulatory powers to BIWTA also in respect of (a) approval of timetables and route permits of passenger vessels and (b) fixation of fares and freights. Timetables are issued to passenger launches plying on inland waters showing the time of departure from the originating station and time of arrival at the destination along with the timings at the intermediate stations. Applications for approval of timetables of passenger launches are invited twice in two seasons, summer and winter. The former commences from 1st June and ends on 31st October. The latter begins on 1st November and ends on 30th May. Timetables are issued after scrutiny of relevant documents as per the provisions of the Inland Shipping Ordinance (ISO) 1976. 595 timetables have been issued to 739 passenger launches on 230 routes. The government has deregulated the fixation of freight rate with effect from 21 August 1991. The Ports and Traffic Department also conducts traffic survey, collects and compiles traffic statistics, and brings out the annual Ports and Traffic Reports that substantially help in traffic regulation.
Waterways System and its contribution The IWTA system in Bangladesh is both extensive and well-connected with the rest of the transport system. In terms of traffic intensity, the inland waterways network generates about 1.57 million passenger-kilometres per route-kilometre of waterway. The density of inland ports and terminals is much higher on the inland waterways with approximately 3.7 berthing facilities per 100 route-kilometres. The density of passenger facilities on the inland waterways is also high at around 40 per 100 route-km. The importance of IWTA for Bangladesh is evident from the data presented in the table. Even though there is considerable uncertainty attached to the forecasts, it is clear that inland water transport will continue to play a significant role in passenger and cargo movements.'
The inland ports and landing ghats serve as feeder ports to the two seaports of the country. In addition to the cargo that moves from one inland port to another, inland ports handle about 40% of the country's total exports and imports. During floods, cyclones and other natural calamities, IWT and inland ports render essential services to the nation through transportation and handling of relief materials in areas where road and rail communication are not available or have become disrupted. Water transportation is cheaper, safer, and environment-friendly, and will thus continue to play a significant role in the economic life of Bangladesh in the future. [AKM Nurul Alam]