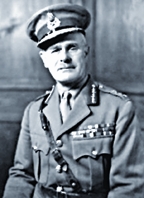 Wavell, Lord (1883-1950) Viceroy and Governor General of India from June 1943 to February 1947. Archibald Percival Wavell was born on 5 May 1883 at Colchester, England. Educated at Winchester and at the Royal Military College, Sandhurst, he served in the South-African war and in other frontier campaigns in India. He became a Major General in 1933, being the youngest of this rank in the British Army. At the outbreak of the Second World War in 1939 he was the British Commander-in-Chief in the Middle East. Later in 1941, Wavell was appointed Commander-in-Chief of the British Indian Army and served as Supreme Commander of the Allied Forces in Burma, Malaysia and the Dutch East Indies. He was promoted to the rank of Field Marshal in 1942. He became the Viceroy and Governor General of India in June 1943.
His first task as the Governor General was to check the Bengal famine of 1943. During his term he helped to advance the cause of Indian self-rule and acted more like a good statesman than a soldier. After the war he called the leaders of the indian national congress and the muslim league to a conference at Simla to bring about an amicable solution to Indian political problems; but no agreement could be reached because of the stiff attitude of the leaders of the two major parties. He suppressed a naval mutiny in Bombay in early 1946, which served as an eye-opener to the inherent weakness of the British power in India. He also received the Cabinet Mission in 1946 - the Congress and the Muslim League did not ultimately accept its proposals.  
Wavell then formed an interim government headed by Jawaharlal Nehru. This did not work and the Muslim League called a direct action day to press home its demand for a separate state. This led to serious communal violence in Bengal and Bihar, which Lord Wavell, with all his military acumen and resources failed to forestall or suppress in a prompt way. When all efforts for a political solution acceptable to both the Muslim League and the Congress failed the new Labour government in Great Britain decided to hand over power to Indian hands. Lord mountbatten succeeded Lord Wavell, recalled in 1947.
Wavell died in London on 24 May 1950. His major publications include The Palestine Campaigns (1928); Allenby: A Study in Greatness (1940); Other Men's Flowers (1944); The Good Soldier (1948) and Soldiers and Soldiering (1953). [KM Mohsin]