White Clay high quality clay composed of kaolin clay mineral and used mainly in the ceramic industry. In Bangladesh it is used widely as household wares.
There are surface to near surface deposits of white clay in Bijoypur and Gopalpur area of Netrokona district, Nalitabari of Sherpur district, Haidgaon of Chittagong district and Baitul Izzat of Satkania thana, Chittagong district. Besides there are subsurface deposits of white clay in Maddhyapara, Barapukuria, Dighipara of Dinajpur district and Patnitala of Naogaon district. The exposed white clay is not good in quality. It is used in the ceramic factories of Bangladesh after mixing with high quality imported clay.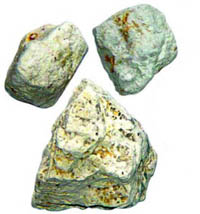 The Geological Survey of Pakistan (GSP) first discovered white clay at Bhedikura of Durgapur Thana in the Mymensingh district in 1957. Later on in 1957-58, geological mapping in that area was furnished. In 1964-65 GSP drilled 13 holes in the area to determine the thickness and reserves. In 1978, 1980 and 1983 the geological survey of bangladesh (GSB) conducted detail investigation in the area. The extent of white clay in layers and lenses was found at Bhedikura to Maizpara in the west and Fundakura to Gopalpur in the east. The reserves is 2.47 million ton in an area of 3.84 sq km up to the down dip of 60m. This is known as Bijoypur white clay. The white clay at Bhuranga area of Nalitabari upazila in Sherpur district was discovered in 1990 by the GSB.
Lenses of white clay are present in this area. The reserves are 0.0013 million ton in an area of 0.40 sq km. GSB discovered scattered lenses of white clay at Haidgaon area of Chandanaish upazila in Chittagong district in 1976. In this area the deposit is 0.0019 million tons only. The deposits found at Baitul-Izzat area of Satkania upazila are 0.0025 million tons. These clays are low-grade clay.
The subsurface deposit of white clay was first discovered at Patnitala of Naogaon district in 1965 at the depths ranging from 340m to 350m while drilling for economic minerals in the area by GSP. The white clay at Maddhyapara area was found by GSB in 1974 at a depth ranging from 128 m to 156 m below the surface while drilling for hard rock. This clay was found on the top of the Precambrian hard rock. The thickness of this clay ranges from 1.2m to 6.4m and the reserves in an area of one sq km is 15 million ton. The white clay at Barapukuria of Dinajpur district was discovered by the GSB in 1985 while drilling for coal in the area. The white clay is found at the top of the Permian Gondwana formation at the depths ranging from 118m to 184m below the surface. The thickness of this clay is 1.98m to 12.5m and the reserve is 25 million ton in an area of I sq km. In 1994 white clay was discovered by GSB at Dighipara area of Dinajpur district while drilling for coal. This clay is present on the top of the Gondwana Formation at a depth ranging from 325m to 328m. Detail investigation on this clay is yet to be done. The subsurface deposit of white clay is rather difficult to mine. [QM Arifur Rahman]