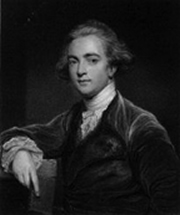 Wilkins, Sir Charles (1749-1836) Orientalist, founder member of the asiatic society, Calcutta inventor of modern Bangla and Persian printing typefaces. Charles Wilkins joined the east india company service in 1770 as a writer (probationer clerk). While posted in Malda he acquired some moderate proficiency in Bangla, Sanskrit and Persian. He is said to be the first British to develop interest in Orientalism and learn Sanskrit thoroughly. For the use of the Europeans he wrote A Grammar of Sanskrit as early as 1779. While in Calcutta, he got patronage from Governor General warren hastings to pursue his interest. With the help of the local pundits he launched a drive to collect oriental manuscripts and inscriptions.
In the history of orientalism Wilkins is particularly remarkable, because, he happened to be the first European Orientalist to read Sanskrit inscriptions for the reconstruction of ancient history. He made the first successful effort at interpretation of Sanskrit inscription in 1785, when he read the Badal Pillar Inscription (Dinajpur district) of the Pala king Narayanapala. Later, the Maukhari inscriptions from the Barabar Hill caves (in Bihar) enabled Wilkins to unearth the inscriptions of the Gupta rulers. It was indeed an epoch-making event that his epigraphic readings led to discoveries of Pala and Maukhari dynasties and thus laying the foundation of epigraphic and paleographic studies in the world of oriental studies.
Under the patronage of Warren Hastings, Wilkins translated the Bhagavadgita (1785) and undertook experiments for preparing designs of Bangla and Persian typefaces, which he successfully did with the help of Pundit Panchanan. Wilkins happened to be the pioneer in setting up printing press for Bangla and Persian languages, an event, which in effect brought a revolution in printing and in the production of books in Bangla. The first book printed with the types of Bangla alphabet was N.B. Halhed's A Grammar of the Bengal Language (1778). Halhed acknowledged his debt to Wilkins in glowing terms. In publishing the book Wilkins took upon himself, according to Halhed, 'the various occupations of the metallurgist, the engraver, the founder and the printer'.
The government, which had no press for Indian languages before, now began to publish its Bangla publications from his printing press. Wilkins began publishing the research journal Asiatick Researches (est. 1788) on his own. It was from Wilkins's press and under his supervision and press-editing that the Asiatic Researches was first published. Later on, it was recognised by the Asiatic Society to be its own organ. On his return home, Wilkins published translations of Hitopadesa, (or Fables of Pilpai) and Sakuntala. The Royal Society of London elected him its Fellow in 1788. In 1800, he was invited to take up the post of the first director of the India House Library, which became over time the world famous 'India Office Library' (now British Library - Oriental Collections). He joined the haileybury college in 1806. In 1808 Wilkins produced another Sanskrit Grammar. Oxford made him a DCL in 1805. King George IV gave him the badge of the Guelphic Order and he was knighted in 1833. [Sirajul Islam]